Now that the Fall season is here to stay it's time to start decorating for it. You may ask, "when's the right time to start decorating for the Fall season?" Ideally, the best time to begin decorating for the Fall is late August or early September. However, it's not too late to design your home with style for the Fall. Here are 10 elegant home décor Fall trends for 2022.
1. The Color Olive Green
A very popular elegant home décor color that's flourishing this Fall season is olive green. This lovely, deep tone is great for adding sophistication and vogue into your home. It brings the perfect combination of class and modern design. You'll see many home decorators incorporating olive green in large areas such as their living room and dining room.
2. Different Shades of Brown
Another color that's trendy this Fall are different shades of brown. From light hues of brown such as tan and caramel. To medium and darker shades of brown such as cinnamon and walnut brown. These tones are guaranteed to bring warmth into your home. According to interiors Breegan Jane and Liz Lovery, brown is the color of Fall 2022. 
3. Decorative Throw Pillows
A popular home décor accessory for Fall 2022 is decorative throw pillows. Designing your home for the Fall is all about adding luxury, personality and coziness. The best way to instantly bring coziness in your living quarters is with throw pillows. These accents are practically a staple for Fall decorating. Add a throw pillow set to your sofa accompanied with a blanket and watch comfort instantly enter your home. 
4. Wood
Another elegant home décor trend perfect for Fall 2022 is wood. A lot of wooden home décor accents are on the rise. Adding a dash of wood to your home is a great way to bring in elegance. Wood makes any interior living space classy. It has a refined and polished tone. This is especially true for high end wood such as black wood, sandalwood and cherry wood. Some home décor items you can add to your home this Fall season that will instantly bring elegance are:
Serving board

Drink tray

Kitchen utensils

Coasters

Cabinets

Side tables

Bathroom toiletries 
5. Decorative Glass Vases
Decorative glass vases are another popular elegant home décor item for the Fall of 2022. Vases will bring class and style into your living quarters in a matter of minutes. One of their best attributes is their versatility. You can go for a traditional, classic or romantic look with vases. To make sure your home has the essence of Fall go for darker toned vases and smoked glass vases. Large floor vases are also great for the cozy Fall season.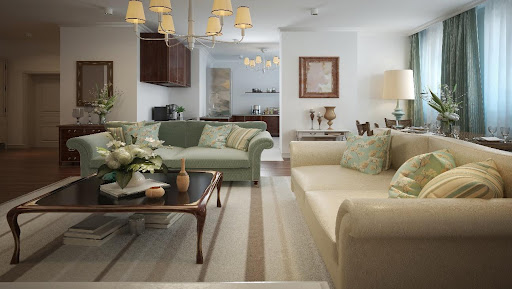 6. Area Rugs
Area rugs is one of the biggest Fall trends of 2022. Many always ask, "how can I make my home look more elegant?" For the Fall season, simply adding an area rug is a great way to make your home more elegant and warmer. According to interior decorator Valentina from House of Valentina, many are seeking the best area rug to add to their homes. The demand for them is very high. If you're wondering which type of area rug to add, below are a list of the most popular types this Fall season.
Fur rugs

Checkerboard patterns, this type of design is very trendy for Fall 2022

Bold patterns
7. Round Edges
Another elegant home décor Fall trend for 2022 is round edges. Styling your home with accents that have round edges gives a feminine and luxurious look to it. You can achieve this by adding larger arched accents such as a sofa, table or vanity chair. Or you can target smaller items that have arches like vases, centerpieces and mirrors. Interior designer and popular YouTuber It's Elle suggest adding large, vanity mirrors with arches to your home design. 
8. Porch Decorating
A very popular elegant home décor trend for Fall 2022 is porch decorating. With some many celebrations that take place during this season, it's easy to see why many value sprucing up their front porch. Also, during the Fall many tend to have more guests come over than usual and eat more home cooked meals. Therefore, making sure the porch is pretty and welcoming is very important. Some of the best items for Fall porch decorating are:
Pumpkins

Woven baskets

Outdoor rugs

Front door welcome sign

Bale of hay
9. Mix and Match Patterns
Mixing and matching fabrics is another trend you'll see this Fall. Adding a blend of materials such as velvet and knitted or faux fur and satin are a great way to welcome the Fall. Utilizing this Fall trend is a fun and stylish way to bring warmth and comfort into your home. Some of the best ways to decorate using mix and match patterns are:
Throws for the sofa

Quilts

Decorative throw pillows
10. Office Space Decorating
With working from home being on the rise the way it is. Another elegant home décor Fall trend for 2022 is office space decorating. Making sure your home is cozy and comfortable while you work is a must. Setting up a small space in your home that allows you to work in peace is a top desire for many homeowners. Adding a desk, chair, table lamp and pen holder to your home office area is a great way to start with accomplishing this trend. You can grab these accessories from your local home good store. Or you can take what you already have in your home and jazz it up. The best thing about this home decorating idea is that it's easy and not time-consuming.
So many ask, "what's the new decorating trend for 2022?", and "how can I make my home look prettier?" Incorporating these trends into your Fall decorating is the perfect way to start. However, don't stop with these 10 elegant home décor Fall trends. There's so much more you can add. Most importantly be sure to add your own personality and charm to it.