If you're storing sensitive items such as art, electronics, wine bottles or leather goods, a climate-controlled storage unit is your best bet for preserving them. These units are designed to keep the temperature and humidity level at an optimal setting to protect your belongings from damage caused by extreme temperatures. Before renting a storage unit in Australia, it's beneficial to learn about the advantages of renting such a space and why it can be the ideal choice for your current needs.
Spacer storage units are an excellent option for people moving house in Australia or migrating downunder. They're also helpful if you need long-term storage while you're away from home due to work commitments. With so many options available, it's hard to know where to start. These storage Gold Coast units provide security and protection against damage or theft, so they're ideal for valuable items like antiques that may not be as well protected in other locations.
Below is a list of 10 things you should always store in a climate-controlled environment.
Art
Art is delicate and can be damaged by extreme temperatures, so the best way to protect it is with a climate-controlled storage unit. If you don't have one, try putting your artwork in a dehumidifier. The temperature should be at least 65 degrees Fahrenheit and no more than 76 degrees Fahrenheit.
Artwork should also be stored in a dark, dry space without exposure to sunlight or other bright light sources like windows and skylights. Avoid storing your paintings on top of or underneath other objects; keep them in separate containers or crates that allow for airflow around them. 
Photographs
If you want to keep your photographs intact and in good condition, don't store them in a basement or garage. Both places are too humid and will cause mold to grow on the photos, which can damage them. Instead, the best place to store these items is somewhere that is climate-controlled!
Wine bottles
In addition to the basics of reasonable climate control, you should also be mindful of the temperature and humidity levels in which wine bottles are stored. The ideal conditions for storing wine vary depending on how soon you plan on drinking it:
Keep your bottles at or slightly above room temperature (55 degrees F) for short-term storage with a relative humidity level between 50 and 70 per cent.

For long-term storage, keep your bottles in constant cool temperatures under 55 degrees F with a relative humidity level between 50 and 70 per cent.
If you decide to store wine upright instead of sideways, as most people do, ensure there isn't any cork damage from pressure build-up. This is a common problem when storing upright for an extended period. In addition, keep your bottles away from direct sunlight and other heat sources so as not to age prematurely. They should also be stored in a dark place, free from nearby machinery or human activity.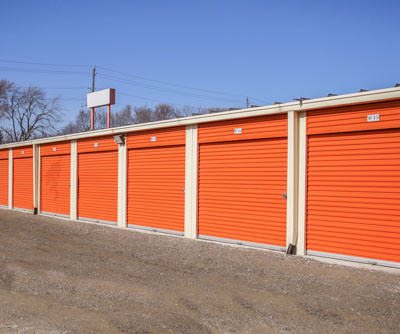 Electronics
Electronics are sensitive to temperature fluctuations and humidity, which can cause rust or corrosion. In addition, if an electronic device is stored in the same unit as food, you risk contaminating it with bacteria or mold spores.
Leather Goods
Leather goods are another natural material that benefits from climate-controlled storage. Leather is especially susceptible to mold, mildew and heat damage. If you don't want your leather jacket or couch to end up a gross, smelly mess when you retrieve it in a few years, be sure to store it in an air-conditioned environment.
Clothing
Clothing is a significant investment. You want to avoid putting your money into something only to have it damaged by extreme temperatures, moisture, pests or mold. Keeping clothing in climate-controlled storage will help keep them in good condition and preserve its resale value.
Collectibles
If you have valuable collectibles, such as paintings, coins or stamps, it's essential to store them in climate-controlled storage. Fluctuations in temperature or humidity can damage these items.
If you're looking for a place to keep your valuable collectibles while not being displayed in your home or office, consider an art storage company that specializes in providing climate-controlled storage solutions for those who need this type of service.
Mattresses
When you buy a mattress, you want to ensure that it lasts as long as possible. If you're storing your mattress in a home environment, it can be challenging to keep your mattress clean and dry. You should bring your mattress into a climate-controlled storage unit to protect it from moisture and damage.
The best way to protect your investment is by keeping it out of harm's way! For example, mattresses are susceptible when exposed to extreme temperatures or humidity levels, which makes them prone to mold growth or mildew corrosion if not stored properly. A climate-controlled storage unit will ensure that these items are kept safe until they're ready for use again.
Musical Instruments
Storing your musical instruments protects your instrument from changes in temperature and humidity, dust and other contaminants and damage caused by other objects. Any instrument with strings can be affected by temperature and snap if stored incorrectly. Save yourself the hassle and store them correctly.
Sensitive Documents
If sensitive documents are stored in your unit, they must be kept at 55 degrees Fahrenheit or lower. There are two ways that this can be accomplished: using a fire safe and using climate control. A fire safe is an insulated box that protects paper documents from fires and other elements while allowing them to breathe so they don't get damaged by moisture build-up. In addition, these safes are placed inside climate-controlled storage units where they can better maintain their ideal temperature without being affected by fluctuating temperatures outside of the unit. Alternatively, suppose you need access to your documents quickly but would like them kept at 55°F as well.
Many items should be stored in a climate-controlled unit for the best preservation
Keeping your belongings in climate-controlled storage ensures they are safe and sound. Many things should be stored in a climate-controlled unit for the best protection. 
So, whether you're storing wine bottles or sensitive documents, climate-controlled units can provide both convenience and peace of mind.