Aesthetic Rooms With Led Light
The Interior of a room affects a lot of things, including your mood. People use various props to make their rooms look alive; LED lights are one of them. They can either make or break the deal.
LED lights also have many benefits. They offer improved energy efficiency, longer lifespan, durability, and design flexibility compared to traditional lighting options. 
Place it after – They can either make or break the deal.
Choose the aesthetics of the room
Choosing aesthetics means the kind of environment you're willing to have. You can go for warm, cozy, fun, colorful, or bright and airy.
Analyze the size of the room
The size of a room can change the whole game. Some LED lights produce heat which can be a turn-off if your room is small, as it will increase your room's temperature. However, you can go for the lights that produce less heat or no heat.
Also, the color of the lights would make the room look bigger or smaller, depending on your choice. Try testing the impact of lights on your room before getting them installed correctly.
Try creating a focal point
Creating a focal point never disappoints; it attracts everyone towards it, and you won't even need to do much.
A focal point can be created with LED strips placed around a piece of art, hanging from the ceiling, adjusted behind the bed's headboard, or under any furniture.
Position LED strips
Using LED strips to give your room a makeover is the easiest and cheapest way to get what you desire.
Position the LED strips correctly so they won't trip. Attach it to the backside of a frame, headboard, or any other place where the strip is hidden, but the light it's emitting is visible.
If you want to keep the strips hidden but the lights visible without actually hiding the strips behind some object. Then you should go for recessed LED strips, an aluminum frame with a frosted diffuser lens is mounted within the walls, and the strips are inside this frame emitting soft light. You can use these aluminum tracks to create art on the wall by changing their positions.
Your control over the lights
You should be able to control the lights you have in your room, such as the intensity of brightness, colors, patterns, and timer. Nowadays, a lot of smart LEDs are available in the market, which can be controlled with the help of a remote.
Things to consider if you are planning to have an aesthetic room with LED lights
Besides the fact that you need a lighting system for your room, you should look into many facts.
Budget
Before shopping for anything, you must have a budget ready so the expenditure can be within the budget-friendly range.
There are various options in the market, both cheaper and expensive, and both serve the same purpose of lighting up a place, but you should buy one as per your need. Such as, if you don't need smart LED strips, you shouldn't go for one.
You might need a professional to install the lights as it's not easy for everyone to install the wires, and it might lead to minor accidents such as electric shock; you must include this expenditure in the budget as well. However, some LED strips come with a guide to install them. You can try them if you are confident enough; self-install LEDs would cost you less.
Size
There are options in LED lights, too, such as fairy lights, vine lights, curtain lights, etc., and they all come in different sizes. Once you have made up your mind about the type of light, then give a thought to the length of the strip required for the room.
Colors and effects
Colors are an essential factor in terms of aesthetics. A wide range of colors is available in the market, from white, off-white, red, pink, purple, etc., to RGB LED strips which can change multiple colors.
Choose the color according to the atmosphere you need, and also pay attention to the wall colors so the lights can complement the previous setup you've had in the room.
Besides the colors, there is a thing called effects in the LED strips, such as twinkling and much more, including that will also give a new look to your room.
Extension cord
Installing LED lights ensure that you'll need more than one outlet, use an extension cord. It will help hide the wire mess of the strips.
Also, it can be seen as a safety step; you can hide the extension cord so no one will step on the wires.
Protection from the heat
Some LED strips produce more heat than necessary, making you feel the temperature rise, especially in an enclosed space.
However, there are lights available that produce less heat. You need to check before buying one.
The warmth of color also matters; the warmer the color, the hotter it would make the room in order of temperature, so try to choose warm or cool colors as per the space your room has.
Some exotic ideas to decorate a room with LED lights.
LED strips can be used for creating accent lights as they won't only make the room look good but will also keep it bright. Also, if there is another light source besides the LED strips, it would make the LEDs look dull.
If not accent, then try creating ambient light by putting the lights behind a sheer curtain; it would provide a soft light which also looks damn pretty.
Also read 15 Best Paint Color for Gaming Room.
1.Fairy lights
Fairy lights are the most common type of lights used for decor purposes. It's highly adaptable to the environment, as you can use it with anything.
You can make different patterns with this simple fairy light- hang it from the ceiling, whitewash the walls with this or make a rainbow effect by using different colored fairy lights; try to make sure that the strings are colorless, or it would look weird.
Fairy lights can be used to create a focal point by wrapping it up around a piece of art or a picture frame, etc.
Use fairy lights with fake vines to give it more of a natural look. It looks like a sparkle of fireflies in the middle of a field with long vines. It won't only look good in the dark but also in the daylight as the vines would do the job.
Try busier vines with flowers; though these are fake vines, they look fantastic and give a natural touch to the room. Try to use natural colored fairy lights such as off-white, green, or light yellow to maintain that realistic touch.
Beside the bed, there are other areas in the bedroom where fairy lights can be used, for instance, the swing in the picture. Do not go around and position the lights everywhere in the room. Keep the lights limited to specific places and let them spread the magic.
2.Ceiling Icicle Lights
Icicle lights are hassle-free; you need to hang them from the ceiling, and it's done with no need to add extra props to make it look good, as it is already doing its job of changing your boring bedroom into a fairy wonderland.
You can add icicle lights on the bedroom's entrance or on the top of your bed to have a feel of stargazing. But make sure to opt for natural lights, or else it might affect your sleep quality. For the same reason, experts advise reducing the screen time in the evening so you can have a better sleep cycle because there are far more different colors on the screen than the natural ones, which gives your mind a signal of daytime. It is how it is.
Simple lights can add extra brightness both in your room and mood, whereas shaped lights give a festive vibe that tends to make humans happier. For instance, this snowflake-shaped light gives off the Christmas and new year's vibe.
You can use shaped icicle lights in festive seasons instead of using typical fairy or icicle lights.
These star-shaped lights are a good option for bigger rooms as they would make you feel like you are staring at the stars on a dark night. Just try not to buy a bright one, as the dim one would look a whole lot better in such a setup, but if you need these lights for the brightness, then it can't be helped. Go get yourself a bright one.
3.Canopy bed
Canopy beds look so out of a fairy tale movie. There is a fanbase of canopy beds out there. They are willing to spend or put effort into a DIY project to have a canopy bed.
Drape the lights around the four posts of your bed, or use a sheer fabric to make it look more majestic.
Use fairy lights behind the curtains around your bed to create your bed as a focal point. Also, using these lights with the translucent curtain will let pass a very soft hue of light, creating a magnificent view in the dark.
You can also use shaped lights such as butterflies to give it a more fairy look.
If you need a perfect canopy and you aren't into DIYs, then buy yourself a canopy like in the picture and decorate it with string lights. Use the colors per the room's former aesthetic, such as wall color, curtains, etc.
If you don't want to drape the lights and curtains around your bed, then try hanging them on the ceiling and then falling on only one side of the bed, the same as in the picture.
Or create such a pattern with the help of a sheer curtain fabric by tying the fabric's four corners with a tying cable. If you want to add more texture to the overall look, then tie up three cables per side and then attach those cables to the ceiling, add some lights and tie up the loose fabric to create such a look.
4.Curtain lights
Using lights with the curtains creates a pretty look in the room. It also makes the light looks softer.
You can use the lights as a curtain. However, you can use it with the curtain though it would look good both ways.
5.LED Hanging Vines
LED hanging vines give your room a natural look as they include other items besides the lights, such as artificial leaves and flowers.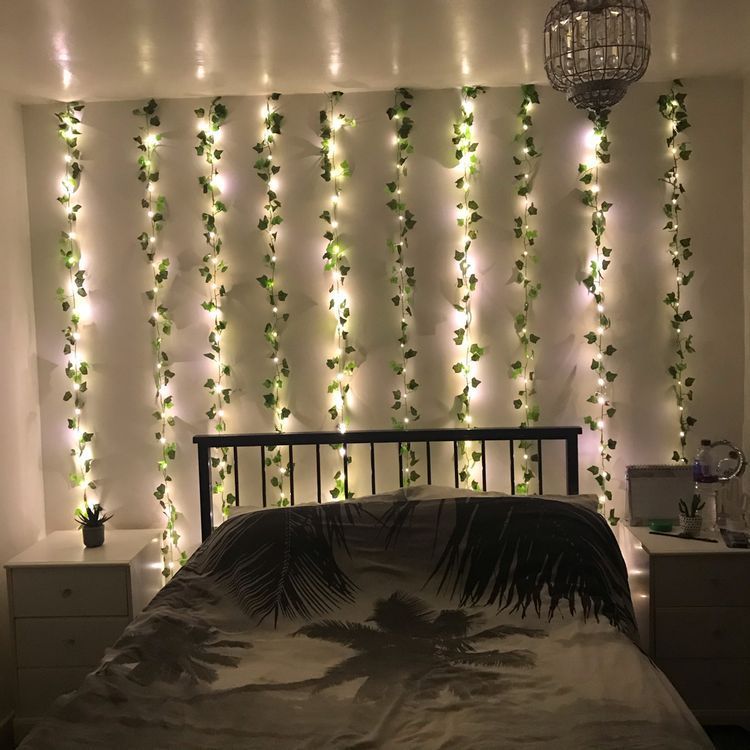 You can hang these LED hanging vines wherever you want to see them in your room. They would fit every corner of the room. The plus point with these LED hanging vines is they would look pretty in the dark and in the daylight.
6.Light Around Mirror
Setting lights around a mirror is not a new idea, but it succeeds in stealing everyone's heart. Also, they give a perfect vanity mirror vibe where you can get ready without worrying about how you would look in the bright light, as you can see that while getting ready.
Adding LED strips to the mirror gives it a backdrop look.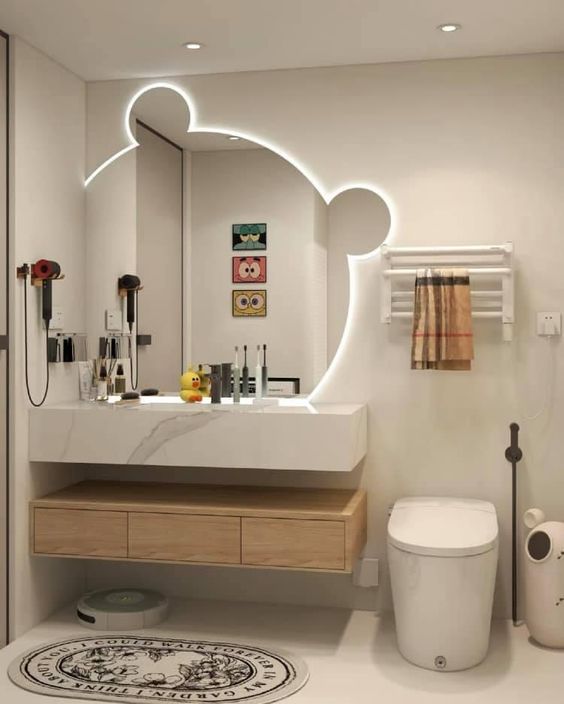 This LED strip around the mirror gives a 3D vibe to the mirror. Also, it provides ample light to get your makeup done.
If you didn't like the previous idea of light around the mirror, then you should have a look at this one. It looks so classy and elegant.
You can use different colored lights as per the aesthetics of your room.
7.Photo Clip String Lights
Photo clip string lights give your decor ideas a personal touch as you can make patterns using these strings and lock your precious moments in the form of a polaroid by pinning them to the string with the help of clips in the strings.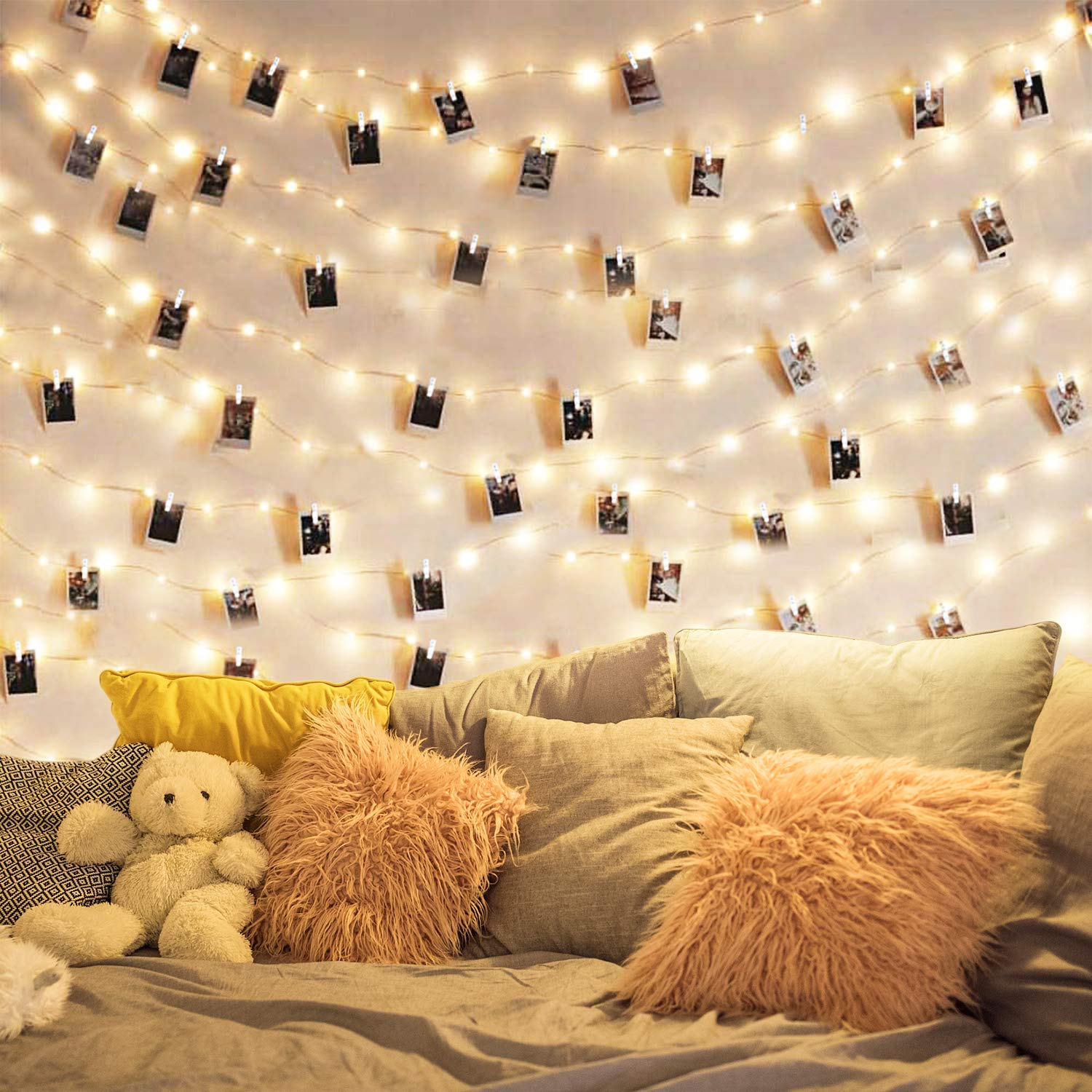 Usually, people fix these lights above their headboards, but it's not a mandatory place. You can set them pretty much anywhere you love to see them. They look too pretty at the night as they put a spotlight on your pictures, brightening up the whole place.
8.DIY Polaroid Style Clip String Lights
If you already have a fairy light string, then you can DIY a photo clip string light by simply clipping the images to the string using normal clips. It still would look as good as the original one. You can also use the rainbow effect by using different colored lights or use RGB lights to have a multicolor effect.
9.Transform the room with laser stars
Turn your room into an alien galaxy by using a laser star projector.
These projectors project a magnificent view you may never get to see in this lifetime, at least. If you love dramatic effects, then this type of product is for you. It can convert your room into a galaxy.
Not only the galaxy but there are also multiple views provided along with the projector you can enjoy. These types of views have the ability to calm down the hyperactive thoughts of humans.
10.Headboard Lights
Adding lights behind the headboard makes it look more expensive and elegant.
Although it's an easy DIY project, you can hire someone to do it if you want to. Use some LED strips and attach them to the backside of the headboard, and it's done. You can now enjoy the soft light emitting behind your bed.
You can use the same technique under your floating bed. Add some LED strips, and you're good to go. Besides that, you can make a statement out of it by adding an art piece above the headboard, and the LED strips behind it, giving the effect of the backdrop. It looks majestic.
You can use whatever color you like. Try keeping the same color for both the headboard and the art piece. Also, try to match the color with the room's aesthetics, or get a smart RGB light that allows you to change the color as per your mood.
11.Illuminated Painting Wall Art
These LED painting walls are getting more fame recently, and they are worth it.
Use your favorite anime figure to show your love for the anime character.
If you are more into classic things, then get yourself a wooden carved wall art that illuminates the light; it would look great in a dark environment.
You can also get a customized phrase or message in the form of Illuminated Painting Wall Art.
12.TV or Monitor Backlight
Smart tv and gaming monitor backlights are recently gaining a lot of popularity because of the cinematic feel it gives in the dark. It changes its color as per the color on the screen, which makes the movie or gaming experience tenfold better.
Install TV backlights along with the slab backlights.
13.DIYs
DIYs are always a good option when it comes to a personalized feel in a living space.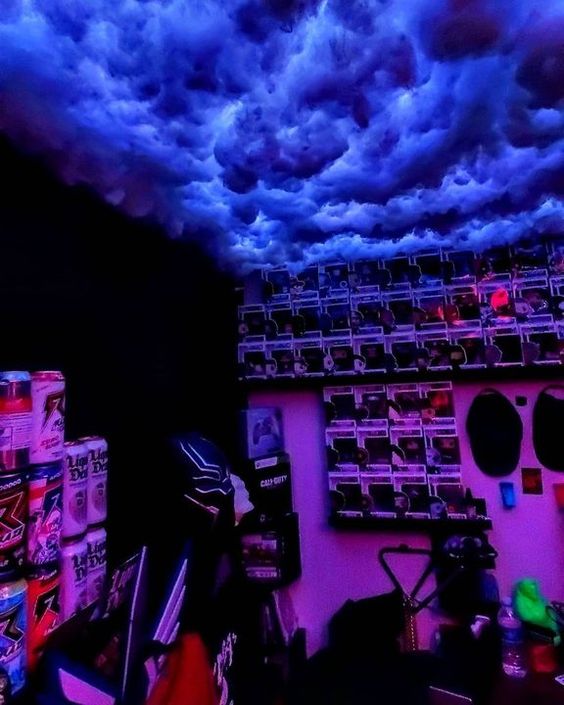 If you love clouds, then you should consider this look very seriously. It's a DIY look that you can achieve with effort and creativity.
Get yourself some LED strips and place them randomly on the ceiling.
Now fetch yourself a pile of cotton and shape them randomly as the clouds.
Now with the help of double-sided tape, start pasting the clouds randomly and cover the whole ceiling.
Now, you'll have your colorful sky whenever you turn on the lights.
If the previous DIY seemed hard to you, then you can try it as it is relatively easy and looks as good as the previous one.
Grab an empty plastic water bottle.
Insert the lights in the bottle, make the hole in the cap and let the outlet fall out of it.
Grab some cotton and paste it onto the bottle randomly.
Voila, your cloud is ready.
Conclusion:
There are numerous ways to use a light in your day-to-day life; if used correctly, it can make you feel at ease and calm you down; if not, it might make you feel exhausted. It's all a color science that you should follow for a better mental rest, at least in your bedroom; besides its effect on your mental health, it for sure makes your room worth spending time there.