We don't know about you, but we look forward to revamping our home for the summer all year long. It's finally time to open up the windows, let the fresh air flow in and decorate with fresh-cut flowers in every corner of the house. Brightening up your home for the warm weather doesn't need to be complicated, either. Simply try a few of these quick and easy tips to make your home feel like the ultimate summer getaway.
Work in Mystical Décor — Looking for a great way to give your home mystical vibes this summer? Decorate with cool tarot card candles or candles that celebrate the zodiac. These accents not only look nice on tables and shelves, but they also smell amazing and honor the season. Try a fragrant, earthy option, such as a Taurus candle, to correspond to the relaxing atmosphere in your space.
Grow Decorative Herbs — Summer means fresh herbs clipped straight from the garden. But your basil, rosemary and mint need not be banished to the outdoors where you can't enjoy them. You can bring the great smell and earthy aesthetic of your herb garden indoors with a countertop herb garden that looks great and supplies you with yummy flavors all season long.
Brighten Up the Room with Fresh Flowers — Summer décor 101: Always have fresh flowers on the counter or dining room table! You don't need to get fancy with it, either. A few daisies or hydrangeas from the grocery store will do the trick. If you're looking to invest a bit of money into your exterior, consider planting some perennial flowers or flowering shrubs so you always have fresh buds available year after year.
Decorate with Summery Candles — What does summer smell like to you? Fresh air, a campfire, the salty air by the boardwalk? No matter your go-to seasonal scent, there's a candle bundle to honor it. We recommend picking candles that are poured in decorative containers, so they add a stylish, artsy flair to your space.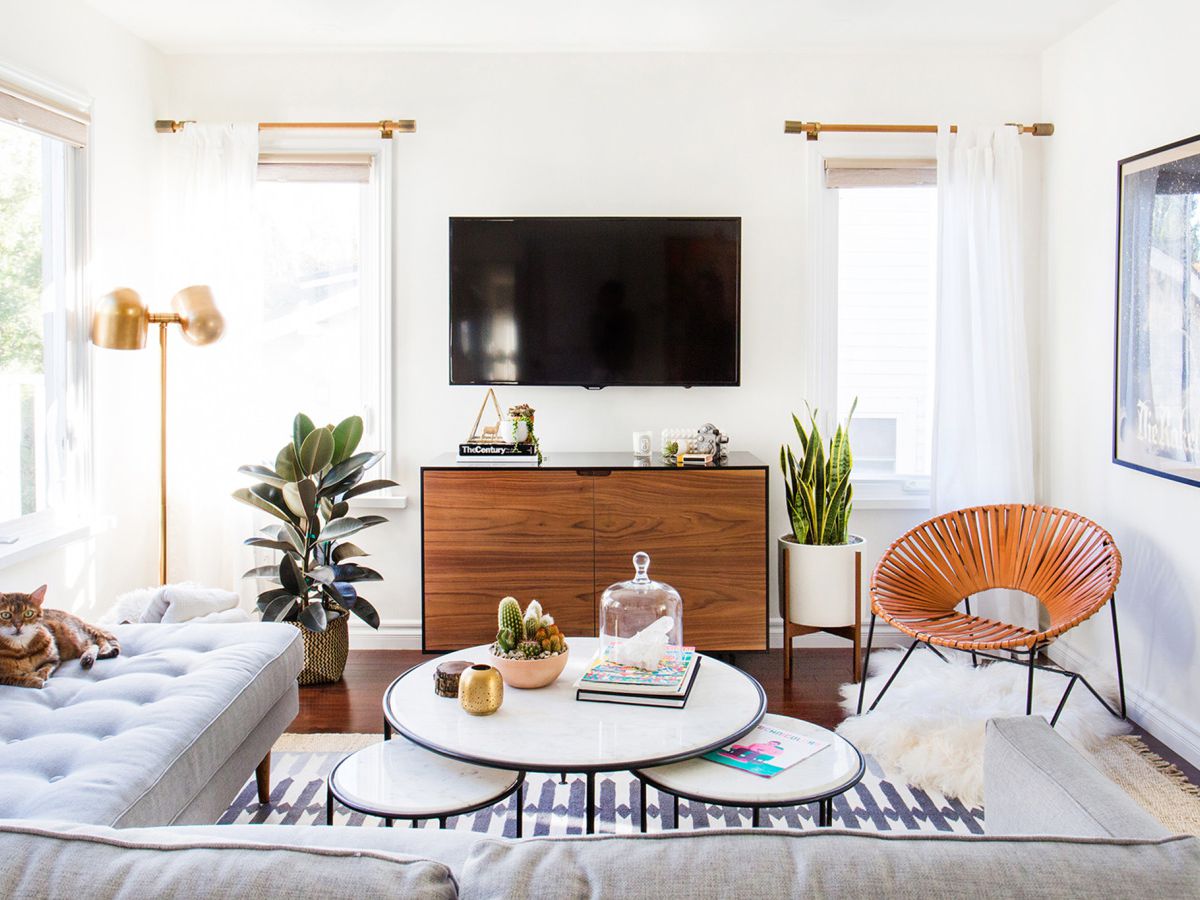 Work in Decorative Fruits — Who says lemons, limes and wild berries can't serve as home décor? Fresh versions of these brightly colored fruits make beautiful sculptures on the counter or dining room table, but you can also get them in faux options to use in your summer wreaths and arrangements.
Switch to Lighter Bedding — Even if you like to crank up the air conditioning to keep your bedroom icy, you're still going to want to swap out the heavy down and fleece for lighter weight cotton and linen. Not only will these breezier fabrics help keep you cool, but they'll also make your home feel like a cozy vacation cottage.
Hang Bistro Lights on the Patio — One of the best ways to dress up any outdoor entertaining space is to hang string lights over the dining and lounge areas. This will make you and your guests feel like you're dining on the patio of the poshest place in town. Don't forget to bring out some delicious summer cocktails complete with pineapple, lemons, strawberries and plenty of fresh herbs.
Swap Out the Table Linens — If you're the kind of person who loves to have the table dressed at all times, make sure you swap out your table linens and centerpiece for something a bit more appropriate for the season. Woven straw, linen, cotton and gingham are always great choices for summery tablescapes. 
Refresh the Sofa with Throw Pillows — Throw pillows are an easy thing to swap in and out depending on the season, and they can have a huge impact on the overall feel of your space. If you're currently working with darker colors, consider switching them out for more summer appropriate shades and patterns. This time of year is a great time to bring in your beachy, nautical or floral throw pillows to help make the space feel more inviting. Don't forget to upgrade your outdoor throw pillows too!
Add Summer-Themed Knickknacks — If you really want to give your home a classic summer feel, pepper in a few seasonal knickknacks in traditional summer themes. From tabletop signage to decorative baskets and jars, there are so many simple ways to give every room a seasonal enhancement.
Add in Natural, Woven Textures — Give your space a tropical, eclectic vibe by incorporating plenty of natural textures. Jute rugs, rattan or cane furniture and baskets woven from natural straw will make your space feel like an earthy, resort-inspired retreat. Offset the natural shades by incorporating bright prints and patterns, such as palm leaf prints in bright green.
Go for Light and Bright — If it's easy enough, consider swapping out your thick, heavy window coverings for breezy sheer ones made from lightweight cotton or linen. This will help make your space feel brighter and more inviting, just like a dreamy cottage by the beach. Light and neutral-colored toss pillows and throw blankets will add to the easy-breezy summer décor. 
Decorate with Large Houseplants — Want to give your home a jungle-inspired feel? Pick up some decorative houseplants to place throughout your space. Make sure to choose easy-care plants that are relatively low maintenance, so they'll thrive year-round without a huge commitment. Plant them in pots that honor your seasonal home décor style. 
As you can see, transitioning to summer décor doesn't have to be complicated or expensive! Something as simple as refreshing your candles or throw pillows can make a massive difference. When you spend a little bit of time revamping for the warm weather months, you'll transform your home into a comfortable, luxurious place to spend the summer.