Have you ever found yourself standing in your garage, gazing at towering piles of boxes and an assortment of unused items? Do you ever feel a twinge of regret about the potential space that could have been efficiently utilized? This is a situation many homeowners can relate to. 
Your garage, after all, isn't just a parking spot for your vehicle or a repository for neglected junk. It holds the potential to be an efficiently organized storage area, providing you with the necessary space to store essential items while keeping your living areas free of clutter.
Garage Space 101: Tips And Tricks 
Ideally, you'd want to be able to stroll into your garage effortlessly and locate whatever you need—be it holiday decorations, gardening tools, or treasured keepsakes. But to do so, it's essential to transform your garage from a chaotic jumble into a sleek, orderly storage space. 
Fortunately, this article brings you expert tips and insightful garage storage ideas to help you make the most out of your garage space. Read on to get into the nitty-gritty of reclaiming your garage. 
Purge Unnecessary Items 
The first step in your journey to an uncluttered garage is eliminating unnecessary items. A helpful guideline is if it hasn't been used in a year or more, it's time to reconsider its worth. To streamline this process, sort items into 'Keep,' 'Donate,' and 'Discard' piles. You might be surprised to discover how many items merely occupy valuable space. 
Once you've sorted your items, promptly deal with the 'Donate' and 'Discard' piles. Avoid letting them become a new source of clutter in your garage. Consider organizing a yard sale for items in good condition or donating them to local charities. Remember, what may seem like trash to you might be someone else's treasure. 
Undertaking this task annually can help maintain your garage storage efficiency and ward off clutter. View it as a form of spring cleaning for your garage. You'll regain space and relish the satisfaction of a well-organized garage. 
Invest In Shelving And Storage Solutions 
After the purge, it's time to contemplate storage solutions. But don't rush off to the nearest home improvement store just yet. Take a moment to evaluate your needs and the space at your disposal. Take into account the size, shape, and height of your garage. Your goal is to maximize your space without making it feel crowded. 
Shelving is a great way to utilize vertical space. Both wall-mounted shelves and freestanding shelving units are excellent choices. Make sure to pay attention to overhead or ceiling storage for rarely-used items like holiday decorations. Investing in clear storage bins can also prove beneficial, as you can quickly identify the contents without sifting through them.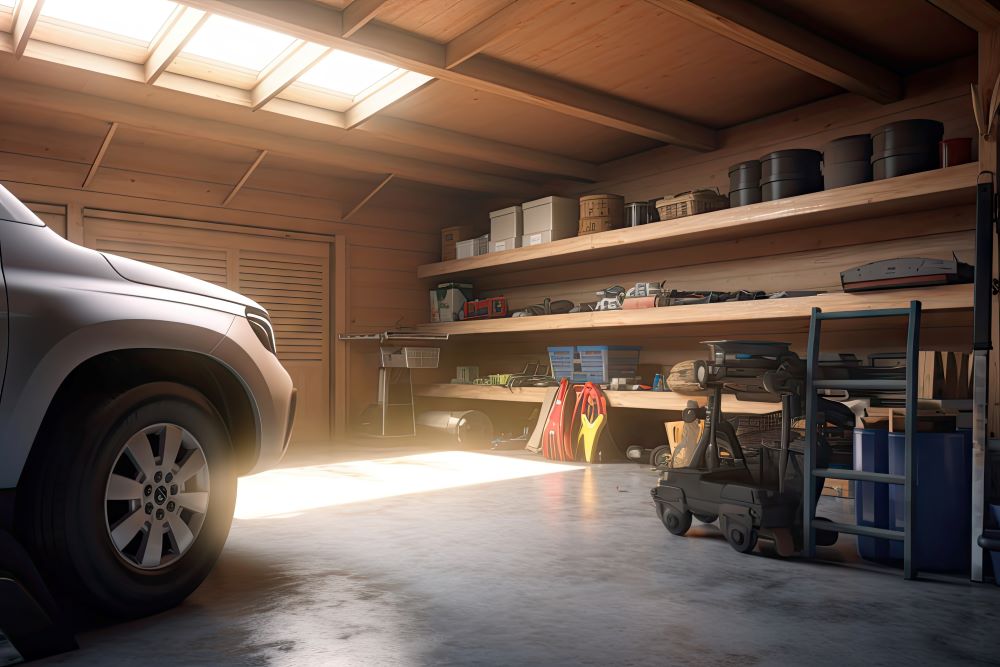 Make sure to choose a sturdy storage solution that can bear the weight of the items you plan to store. It's futile to invest in a cheap shelf that buckles under the load and collapses. 
Categorize And Label 
With your shelving and storage solutions in place, it's time to get organized. Group similar items, like garden tools or automotive supplies, together to create a logical flow in your storage system.
Labeling each box or bin is a vital step in maintaining organization. It may seem like an additional step, but it will save you time in the long run when you're on the hunt for specific items. If you're storing items for the long term, consider jotting down a list of the contents for each box and affixing it to the outside. 
Remember, accessibility is crucial. Keep items that you frequently use within easy reach. Seasonal items you use less often can be stowed on higher shelves or in less accessible areas. 
Regular Maintenance 
Lastly, your garage should adapt to your needs. This means regular maintenance is essential. Cultivate a habit of returning things to their designated spots after use. This small step helps ensure that your garage stays organized and efficient. 
At least once a year, reassess your storage system. Is it time to purge again? Have your storage needs changed? Adapting to these changes will keep your garage functional and efficient. 
Consider implementing a 'one in, one out' rule to prevent clutter from piling up. Every time a new item enters the garage, an old one should leave. This practice ensures your space doesn't become overwhelmed with items over time. 
The Bottom Line
Transforming your garage from a cluttered space to an efficient storage zone is a liberating process. It may require some effort and investment, but the satisfaction it yields is worth it. You can maximize your garage space by purging unnecessary items, investing in appropriate storage solutions, categorizing and labeling your belongings, and maintaining regular upkeep. 
Say farewell to the days of wading through the clutter to find what you need. Instead, stride into your garage with confidence and ease, knowing exactly where every item is located.