If you are looking for your next DIY or home décor project, your bathroom could be the place to start. You may easily overlook your bathroom, but just a few changes or updates can turn it into a relaxing, tranquil room to unwind in at the end of a long day. Here are five design ideas to help you update your bathroom.
Repairing Damage
It is no surprise that there is a lot of water in a bathroom, and this can make it prone to plenty of problems and damage. Whether that is leaking pipes or mold, damage repair services can help to properly and safely repair any damage throughout your entire home, not just in the bathroom. When your home is damaged, it is vital that you get it repaired correctly to ensure that it is safe and hospitable and to try and avoid the risk of future problems.
Walls
A new lick of paint or updated tiles can help transform your bathroom. Think about color schemes and what kind of atmosphere you would like to create. You should use moisture-resistant paint in your bathroom to help prevent the risk of mold. Choosing paint that can handle the damp environment of your bathroom and that is also wipeable is very important. As well as paint, tiling is a common option for bathroom walls. When properly done, tiles are wipeable and water-resistant, and you can have a lot of fun with the colors, designs, and patterns that you choose.
Floors
Due to the level of moisture in a bathroom, it is not recommended to use carpets on the flooring. Bath and shower mats should be washed frequently, as well as other softer furnishings such as towels and shower curtains. When it comes to flooring, tiles and vinyl flooring are common options because they are easy to clean and maintain.  As well as this you can add some skirting boards to match the tiles
Accessories
There are plenty of smaller accessories you can add to your bathroom to give it a refresh. Updating and replacing your towels, mats, and shower curtains can help to make the room look brand new. Heated towel rails are a popular addition as they provide heating and storage and can be installed on your wall so that they don't take up floor space. There are also different types of plants that you can keep in your bathroom that benefit from the moisture in the air and add a pop of color to the room.
Storage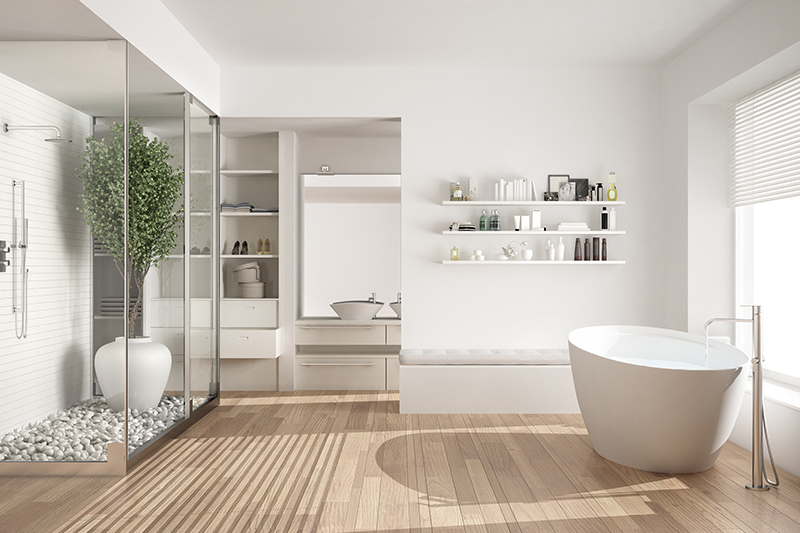 A common problem that many people run into in their bathrooms is a lack of space. Using clever storage options can help make your bathroom look neater andmore spacious and free up other surfaces. Towel rails are a good option, as is under sink storage in which you can keep your toiletries and accessories. This means that you don't have to clutter up your sink or other surfaces with items. Suction cup storage boxes are also a great idea, as they can attach to many different surfaces and keep your belongings together.