Is your backyard looking and feeling a little dull? If so, then it may be time for a backyard makeover. But where do you even begin? We've got some practical tips for transforming your backyard so that you can turn it into the outdoor oasis you've always wanted.
1. Invest in a Deck or Patio Addition
First and foremost, you can't expect to enjoy spending time in your backyard if you don't have a dedicated space for outdoor entertainment. With this in mind, now may be a great time to splurge on a deck or patio addition.
Currently, the prices of lumber are extremely inflated because of supply chain issues related to the COVID-19 pandemic. Therefore, a traditional wooden deck may be costly; fortunately, there are alternatives (such as composite decking). You can always consider interlocking concrete pavers, mosaic flagging, square-cut flagging, or other natural stone patio options if you want to go for a higher-end look. 
While adding a deck or patio to your property will cost some money up-front, the good news is that this type of project also comes with a high return on investment (ROI) of about 70% in most cases. And, of course, you'll be adding to your outdoor living space in the process, so it's a win-win!
2. Incorporate the Right Lighting
In addition to having a great space for outdoor entertainment, the right lighting can also go a long way in transforming your backyard space. Ideally, your yard should incorporate a mix of both mood and task lighting. Task lighting is useful when you're cooking or preparing food/drinks outdoors — or even when you're just relaxing on the deck with a book. This type of lighting should be plenty bright and possibly even adjustable/dimmable to suit your needs.
On the other hand, mood lighting should create an ambiance (especially during the evening and nighttime hours). Many homeowners, for example, choose to create mood lighting by hanging string lights along a pergola or deck.
If your outdoor space has any pathways or walkways, you'll also want to make sure that these are well-lit with path lights at night. This will ensure that you and your guests can safely navigate your property, even in the dark.
3. Create Warmth With a Fire Pit or Outdoor Fireplace
Looking for a way to encourage gatherings in your outdoor space? Adding an outdoor fire pit or fireplace is a great way to make this happen, especially on chillier nights. Sitting around a fire on a crisp night is a wonderful way to create some new memories with your loved ones. Furthermore, there are so many creative options for both fire pits and outdoor fireplaces that you can find one that will suit your needs and budget. 
Working with a smaller budget? A portable steel fire pit may be all you need and will serve its purpose. For example, the Breeo Smokeless Fire Pits are lightweight and can be moved to different spots. However, they're also durable enough to last and withstand the weather. Their smokeless technology also allows for more airflow and less of the smokey smell around your gathering space.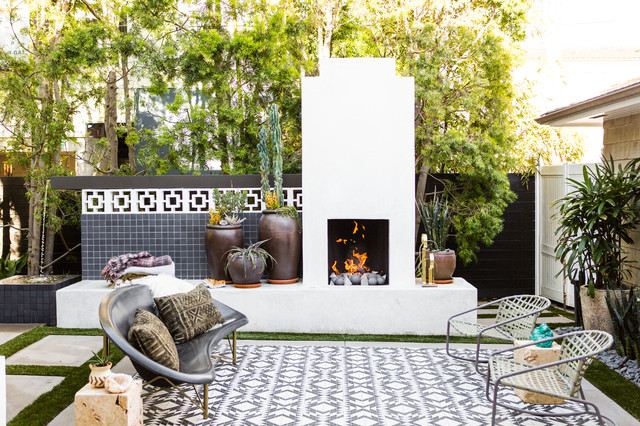 If you're looking for something a little more permanent, there are plenty of great stone fire pit designs and even build-your-own kits that you can buy at your local home improvement store. One of the more popular options is the Nicolock fire pit kits. If you want a more natural look,  consider landscape rocks Columbus ohio as these offer a natural stone texture that will blend with any outdoor landscape
Want to create a truly incredible focal point and gathering space in your backyard? Look into having a custom outdoor fireplace designed and installed. A beautiful natural stone fireplace can add value to your home while also making your deck or patio space even more stunning.
4. Add Greenery (And Maybe a Water Feature or Two)
Never underestimate the power of a little greenery and water when it comes to beautifying your backyard space. Even if you don't have much of a green thumb, you might consult with a local landscaping company to install some low-maintenance shrubs or other plants around your deck or patio space. If you want to get a little more creative, you could add some colorful hanging flower baskets to your deck or pergola as well.
A water feature like a stone water fountain or even a pond can surely add tranquility to any space, making your backyard a great place for relaxation.
5. Choose the Right Outdoor Furniture
The right furniture can make all the difference, too! Ensure you have enough seating for at least everybody in your household, plus a few additional seats for guests whenever needed. If you do a lot of grilling or cooking outdoors, you'll also want to have a dedicated outdoor dining space with a table and chairs. Other furniture pieces to consider adding include a portable bar cart and comfortable lounge seating.
The Bottom Line on Easy Backyard Transformations
A little creativity can go a long way when it comes to transforming your backyard space into a true oasis for you, your loved ones, and your guests. By following any of these tips, you can make your backyard the place to be this summer and beyond!