A lot of people don't love cleaning, and that's okay because you can probably name at least 10 other things off the top of your head that you'd rather do — like floss or buy stamps at the drugstore. If you're looking to learn to love cleaning or at least try some new and satisfying ways to get your cleaning chores done, you might be surprised to learn about these easy-to-do cleaning hacks. Whether you want to learn how to remove stains with hydrogen peroxide or groom your dog with a brush that combs their hair and can get rid of fur from your couch, we have all the tips and tricks you need. Try out any of these six satisfying cleaning tips you need today!
How to Practice the Art of Micro-Cleaning
The reality is that most of us don't have hours to spend every day focused on just cleaning. Perhaps your idea of cleaning at the moment involves running the dishwasher every other day or so and vacuuming your living room before you have guests over. That's where the art of micro-cleaning comes in. The whole idea behind micro-cleaning is that you clean in short bursts of time that you have free. It might mean 30 seconds here or five minutes there. If you only have a minute to clean, try wiping down your kitchen counters. If you have a couple of minutes to spare, try grooming your dog with a dog hair remover brush. You'll be bonding with your pet while removing excess fur.
How to Create an Easy-to-Follow Cleaning Routine
If you don't already have a cleaning routine, it's time to create one that you'll actually follow. Make a list of tasks that you want — or at least should want — to do every day. Divide the tasks into daily, weekly, monthly, and once-in-a-while cleaning chores. If you live in Bellevue and looking for professional help, you may check out Rain City Maids to get the best cleaning services in Bellevue Some daily tasks can include making the bed or doing the dishes. Every week, you might want to focus on laundry or using a pet hair remover brush on your stairs' carpet. Every month, you should clean your washing machine and shampoo your carpet. As for those once-in-a-while tasks, when was the last time you checked your air filter or wiped down your fridge and freezer?
How to Remove Food Stains with Hydrogen Peroxide
We all know about that leftover spaghetti bolognese that we kept in a plastic food container for a little too long. Suddenly, that food container is stained with the color of pasta sauce. Try as you might with your attempt to remove the stain with soap and water, but the stain just won't budge. That's when you need to spray your food container with hydrogen peroxide. Let the hydrogen peroxide sit for a day to let it work its magic. You can use the same trick on plastic cutting boards as well.
How to Pick Up Broken Glass with Bread
Ah, the soul-crushing sound of your glass of wine hitting the ground and broken glass spreading everywhere. Cleaning up broken glass is a trying task as you watch it shatter and fly everywhere. First, pick up the large pieces and immediately discard them. Larger shards can be swept into a dustpan. As for the tiny remaining shards of glass, you can press a slice of bread on the broken glass to help you pick up those tiny shards. It's best to use a piece of bread that's moist and dense.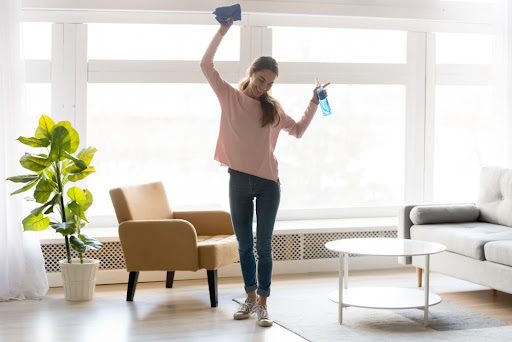 How to Clean Your Couch
You might not be sure how to clean your couch. You see your furry friend sitting on it and taking their precious afternoon nap on it every day, but how do you get rid of all that cat or dog fur? You need to do more than just vacuum the couch with that upholstery attachment. Use a special tool like the Uproot Cleaner Pro™, which is specially designed to remove pet hair from your couch and other furniture around the house, like bedding, rugs, carpets and more. The best part is that after you use this tool to get rid of dog hair from your couch cushions, you can use that same brush to groom your dog, too!
How to Deodorize Your Dishwasher
According to Kitchn, you may be surprised to learn just how efficient your dishwasher actually is. It uses less water than hand washing dishes. Using your dishwasher also takes less energy than hand washing. Why is that? It's simple — less water means less energy needed to heat the water to clean your dishes. That being said, you still need to take care of your dishwasher by deodorizing it from time to time. To deodorize your dishwasher, run a cycle with just white vinegar. This will help eliminate the buildup of any mold and mildew. If your dishwasher is starting to smell funky, consider also running a cycle with diluted bleach (one part bleach with two parts water) afterward.