The workplace is changing. Many companies worldwide are now opting for a work-from-home arrangement because of the changes COVID-19 brought about to the professional world's landscape. Some companies are even allowing their employees to stay at home for the foreseeable future.
This gives employees newfound freedom to decorate and upgrade their office in any way they'd like. No more uncomfortable desk chairs and cramped cubicles. No more dedicated lunchtimes, staff birthday meetings, or looking out the window waiting for 5 p.m. to roll around.
It's time to customize your brand new home office. But where to start?
Whether you are new to the concept of working from home or have been a professional freelancer for years, here are seven awesome gadgets to add to your home office to maximize productivity, enjoyment, and creativity.
Wireless headphones
When you change from a company office to a home office, you find yourself in a much different atmosphere. Lawnmowers buzz outside your window. Your significant other cooks breakfast in the kitchen. Your dog barks at the mailman. 
Block out the noise with a pair of noise-canceling headphones to drown out unwanted noises, lock into a video conference, or jam out to some chill music while doing everyday tasks.
A good pair can effectively block out everything unnecessary to the task and give you the momentum to complete the task at hand.
Floating plant holder
Biophilia is defined as an essential need to be around and connect with nature. Having plants around you can be directly correlated to better performance when implemented correctly.
Using the power of magnetism, the plant of your choice hovers above its base below, rotating 360 degrees in an earthy performance.
So what's it going to be? A cactus? A peace lily? How about a jade plant?
Spruce up your home office with an eye-catching and soothing living companion. Just don't forget to water it.
Smart desk light
Let's face it; not all home offices are created equal. If you have a big, bright window you can set your desk up next to, it will give you access to most of the natural sunlight your body craves. 
But for those that have turned their small spare room into their home office, or don't have the optimal space for a large workspace, getting natural sunlight can be a problem when spending long hours alone. 
That's where a smart light comes into play.
Those that have the winter blues or intense sleep issues will benefit from having a light that mimics the sun's rays in brightness throughout the day. That's right; set up this smart desk light to your timezone, and it will crank up during the midday sun and gradually dim until sunset.
Many of these sunlight helpers come with a sleek design and an adjustable head, giving you a snazzy companion that might brighten your day.
Extendable laptop monitors
For those of you that work on multiple projects per day, often at the same time, it is often necessary to have more than one screen open at once. 
Instead of filtering through windows and tabs on your laptop, score two extendable and adjustable monitors just by connecting a few USB cables.
The trio is one of the best-funded Kickstarter campaigns of the past year and allows you to connect two external monitors right onto your laptop and extend them out for a total of three screens.
Just fasten four magnets to the back of your computer and attach the monitors. When your tasks are all done, the thin monitors lay on the back of your laptop until you need them next.
Now that's efficiency!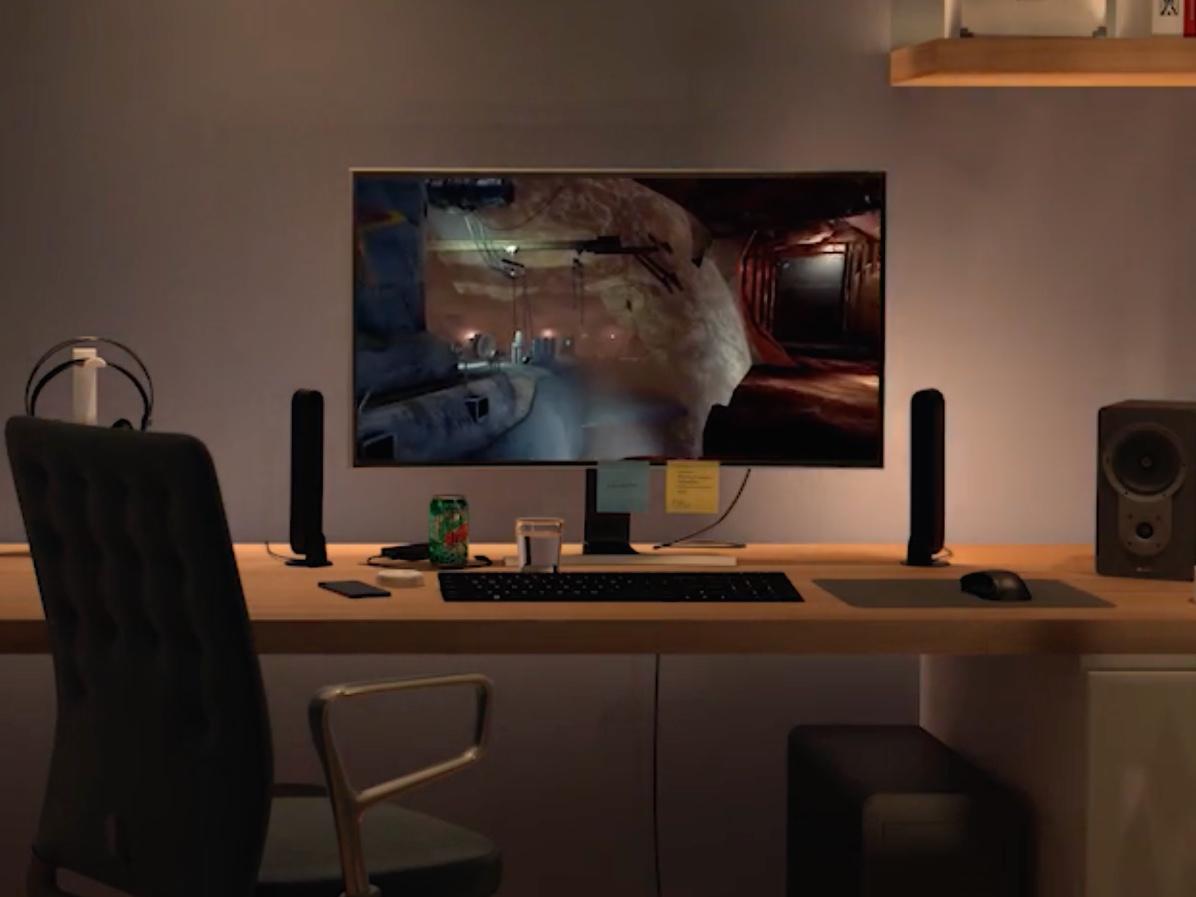 Smart squeeze ball
Stress is a part of daily life, and the workplace is no exception.
Maybe you've previously stuck a foam ball on your desk and chucked it at the way or squeezed it into oblivion to reduce stress.
The smart squeeze ball isn't your ordinary squish toy; the design helps you calm your nerves while improving your grip muscles and syncs to your smartphone. Download the app, monitor your drip strength, try unique exercises, and let go of your stress.
The app allows you to invite your friends and play grip muscle games. Working from home can get lonely. With this smart squeeze ball, at least you can let off steam with your friends and have fun doing it.
Put it right next to your mouse for easy access.
Personal assistant
Score a new and modern personal assistant powered by artificial intelligence, and you're now the boss with a brand new secretary.
A personal assistant such as Amazon Echo or Google Home can remember things you say to it for later use, schedule meetings, and remind you of upcoming assignments and deadlines.
Dictate to it, and it can write your emails for you. 
Program it with the most frequent messages you send throughout the day, and you're effortlessly communicating with colleagues or clients.
Don't forget; it can make calls, send texts, and play music for you, too.
A virtual personal assistant is especially beneficial for those in a paperless office setting or those looking to transition into one.
3-in-1 printer
It might not be the sexiest item on the list, but it's often one of the most necessary. 
For those who print early and often, keeping printing costs down is a crucial cost saver. 
This modern 3-in-1 printer not only prints, faxes, and scans, but does so wirelessly and in a package you can put on top of your desk. 
With an ink-saving printer, you get the job done while saving money.time to get to work