Even if you've grasped and mastered ways of cleaning the interior of your home, cleaning the exterior may seem like an overwhelming task, especially when carrying it out for the first time. This is typically the case because most individuals neglect exterior cleaning.
However, you should remember that first impressions last, so if you're cleaning the interior and disregarding the exterior, you'll hardly make a great first impression. Therefore, if you're planning to do exterior cleaning anytime soon, try to research online for service providers within your area, such as Lance Pro Wash to assist you in getting the job done. 
That said, here are some exterior cleaning tips to guide you in cleaning your home regardless of the season. Let's get started.
Clean Your Driveway, Steps, Patio, And Sidewalk
Irrespective of the season, maintaining a clean driveway, steps, patio, and sidewalk throughout the year is essential to increasing your home's curb appeal. During winter, consider deicing your driveway, steps, patio, and sidewalk near your garden. Instead of using rock salt, which can harm the soil if it leaches into the ground, you might use granular fertilizer, natural sand, or even clay kitty litter for de-icing.
Remember that if you don't keep your driveway clean, fungus, rust, mold, or mildew will grow on it and leave unsightly stains. Therefore, the first step in cleaning your driveway is to remove any visible stains; oil stains may be removed quickly and easily with a drying agent. Start by applying a drying agent to your driveway and leaving it on for an entire day. Then, use laundry detergent to scrub the area clean. Stains like rust can be removed from with the use of wood bleach. 
Clean The Gutters
Most homeowners don't prioritize gutter cleaning as part of their regular exterior cleaning routine. And when they clean it, they give it the minimal attention it deserves because it's inconvenient. However, if you don't keep your gutters clean, water might leak through and rot the shingles or siding on your roof and walls.
Therefore, when cleaning your home exterior, you should inspect and clean the gutter thoroughly at least once a year. By doing so, you'll be able to identify and rectify any damage on your roof before it worsens. 
When cleaning your gutter, remove all debris that has caused a blockage. You can use a plastic gutter scoop or a kitchen spatula. Once you've removed all the debris in your gutter, give them a good cleaning, and leave it sparkling clean.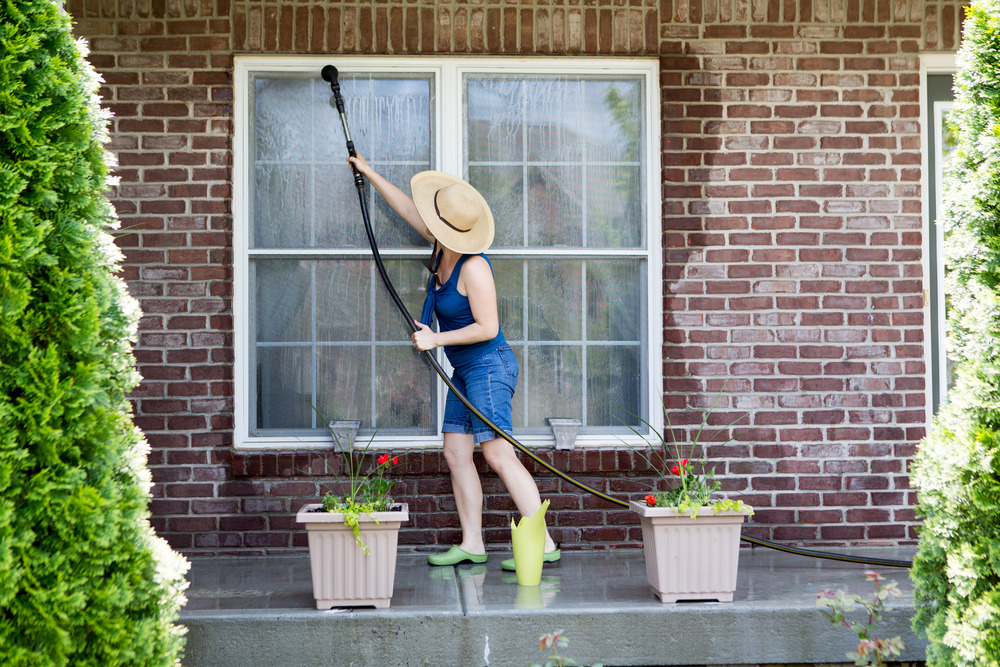 Clean Your Window
When cleaning windows, most homeowners tend to clean the inside and neglect the outside. Cleaning your window frequently is crucial, especially if you live in an area that experiences intense weather, salty air and hard water. Cleaning the exterior of your window gives you a better visual effect and improves the overall look of your home. Furthermore, cleaning the exterior of your home will keep your window in a better condition preventing algae and hard water buildup.
To properly clean your window, consider using a cleaning solution consisting of dish soap and water. This DIY cleaning solution will guarantee you a better cleaning result. Furthermore, consider using a squeegee when cleaning the exterior of your window to remove any buildup. This is the best way to clean your window throughout the year.
Additionally, vacuuming your window at least once a year is essential as your window traps pollen, dust and dirt. It would be best if you considered doing this when deep cleaning your home's exterior.
Clean The Outside Wall
Cleaning the exterior wall is vital as it removes grime and improves the house's overall look. If you're planning to externalize your home's wall, consider doing it during summertime. In addition, when cleaning the wall, you should avoid strong bleach and high-pressure washer machines as they can damage the paint and finish. 
Consider creating a DIY cleaning solution to help remove mildew and mold when cleaning your wall. If you want to make your wall stand out without damaging the paint, you only need dish soap and a garden hose.
Clean Your Roof
When the roof is not cleaned, moss and algae will grow on it, giving it an unappealing look. So, to uplift the overall look of your home, you'll need to clean your roof. It would be best to consider using chlorine bleach as it will kill all algae and moss spores present on your roof. To create your DIY solution, use a 1:1 ratio of chlorine bleach to the water. 
Keep in mind that if your roof is made with asphalt shingles, you should avoid using a pressure washer as it will cause damage to them. You'll need a significant amount of water to wash the bleach off your roof. Moreover, consider cleaning your roof during spring, as the rains will help to wash away the remaining algae on your roof. Lastly, it's also a good idea to use a leaf blower when cleaning your roof to remove leftover pieces of moss.
Clean The Sidings
Don't forget your sidings when cleaning the exterior of your home. However, you should note that it requires proper technique and special care, so bear in mind that a pressure washer is not the best tool for the job when it comes to keeping it clean. Using a high-pressure washer can create holes or force the water to drain into unintended areas, leading to rot and mold problems. 
As you start cleaning your siding, use 70% water and 30% white vinegar. To further aid in the dirt-removal process, consider adding some bleach to the mixture if mold is present. Moreover, if you have plants and flowers around your home, be sure to protect them before you clean the sidings. 
Clean Your Deck
When cleaning the exterior of your home, consider cleaning it from top to bottom. Clean your deck once you've removed all the debris down to the floor, protecting your plants from any splashes or drips with a plastic sheet. Once that is done, start cleaning but avoid using a pressure washer as it can cause damage to your wooden deck. Always keep your pressure washer for your tiles, concrete and stone surfaces.
As you clean your deck, remove all debris using your hand and use a leaf blower to eliminate any dirt or dust. A garden hose is vital for cleaning your deck as it does not run under high pressure. In addition, clean your deck with a soap dish and wash it off using a garden hose. Afterwards, rinse it and let it dry. Lastly, consider cleaning it during summertime for your deck to dry completely.
Takeaway 
It's essential to keep the exterior of your home clean all year round, and if you're not sure where to start, you may use the tips in this article as a guide. These suggestions are simple to apply and will enhance the appearance of your home, making a favorable first impression that you'll fall in love with.