If you are tired of having the same old patio appearance on your Texas home that you have had for the past several years, now is the perfect time to make some changes with a remodeling project. Depending on your interests and preferences, there are several ideas to consider. For example, some suggestions are better for people who enjoy spending time outdoors in cool weather while others cater more to family get-togethers.
Firepit or Fireplace
Compared to many other states, much of Texas experiences mild winters. Still, there are days (and especially nights) when the temperatures drop low enough to make the use of a patio firepit or fireplace quite enjoyable. By choosing a product from a company such as Allied Outdoor Solutions, you can find the perfect firepit or fireplace to fit your patio.
Comfort Prioritization
On a scale of one to 10, how comfortable would you rate your patio? If it is any number below 10, you should also put some effort into prioritizing comfort with your next patio remodeling endeavor. There are many ways you can do this and stay within your budget, too. For example, you can often find comfy cushions and furniture on sale brand new or for expensive costs at thrift stores.
Stone Patio With Pond
For some people, the outside area of their home is a place for peaceful meditation. If this sounds like something that you, too, could benefit from, then consider patio design ideas that incorporate pleasant and calming water settings and rock placements.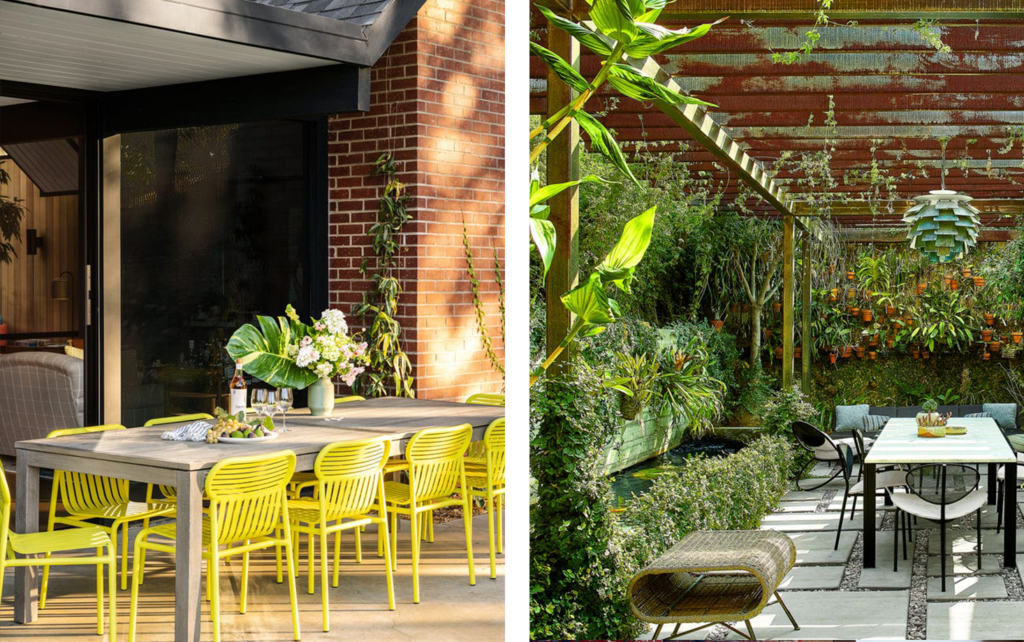 Enclosed Patio Cover
Do you ever wish you could enjoy time outside when it is raining without getting wet or uncomfortable? With an enclosed patio cover, you can! Whether you simply enjoy sitting on your porch or you like to have get-togethers outside, a patio cover can make planning easier because you will not have to cancel if there is an upcoming thunderstorm.
Grilling Station With Outdoor Sink
Do you or another member of your household enjoy grilling outside? If so, then setting up a grilling station with a nearby outdoor sink can be the perfect way to enjoy cooking while also being outdoors. Having a sink close by can make cleanup a breeze, and having a dedicated grilling station can create a fun and easy way to prepare meals for your household and guests while enjoying your patio.
Modern Hot Tub With Artful Design
Relaxation is a core component of self-care, and hot tubs can be a great way to indulge in relaxing. Why not knock out two New Years goals at the same time by improving your self-care and completing a home improvement project by installing a modern hot tub that you can enjoy all year long? Add personality to the addition by including an artful design or vibrant colors.
Paint the Wood
Take a look around your patio and note wherever you see wood. What color is it? Now, think about how it might look if you painted all of the wood spots. By doing this simple change, you can create a dramatic effect on your entire patio's appearance.
Remodeling your patio can give you more reasons to love and enjoy your home's outdoor space. These ideas can make your patio more comfortable and appealing.