Interior design is a huge industry encompassing everything from the style of our furniture to the colors of our walls. It' s also an ever changing industry, with new trends appearing all the time. If we want our homes to remain current with the latest in interior decorating, then it' s important to be aware of the trends and know which ones we should pay attention to.
However, not everyone is an expert at interior design. If you don't know where to start or which trends to follow? That's okay! Interior Design Review Platforms (IDRPs) like RenoNerds can help you find interior design ideas, works and reviews related to the latest trends. We'll go through some of the most exciting trends that you can incorporate into your own space, whether you' re planning a small renovation or starting fresh with a brand new house.
#1: Smart Home Technology
Technology and interior design have traditionally influenced one another, so it makes sense that the latest interior design trends are influenced by progressions in technology. From smart homes to self-driving cars, there's no denying the influence of technology on our lives today. This trend is especially true for interior designers, whose clients want to incorporate technology into their spaces.
Now, we can turn on a TV or stereo system without even reaching for the remotes. As a result, current interior design trends encourage sleek electronics that are easy to use and don't take up too much space. In fact, many modern TVs are designed to look like pieces of art. They blend seamlessly into the decor and don't distract from the room's overall aesthetic.
#2: Flexible Spaces
In the past, spaces were usually designated for the purpose they serve – sitting areas, dining area, meeting rooms, etc., but nowadays people want more flexible spaces, allowing them to use the space according to what they need.
For instance, foldable tables and chairs allow you to transform a small space into a larger one depending on the occasion. Also, using furniture with subtle motors allows you to easily move the space around.
#3: Minimalist Furniture
Minimalism has been popular since the 1980s, but now it's back in full force. The minimalist approach emphasizes simplicity and functionality over decoration.
This means that instead of filling every inch of a room with knickknacks and accessories, minimalists opt for streamlined furniture that doesn't overwhelm the space. Instead, they focus on creating a clean, organized environment.
#4: Natural Materials
Interior design trends seem to be heading toward a more eco-friendly direction as people are looking for ways to bring nature into their homes. From incorporating natural materials such as stone and wood into furniture to creating spaces that mimic outdoor environments, the next few years promise to be filled with innovative designs that take advantage of our surroundings.
The most recent example of this trend is found in the kitchen, where homeowners are opting for warmer colors and materials that reflect the outdoors. Natural wood floors and counters, as well as reclaimed wood cabinetry and fixtures, are becoming increasingly popular as people seek out products that are both beautiful and environmentally friendly.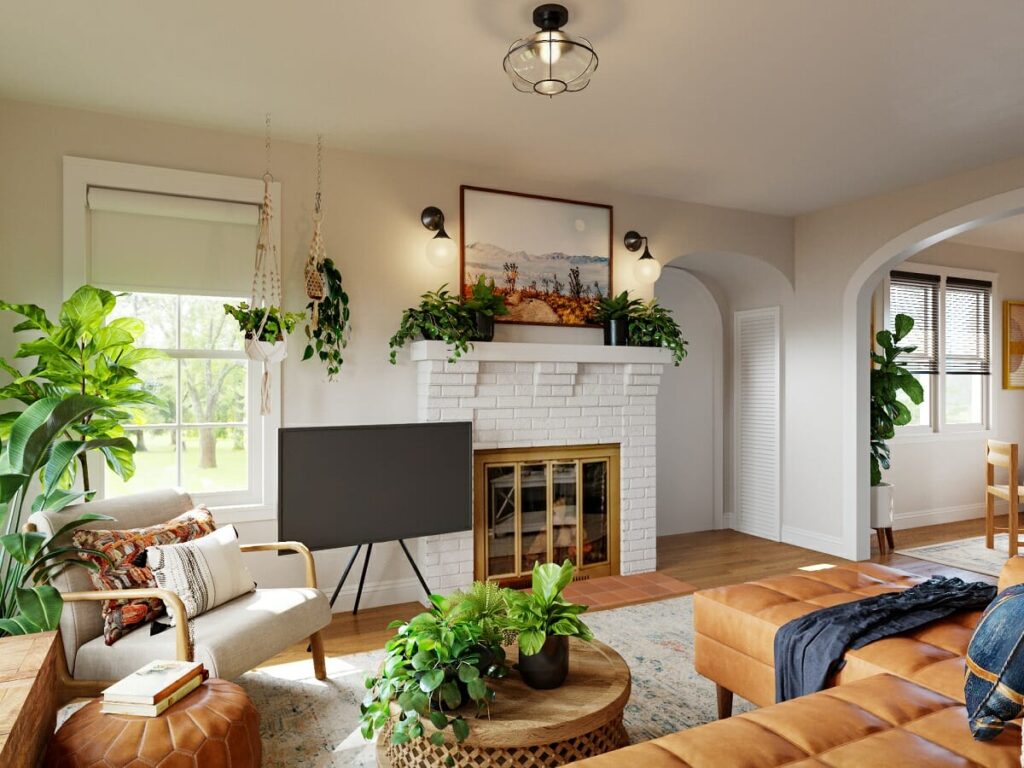 #5: Colorful Walls
Colorful walls are popping up everywhere these days. Whether it's a bold color scheme or a soft palette, colorful walls add vibrancy to any space.
They're also a great way to make a space stand out, especially if you're looking to create a focal point. For example, a bright wall could act as a backdrop for artwork or photos. Or, you could paint a wall in a contrasting shade to give the illusion of depth.
#6: Maximalism Design
Maximalism is a trend that's been making waves in the world of interior design since 2017. This design philosophy is based on the idea that there is no such thing as too much colour, pattern, texture, or visual interest. In fact, maximalists believe that every element in a room contributes to the overall aesthetic experience.
The concept originated in Japan during the late 1980s, where it became popular among young people looking to rebel against the traditional minimalist approach to home decor. Today, maximalism is being embraced by homeowners across the globe, both old and new.
#7: Concrete Accents
Concrete has long been considered one of the most durable materials, but it hasn't always had the same place in the world of interior design. In fact, concrete has often been associated with industrial buildings, warehouses, and even construction sites. But since the beginning of the 21st century, concrete design has been making a comeback, thanks to some very creative designers.
While concrete has always been commonly seen in flooring and countertops, it's now being used in more unique and surprising ways, including home décor items like pendants and furniture. And while concrete floors are still common, there are many different options for how you can mix and match concrete elements into your spaces.
Conclusion
Interior design trends are becoming increasingly popular among both designers and users worldwide. As we move forward into the future, expect to see more and more innovations in the field of interior design. So, go ahead, experiment with these trends to your heart's delight!