Decorating the exterior of your home for the holidays is one of the funnest parts of owning your own home — or even renting your own home. Christmas lights add color and life to what might otherwise be a very bleak and dreary time of year, when everything looks dead and frozen.
But if you've never decorated the outside of a house for Christmas before, where do you start? It can be daunting, and you don't want to end up like Clark Griswold, doing all that work only to have it fall flat. 
Of course, you don't need to plaster your home with 25,000 incandescent lights — and that kind of wattage would cost too much, anyway. Thanks to modern LED lights, you can connect more strings of lights than ever, and they'll need less power and be cheaper to run than incandescent lights. But before you start hanging lights, you need a plan. Here's how to get started.
Grab a Photo of the Front of Your Home
Yes, you know what the front of your house looks like — but you've never looked at it with an eye towards decorating it for the holiday season. Go outside right now and take a long look at the front of your house, and grab a photo of your home from the widest possible view.
Most people outline their roof gables and dormers in Christmas lights. Some will also put decorations in or around windows and doors, string lights up in trees and shrubs on the property, or string lights around a porch or balcony. Use the photo of your home to plan where you want to put lights and decorations. 
Measure the Exterior Areas You Plan to Decorate
Before you buy any outdoor Christmas decorations, measure the areas you want to decorate. If you're going to put lights on the roof, you'll need to get out your ladder, climb up there, and measure the gable peaks and dormers so you know how many feet of lights you need. You should also measure the circumference of any trees and calculate the area of any shrubs or bushes you want to decorate with net lights.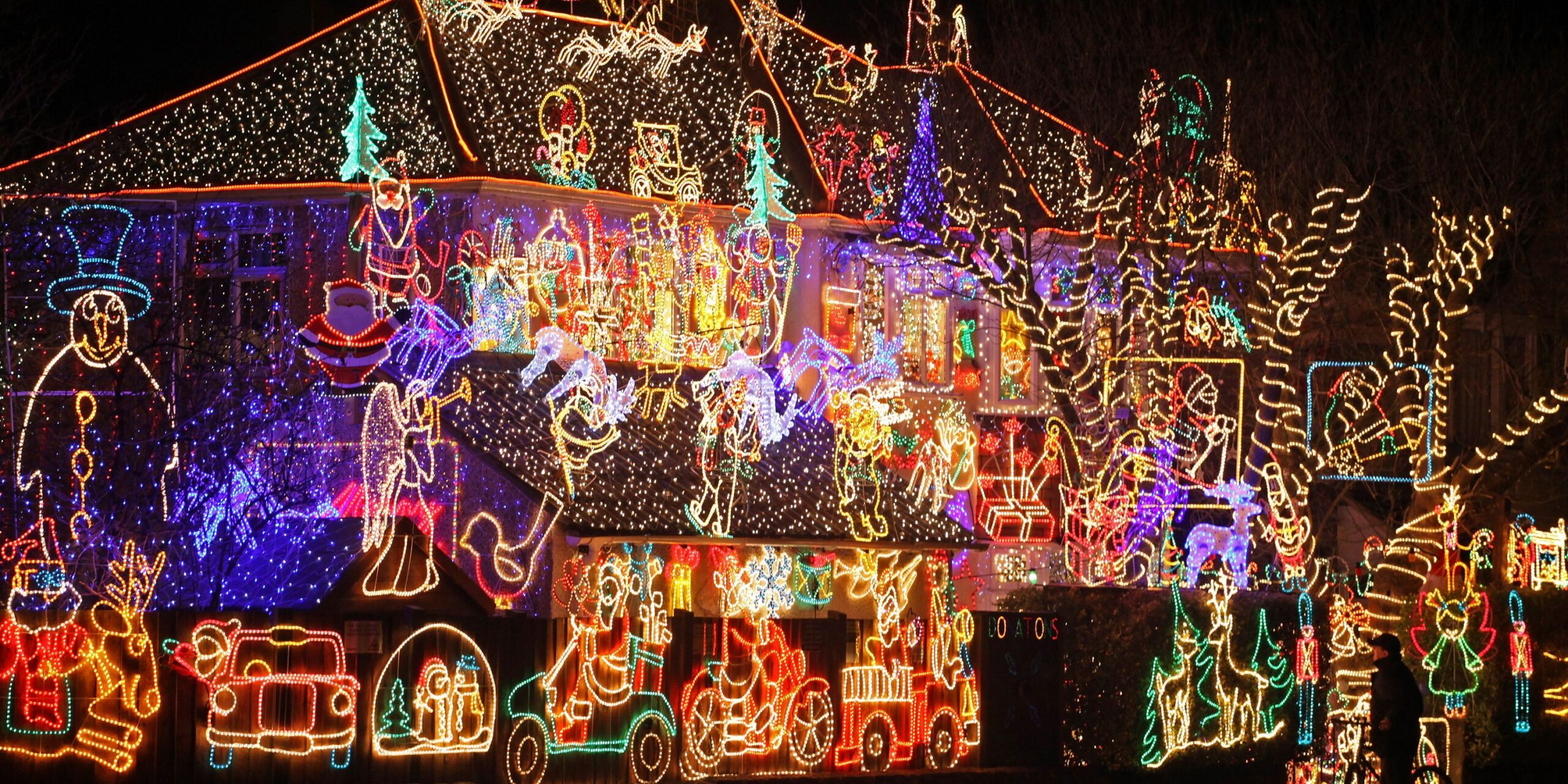 Don't Overload Your Circuit Breaker
If you've been studying your National Lampoon's Christmas Vacation as you should, you'll remember that when Clark's lights finally came on, they drew so much power that someone at the power plant had to flip an emergency auxiliary switch. In real life, his circuit breaker never would have supported such a large power draw.
It's surprisingly easy to overload your circuit breaker when you use incandescent lights, which draw more power than LED lights, especially if you're connecting multiple strings and plugging them into a circuit that already supports several electronics and appliances. Most houses are only built to handle 15 to 20 amps, or 1500 to 2400 watts. Circuits should never exceed 80 percent of their wattage capacity, or you could trip a breaker.
A string of 100 incandescent Christmas lights draws 950 watts a day, and that doesn't go very far in terms of outdoor decoration — you'll need at least half a dozen or more strings, depending on how many feet of your home you want to decorate. A string of 100 LED lights draws just 4.5 watts of power a day, so they're the better choice for lighting up the outside of your house without tripping breakers. They also last longer — up to five years compared to the one-to-three-year lifespan of an incandescent string. Because they draw so little power, you can plug together several strings of LED Christmas lights instead of just two or three.
Use Garlands, Wreaths, and Other Decor
Lights aren't the only decorations you can put outside for Christmas. If you want your home to look like a Christmas card, hang a wreath on the door and put an electric candle in each street-facing window. Christmas yard decorations are also popular and can look nice — think outdoor Christmas trees, statues of deer, nativity scenes, Santa's sleigh pulled by reindeer, or inflatable Christmas ornaments. Put up a big display in the yard, and your neighbors won't notice — or won't care — that you didn't bother climbing up on the roof to risk your neck in the name of the holiday seasons.
Decorating the outside of your house for Christmas is a fun way to get into the holiday spirit and bring some Christmas cheer to your neighborhood. Whether you want to go all out or just decorate one or two areas this year, lights and decorations are what really make it feel like Christmas.