Whether you're a seasoned DIY enthusiast or just starting out in home improvement, drywall repair is an important skill to add to your arsenal. From patching up small holes to fixing larger dents, this guide will teach you the art of drywall repair and help you restore a flawless finish to your home's interior. 
Understanding Drywall Damage Types
Before diving into the repair process, it's critical to understand the different types of drywall damage. Here are the most common:
Small holes:

Often caused by nails, screws, or wall anchors.

Medium-sized holes:

Usually the result of doorknob impacts or other accidents.

Large holes:

Typically caused by significant impacts or accidents involving furniture or heavy objects.

Cracks:

Formed by stress, settling, or

structural issues

.

Dents:

Generated by small impacts or surface abrasions.
Fixing Small Holes
Repairing small holes in drywall is a simple process. Using a utility knife, carefully remove any loose or damaged drywall around the hole. The edges should be smooth and clean. Next, apply a layer of joint compound around the hole with a putty knife. Press the compound firmly against the wall to fill the hole completely. Then allow the joint compound to dry completely according to the manufacturer's instructions. Once dried, lightly sand the area to achieve a smooth finish. If needed, apply a second layer of joint compound and sand again for a perfect finish. For a final touch, prime and paint the patched area to match the surrounding wall.
Seeking Professional Help When Needed
If you encounter drywall damage that is beyond your skillset or involves potential structural issues or water damage, it's essential to consult a professional. Experienced drywall contractors can diagnose and repair complex problems, ensuring the safety and stability of your home. In addition, if water damage is the cause of the drywall issue, a professional plumbing service Houston TX can detect and address the underlying plumbing problem to prevent further damage.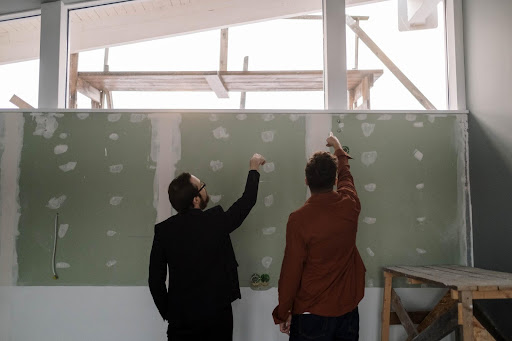 Repairing Medium-Sized Holes
When tackling medium-sized holes, consider using a drywall patch. Trim away any loose or damaged drywall around the hole to create a clean, smooth edge, then place a pre-made, self-adhesive plastic or metal patch over the hole. Alternatively, you can create your own patch using a piece of scrap drywall. Apply a layer of joint compound over the patch, feathering the compound toward the edges to blend it with the surrounding wall. Once the joint compound is dry, sand the area until smooth. Repeat the process of applying joint compound and sanding if needed. Finish with primer and paint.
Gather the Right Tools
To effectively repair your drywall, you'll need to gather the proper tools and materials. These include a utility knife, measuring tape, replacement drywall, drywall saw, drywall screws, a screwdriver or drill with a Philips head bit, a drywall joint compound (also known as "mud"), drywall tape, plastic or metal drywall patch for medium-sized holes, a putty knife, a sanding sponge or sandpaper, primer, and paint (optional).
Mending Large Holes
Although more complicated, large holes in drywall can also be repaired. Start by cutting a rectangular or square hole around the damaged area using a drywall saw or utility knife. Ensure the edges are clean. Measure and cut a replacement piece of drywall to fit the newly created hole and attach the replacement drywall by screwing it to the existing studs using drywall screws. Tape the seams with drywall tape and cover with joint compound, feathering the edges to blend with the surrounding wall. Once dry, sand the area until smooth. Repeat joint compound application and sanding as necessary. Finish by priming and painting.
Addressing Cracks and Dents
Cracks and dents in drywall can be addressed similarly. Scrape away any loose or damaged drywall around the crack or dent with a utility knife. Apply the joint compound with a putty knife, ensuring the crack or dent is filled completely. When dry, sand the area until smooth. Apply a second coat of joint compound if necessary, and sand the area again once dry. Finish by priming and painting. 
The Importance of Regular Inspection and Maintenance
Regular inspection and maintenance of your drywall can help prevent severe damage and costly repairs in the long run. Keep an eye out for any signs of wear and tear, such as cracks, dents, and water damage, and address issues promptly to maintain the longevity and aesthetics of your walls.
Learning from Experience
With each drywall repair project you undertake, you'll gain valuable experience and hone your skills further. Mistakes happen, but they're part of the learning process and can help shape you into an expert DIYer. Over time, you'll become more comfortable and efficient at repairing drywall damage in your home.
Drywall repair might seem intimidating at first, but with the right tools, materials, and our step-by-step guide, even the novice DIY enthusiast can learn to master the art.