Small space? You can still uniquely make the most of it.
It's not uncommon for people to create comfortable homes for themselves regardless of how compact their space is. However, the latest building trends show an unprecedented level of creativity in maximizing the little areas that have otherwise been neglected, especially for bathrooms. Below are some of the ways you can include a top-class bathroom in your modest-sized home.
Here are bathroom ideas for small spaces:
Understairs Toilets

Use glasses and mirrors

Lighting and colours
3 Small Space Bathroom Ideas for Your Consideration
1. Understairs Toilet Ideas
Small spaces are characterized mainly by a visible staircase. For many, the space under the stairs is the best place to hide during a game of hide and seek. However, it can be worth a lot more. 
Some of the best neat under stairs toilet ideas I liked take on a closet-style format. This means that you'll use a minimal amount of space tailored to suit your specifications. If you want to add a small crevice for your kids to crawl into to hide, that's great too! Just make sure to take the right amount of precautions to avoid accidents.
Before getting a toilet under stairs, you must consider the size of your stairs, among other things. Adding a bathroom to a small space isn't difficult, but it also has its intricacies. Here are a few more ideas for small bathrooms:
Use Light Colours: This is one of the best under stairs toilet ideas. Light colours have a way of making a small space feel bigger. When working with understairs spaces that tend to be dark and poky, using pale colours and shiny tiles would help reflect overhead light and bounce it around. You can also use glossy tiles on the walls near the basin.
Practical Panelling: Adding a makeshift toilet under stairs could lead to some awkwardly placed plumbing. However, you can keep unpleasant piping out of sight with panelling. Panelling also helps in giving your bathroom the illusion of more space. You can achieve this by blurring the edges of the room with dark colours.
All-in-one toilet and basin: You can cramp more facilities in a tiny understairs toilet by opting for a toilet and washbasin combined. It's a compact and tidy unit that has a basin just on top of the toilet cistern. This unit also has a reduced amount of exposed pipework.
2. Glasses and Mirrors
Utilizing glasses and mirrors is one of the small bathroom ideas many have exploited. If you have a small bathroom, glasses and mirrors should be your best friends. 
And you can also enjoy custom showers in your washroom.
Scrap the curtains and opt for a glass shower door or a walk-in bath to bounce the light around, creating the illusion of a bigger space. You can place a mirror in front of the bathroom and include mirrors in the cabinets and doors to get the best effect.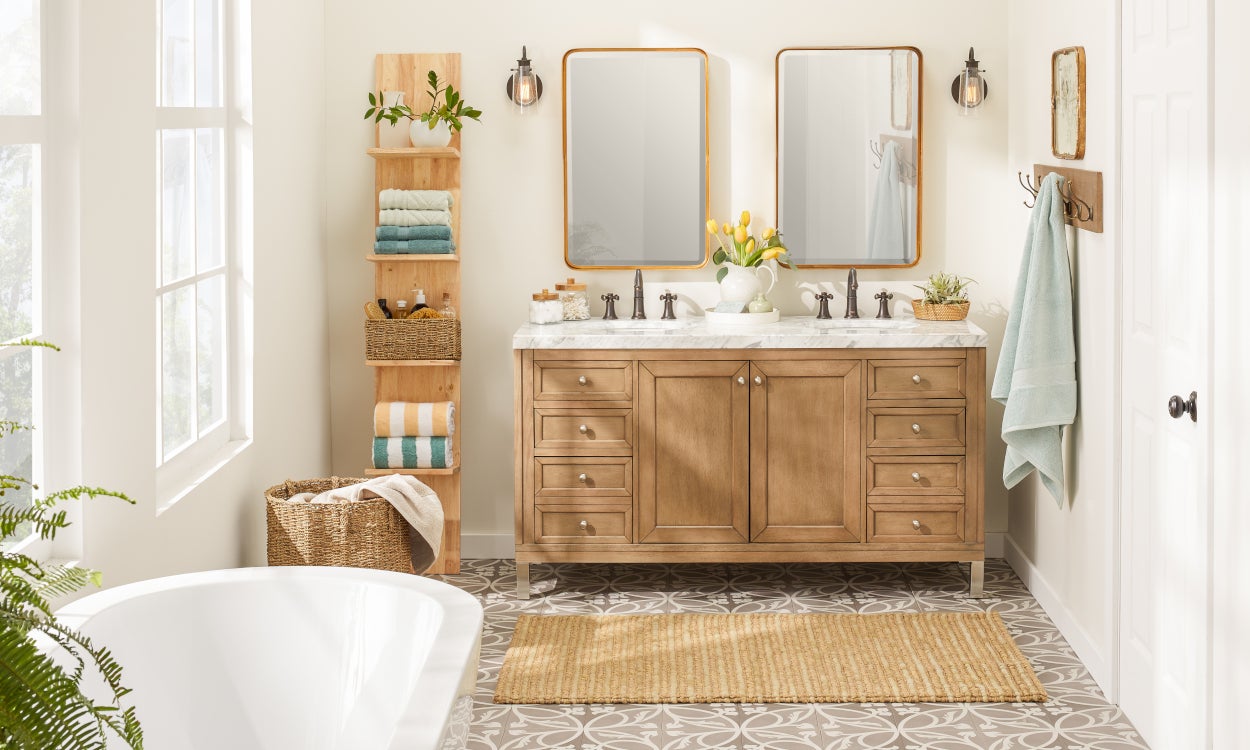 3. Lighting and Colors
Using light colours like white and cream is ideal for a small bathroom. White helps in bouncing light around and brightens up a dull bathroom. Avoid dark colours on the walls for a small bathroom as they could overwhelm a small room and cause claustrophobic effects.
Whenever possible, your windows should be left simple with clear and frosted glass to let natural light brighten up your bathroom. You can also use sheer curtains or blinds with light colours to let adequate light through.
Summary
The popular approach to including a comfortable bathroom in a compact space creates the illusion of more space. This effect can be made by lighting and colour selection, including mirrors and glasses for reflection. But, who says you can't have a world-class bathroom in your small apartment? You can do it!