If we go through the terms of real state then ensuite is also known as attached bathroom a bathroom connected to a bedroom. Ensuite is considered to be a private bathroom that's why it is not connected with commonly used areas such as hallways or second bedroom.
In the real state, terminology matters a lot because there is not only one kind of bathroom there are a lot of different layouts, styles, and designs which differ the bathroom type and every bathroom type have a different name and there are also some of the things you don't even know about, that's why you need to gain some knowledge before you plan your house.
As you have read about "ensuite" yet but do you even know what is the meaning of ensuite or en-suite, in easy words ensuite means attached or connected. Do you know what is the ensuite bedroom is there any difference between an ensuite bedroom and a bathroom? The answer is there is no difference between an ensuite bedroom and an ensuite bathroom because both of these mean a bedroom with an attached bathroom.
Ensuite bathrooms have been popular since the 1950s but it becomes a trend in the last few decades.
1. Why It Is So Much Popular
Well the reason behind its popularity is that it is quite private and proximate than a common bathroom, for a better way to understand you can take an example of hotels if you have ever visited a hotel for a night visit you might have seen attached bathroom to your room, imagine if there was no attached bathroom in your hotel room then you might have to roam in the whole hotel to find a washroom and that can be frustrating and irritating both at the same time. There is one more benefit of having a private bathroom that you can maintain that hygiene which is usually missing in common bathrooms. You can also have a large closet with an Ensuite bathroom or if you are re-constructing your house you can transform your large closet to an ensuite bathroom.
2. Design your own Ensuite Bathroom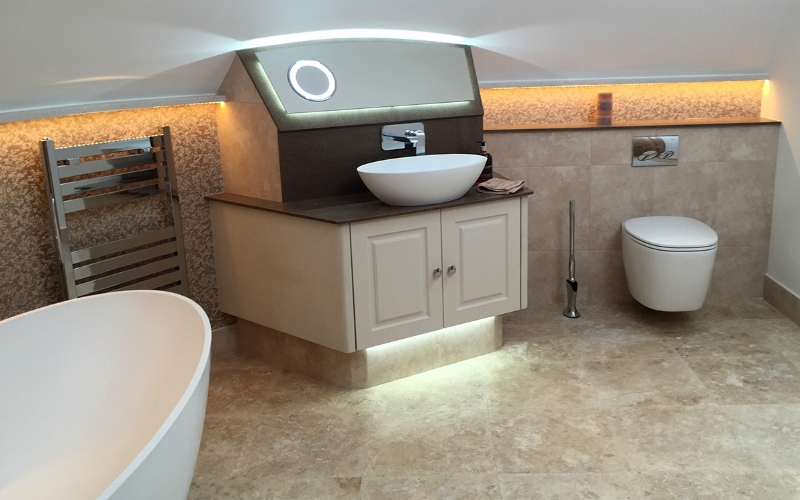 Creation of anything which has to be great needs a lot of planning before execution. So if you designing an ensuite bathroom yourself then make a list of things you want to be there. There are three most important questions you need to focus on before making a list.
What features would you love to have?
What are the "must-have" elements for you?
Is there any kind of addition you would love to do in the future?
If you have a big space for an ensuite bathroom then you can opt for a bathtub, or a shower it's totally your call but an Ensuite bathroom with a bathtub looks elegant.
Use the space wisely if you have big space then it is ok but if you are dealing with a small-sized ensuite bathroom then you can go for a wall hung basin as it will not degrade the value of your ensuite bathroom.
If you are like a flowing river and love to keep changing your surroundings from time to time then you should adopt a flexible design to make changes in the future.
The most important decision you have to make that where you have to situate the plumbing and electrics is it will not only affect the look of your and sweet but also it will also affect the convenience it is going to provide in your future.
Choose a perfect place to give a convenient space to your ensuite bathroom because its design should not affect your bedroom's design and area if you are good enough to architect your ensuite bathroom then it's good but if you are in confusion then you should contact an architect so that you can have the perfect ensuite bathroom according to the space you have.
3. Matter of colors
An Ensuite bathroom is smaller than the common bathroom because the common bathroom is usually located in an open area and not attached to any room and on the other hand, the ensuite bathroom is attached to your bedroom with ensuite bathroom and that's why it is smaller in size but don't worry you can make it look larger by applying some color tricks as you know there are a lot of colors which can make things look bigger than the actual size. You can opt for a light or neutral color as it will do the job perfectly.
4. Be Creative
Use your creativity and take the optimum benefit of space you can try to make space for each and everything which is necessary for your ensuite room. For example, keep storage for all your cosmetic products, try to have a shelf recessed in the wall as it will not only look good but it will leave enough space for other things to adjust, likewise create space for such other things without degrading the appearance of your ensuite bathroom.
5. Artificial or Natural Light
Well, natural light is not only good for the eyes but it also lit any room perfectly without having any extra expenses. While designing your ensuite bathroom, shift a little bit focus on having a wide-open window or you can do even better if your room is on the top floor you can have an open roof ensuite bathroom, it can be quite difficult to manage the high temperature in summer season but if you live in a cold region then this can be the perfect as there will be natural light in your ensuite bathroom and it also looks good but having an open roof bathroom should not be a safety concern you can have a transparent sheet instead of having a concrete roof on the top of your bathroom. You can also add artificial life as it will need to light up the bathroom after sunset.
6. Do not settle for less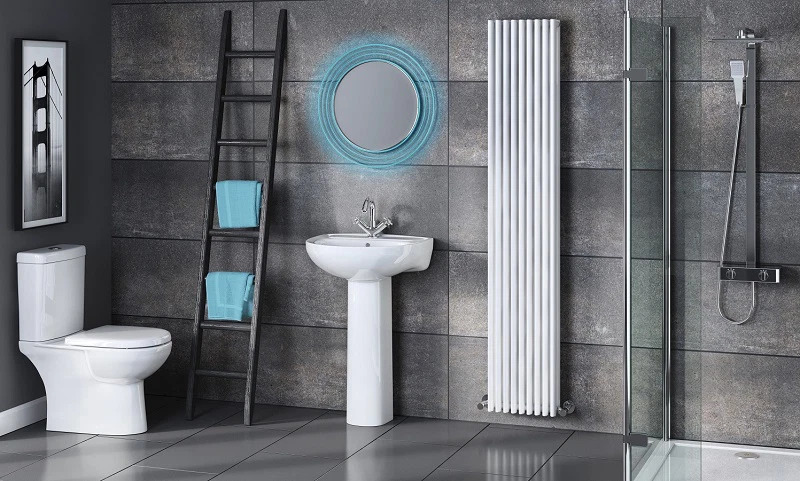 Having an ensuite bathroom is not enough you should go for the finest items if possible, for example, you can have a frameless glass shower screen. You can blindly trust us for this recommendation, it looks too classy and beautiful you can also check samples from where ever you are having the accessories for your bathroom.
Now after having all the necessary accessories should have in your bathroom you can also add some decorative pieces such as lightings, artwork, and also indoor plants which are not too big in size this plant is a sort of decorative item which can go with any kind of decoration.
Tips and tricks to choose the perfect accessories for the betterment of your Ensuite Bathroom
Having a lounge space in your ensuite bathroom gives a luxurious look. You can design it your way, here are some tips you can try such as paying a little bit more attention towards lounge chairs as you can buy the classical one or you can also go for the modern one both of them looks great but it is basically depended on the look of your ensuite bathroom. You can give a try to marble wall tiles to differentiate the wet area of your bathroom from the lounge area.
If you don't have a sharing room then you can try this layout for your ensuite bathroom, if you are going to try out this design you need to know that there is a translucent/matte finish glass wardrobe frame ( Slide doors ) which differentiate bathroom and bedroom so that you can watch your favorite shows on Netflix while having a shower.
You can also create a hotel Vibe in your bedroom by designing and opting for designer accessories for your ensuite bathroom. You can try to have a bathtub as it will not only give a luxurious look to your acid bathroom but it will also be helpful for having a bath so that you can easily relax your muscles and throw the stress out. You can also try different colors from different sorts of color palettes as per your convenience or else you can take suggestions from interior designers so that you can have a proper hotel bye in your ensuite bedroom.
If your preferences are unique and better than the option of designs you have and you also want to design your own Ensuite as per your taste in that case you can try custom-made designs for your ensuite bathroom it will make you feel good.
There can be small and awkward spaces left in your ensuite bathroom and that's totally normal but why left these of words spaces when you can fill them up with your creativity feeling awkward spaces are not like bombarding your ensuite bathroom with a lot of unnecessary accessories but you can have some other important accessories should be there in the bathroom such as shower screen there are a lot of such accessories you can give a try if you want to fill up that empty, awkward and small space in your bathroom. If not necessary items you can also use some sort of decorative pieces for the bathroom such as designer Lights or plants s plants are the best and budget-friendly decorative pieces you can buy for your bathroom and it will also give you a close to nature feel.
Designer scheme that complements the adjoining room
If you are designing your ensuite bathroom yourself then make sure that your ensuite bathroom should complement your bedroom. You can do it with different sort of things such as the color of your ensuite bathroom should complement your bedroom or the door you are having on your ensuite bathroom should complement your room because if it is not so then only you will feel awkward because you have to use that room and that ensuite bathroom too. So, make sure whatever design you are opting that should be complementary to your bedroom whether it is related to color or the theme of your ensuite bathroom
Open up space with doorless frame
If you haven't either seen it or heard about it then you must be mocking this sort of design but you need to give it a try as it looks too luxurious and too classy. It will not only make your lot of works easier than before but also it will be more convenient than having a door. Dollar frame is a sort of slide door with matte-finished glass. If you are single or you don't have a sharing room then you should definitely give it a try as it increases the deal beauty of your bedroom and you can also keep a check on your TV shows and on your bedroom while taking a shower.
Choose accessories and necessary items wisely
Ensuite bathrooms are usually small in size than the common bathrooms that's why you need to pay attention to the accessories and items you are buying for your ensuite bathroom. it is necessary to design your bathroom because beautiful things soothe your eyes. so it's better to make a list that what are the necessary items you are considering to have in your ensuite bathroom because if you will go and buy without a list then for sure you will fill the clutter new bathroom and that won't be good is there should be some space but not a lot of a good empty space, that's why you need to buy things cautiously.
Private Bathroom VS Ensuite Bathroom
Ensuite bathrooms are the ones attached to your room only you can have the access to that bathroom and private bathrooms is also similar to an extent to ensuite bathrooms the only difference is that private bathrooms are not attached to your bedroom. There are a lot of benefits and drawbacks as well of ensuite bathroom and private bathroom.
Advantages of having an Ensuite Bathroom?
As ensuite bathrooms are attached to your room, you can have a lot of benefits and convenience as well, if you have an ensuite bathroom then you will never have to share your bathroom with anyone else and you also don't need to leave your room for using the bathroom.
If you love your private space then this is the best option you can have because there are a lot of people who don't like to share such private things with others.
Having an ensuite bathroom can save a lot of time of yours because in sharing the bathroom there is a lot of rush especially in the morning.
Disadvantages of an Ensuite bathroom
Well, there are no such disadvantages of having an ensuite bathroom but it is totally based on your preference.
Advantages of having a private bathroom
private bathrooms are similar to the ensuite bathrooms the only difference is that it is not attached to your bedroom but only you can have the access to the bathroom. The only benefit you can have from the private bathroom is you will never have to share your bathroom with anyone, there are a lot of people who don't like to share bathrooms with anyone else
Disadvantages of a private bathroom
There is only one disadvantage of having a private bathroom is that every time you need to use the washroom you will have to leave your room and walk to the bathroom.
Final Words
An ensuite bathroom is more of a personal thing as it is attached to your room only you can use it but that doesn't mean you can neglect the importance of the beauty of your ensuite bathroom well it might not sound necessary to a lot of people but there is a category of people who love everything sorted and not the clumsy sort of. We have enlisted on Lot of ways from which you can have the idea that how can you design your ensuite bathroom perfectly and also there are a lot of benefits of having a personal bathroom or in easy words you can say an ensuite bathroom.