Selling your home in Georgia? If you have been at it for a while, you must already know that selling your home can be time-consuming as well as expensive. And one of the biggest home selling expenses will be none other than—realtor commissions.
But there's a way out as you must have known by reading the title of this article. If you intend to circumvent paying realtor commissions, you can consider selling your home as an FSBO or For Sale By Owner. But selling your home by listing it on one of the best websites for FSBO can cost you your time. To save some money in your home sale, you would have to chip in hundreds of hours of your life.
Selling your home without the help of a realtor is no joke. It takes a lot of time, effort, and resources on your part. In fact, during the process, you may feel that it would have been great if you could have sold your house to one of the We Buy Houses for cash in Georgia.
But on the other hand, there are thousands of dollars of potential savings, which you may not want to lose. Selling your house by listing it on a good flat fee MLS listing near you in Georgia is a good option for you, especially with the advent of technology in the real estate industry. Moreover, when you sell your house FSBO through one of the best websites for FSBO like Houzeo.com, which is also a high-tech platform, the process gets faster than with a traditional agent.
Can I Sell My House by Myself in Georgia?
Yes, you can sell your house by yourself in Georgia and save a lot of money. Because if you choose something like 'we buy houses for cash' in Georgia, you'd have to bid adieu to much of your potential savings. 
Do the below-listed four things to successfully sell your home FSBO:
It is important to price your home competitively.

Look at recent sales and selling prices of the sales in your locality, consult a realtor for home pricing, and research online tools to figure your home's cost among others to come at the right asking price for your home.
Hand out a competitive commission to buyer agents:

Most buyers hire buyer agents to search their homes and so for your home to sell, it must come under the buyer agent's radar. And that happens only if you give the buyer agents what they desire the most out of the deal—a competitive commission. Believe me, your house will sell faster than ever.
List on a flat fee MLS listing near you:

It is a common fact that homes that are listed on the local MLS sell faster and for a better price. It is the local platform where all the buyer agents come looking for houses. As an FSBO seller in Georgia, you won't have access to your local MLS. That's where a good

flat fee MLS listing near you

like Houzeo comes into the picture. Houzeo automatically gets you the perfect MLS platform to list your property.
Pay heed to upload only the professional photos:

You are selling your house online and you must know the impression pictures have on a person scrolling for things online. You are competing for clicks from buyer agents and buyers looking for a house and you have to stand out. Professional photos would get you more online clicks. And more clicks equals more footfalls on your property. Believe me when I say that a good pro photo shoot will end up being your single best investment in selling your home.
List of best websites for FSBO in Georgia
Below is the list of best websites for FSBO home sellers to sell a home in Georgia: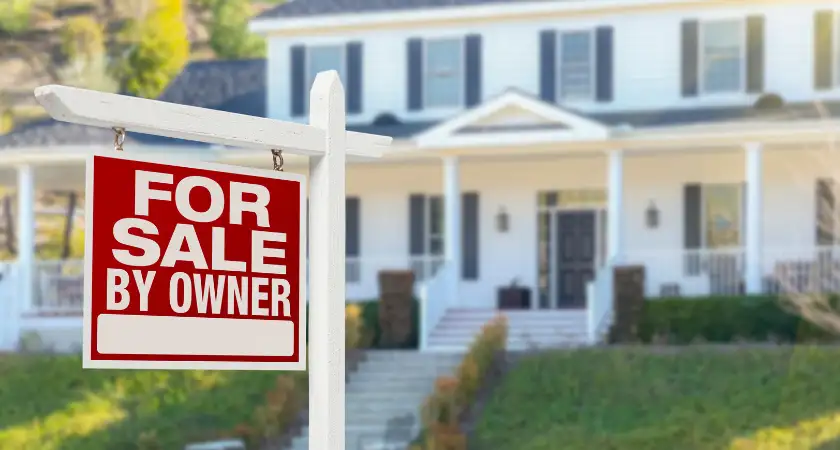 Houzeo
Sell your home in Georgia as is FSBO with Houzeo. Using Houzeo, you can get offers up to 100% of your home value. Houzeo automatically assigns you the right MLS for your home and gives your home the visibility it needs.
Your FSBO paperwork also gets easy with Hozueo. Paperwork can be a challenging part of your FSBO home sale process with varying federal and state requirements. Houzeo assigns you the paperwork you need to get your home listed in your locality. You can even get a licensed broker to help you with closing with Houzeo. No doubt, it is one of the best websites for FSBO in Georgia.
Beycome
Beycome is also one of the best websites for FSBO, functional in California, Alabama, Florida, Minnesota, Connecticut, Illinois, Georgia, North Carolina, and South Carolina. 
Beycome offers a basic, cost-effective USD 99 package that includes a local MLS listing. It's premium USD 399 package includes professional photography, different marketing material, and also a showings lock box apart from the MLS listing. 
Beycome's concierge service is better not to touch as you are charged USD 599 plus 1% commission on your home's sale price for their hands-on support with setting a listing price, negotiations, and closing. And you still have to do much of the work yourself.
Fizber
The nationwide FSBO service provider, Fizber helps you market your FSBO properties. You can list your home on the Fizber website for free or choose from one of their paid packages. Fizber's USD 95 package doesn't offer much value, however, its USD 295 package delivers good exposure to your house by listing it on local MLS. For USD 100, you can add up to 25 photos to your listing.
However, if you reside in North Dakota, South Dakota, Wyoming, or Colorado, Fizber charges you an additional fee of 0.5% on the sale of your home as a 'success fee if you list on the MLS with the company.
ForSaleByOwner.com
ForSaleByOwner.com allows you to list your home for free on their website and the company claims that it gets seven times more traffic than any other FSBO website. However, your home listing on ForSaleByOwner.com isn't integrated with other websites like Redfin or Zillow limiting views of your listing.
The agent support package of the website is similar to working with a traditional realtor. It also offers a free closing assistance package that coordinates services like title, inspection, and appraisal companies and makes sure that partner companies give you the best rates possible in your area.
But as opposed to listing your home on a simple FSBO website, we'd suggest that you list it on a flat fee MLS listing website to give your property the maximum exposure.
FSBO.com
FSBO.com is another nationwide service and you have to pay USD 99.95 to list your FSBO home on their site, a service many other FSBO sites offer for free. The USD 399.95 MLS package by FSBO.com offers some value by offering syndication on Zillow and Realtor.com, etc. apart from local MLS listing. 
The service quality of FSBO.com may vary from state to state and in Georgia, it is possibly not that good. In case you choose FSBO.com, go thoroughly through its unique requirements for Georgia. There might be some additional fees that the company may not have clearly listed on its homepage. 
Final word
Selling your home without a realtor in Georgia is quite possible. The average real estate agent commission cost in Georgia comes out to about USD 18,700. And by going with one of the best websites for FSBO in Georgia like Houzeo, you can save as much as USD 9000.