A washing machine is like a magical laundry helper. It's a convenient way to wash and rinse your clothes without having to do it by hand. It saves time and effort, making the laundry day easier; regular maintenance and cleaning should help to run the machine smoothly without any issues.
Furthermore, a lot of individuals mention that their washing machine gradually begins to accumulate "black flakes," which are not only unsightly but also an indication that the machine needs to be thoroughly cleaned.
It would be best if you first comprehended the reason behind the black spots on the washing machine. It assists you in avoiding problems with these gadgets in the future.
What causes black flakes in the washing machine?
Dirt, oil, mould, detergent, and other substances are combined with black flakes. It is a typical buildup for cleaning equipment that needs to be maintained. The washing machines use a lot of detergent to wash our garments. If you don't clean the bowl frequently, tiny particles will eventually accumulate and form black flakes.
For example, fluffy cotton or wool sweaters contain a lot of material that peels off when washed. These tiny threads will start to bunch up and stick to the machine. If this continues, black flakes will begin appearing in the future.
1. fabric softener
Fabric softeners make clean clothes more flexible, soft, and wrinkle-free. However, these compounds can occasionally cause black flakes in our washing machines. The vast majority of experts classify the condition as sludge. It's a waxy buildup of fabric softener and laundry detergent. They leave some residue in the bowels after using fabric softener. Both compounds affect black flakes when they come into contact with dirt, bacteria, and lint.
2. Insufficient Detergent Use
Excessive detergent use is a common cause of black flakes in your washing machine. Most people believe that using more detergent means their clothes will be cleaner.
However, this is not the case; the cleaning agent contains chemicals that cause various problems in the machine. That is why using only the required amount is essential while flashing the excess amount is significant.
3. Rust
In washing machines, rust or corrosive components are uncommon. Most cleaning devices are made of stainless steel to prevent decay. However, after years of use, things are no longer the same.
As the machine ages, some components rust and flake buildup occurs. If those components are not cleaned, rust particles combine with other substances such as washing powder, detergent, etc. Due to rust particles, black flakes turn brown on these occasions.
4. Natural fabrics
Natural fabric is abundant in fluffy cotton, wool, and linen sweaters. These fabrics come off during washing and form tiny balls. Lint materials combined with washer power, detergent, and oil to form black flakes in the machine over time.
5. Hard water
Another factor that contributes to dirt buildup in your machine is hard water or mineral deposits. There needs to be a water supply for washing machines. Instead, they use a household water line.
If the water in your plumbing line is complex, the clog and other minerals settle on the bowl wall. These liquids do contain dissolved calcium and magnesium that have become lodged inside the machine. To avoid black flakes, install a water softener on your plumbing line.
6. Detergent Accumulation
Cleaning detergent contains chemicals that give our clothes a scent and cleaning ability. However, these compounds effectively contribute to black flakes.
Detergent is more likely to accumulate inside the bowl, and if not cleaned promptly, the compounds begin interacting with oil, powder, and other elements to form dirt deposits.
7. Oil and dirt
Our clothes are cleaned by a washing machine, which removes dirt and oil. The majority of them exit through the exit pathway, but some particles remain and begin to accumulate inside the bowl. Other materials will absorb these elements in the future, contributing to black
flakes.
8. Yeast and Bacteria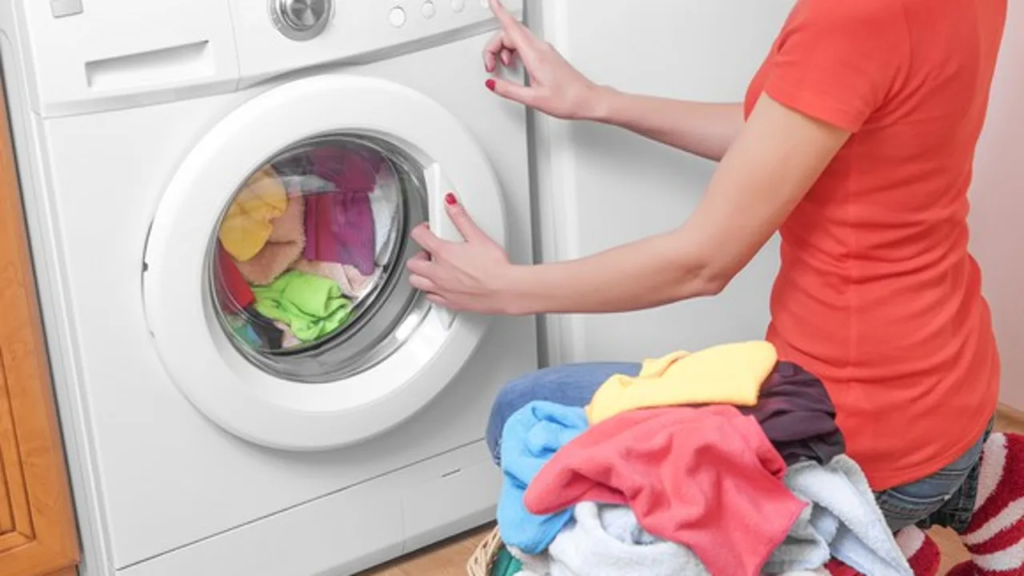 Moulds and bacteria turn the colour of the washing machine black. Our cleaning devices are ideal for growth because of the adequate moisture and warm climate.
It could begin to absorb detergent, power, oil, and other substances if the space is not cleaned on time.
How you can resolve the issue on your own with a few methods.
You should follow a good cleaning and maintenance routine to prevent black flakes in the washing machine. As previously stated, various small contributions contribute to the dirt buildup in our cleaning device. Our daily use of compounds primarily causes the issue. Individuals should, therefore, use the five methods listed below to resolve this issue.
1. Regular Cleaning
Washing machines require regular maintenance to function properly. Users should clean the machine both inside and out. It is advised that these machines be cleaned at least once a week.
Many washing machines have an integrated cleaning function. To perform the act, refer to the product manual. Otherwise, you must clean the machine manually with soap, detergent, water, and other ingredients.
2. Execute the Empty Wash Cycle
As previously stated, black flakes form primarily within the bowl wall. Other factors that grow inside the aluminium component include corrosion and mould. As a result, users must clean the space on time.
However, due to limited access, most people need help with this cleaning. On that occasion, you have to do an empty wash cycle to remove dirt automatically.
Pour one cup of white vinegar in a cup of water into the bowl and start the machine. The drum's rotation effectively removes dirt, debris, and mould developed by the homemade cleaning solution.
3. Clean the Inside Filters
Filter types differ depending on the model of your washing machine. In any case, this unit collects lint or fabrics that fall off your clothes. This condition occurs throughout the wash cycle but is filtered out.
The filter gets clogged with excess fabrics and lint compounds as time passes. As a result, the unit ceases to function in its normal state. On this occasion, you must manually remove and clean the filter.
Begin by removing the filter from your washing machine. These units can be found in the centre agitator, the top of a drum, or behind the trap door.
Fill a bathtub halfway with warm water. Place the filter in the bowel.
Allow at least 10-15 minutes for the dirt to loosen up.
Remove the unit and scrub it with a soft brush.
Rinse the filtering process.
A non-removable filter is included in some washing machines. In this case, a soft brush should be utilised for washing the unit.
4. Use lemon juice or vinegar
Another beneficial home remedy for cleaning your washing machine is lemon juice and vinegar. The solution is less effective but gives your device a nice, clean, and pleasant odour. Lemon juice's natural acid effectively dissolves oil, grime, powder, and detergent buildup inside the machine.
Mould and mildew can be removed from fabrics using distilled white vinegar. Using vinegar in the laundry also removes product buildup, which can trap odour-causing bacteria and cause freshly laundered items to smell less than clean.
So, pour a few tablespoons of lemon juice or vinegar directly into the drum.
Allow the liquid to settle for about 10-15 minutes.
Begin the empty wash cycle with warm water.
Take a look at the practical outcome.
5. Make use of Clorox cleaner
If your black flake problem is already severe, take a slightly more aggressive approach.
Fill the drum halfway with water, then add the Clorox bleach to the water, enabling it to sit for a couple of hours, rotating the drum 180 degrees now and then to ensure that everything is coated.
This disintegrates much of the accumulated oil and residue. When finished, run an empty cycle on the hottest setting to remove the solution from the machine.
Conclusion
It's essential to regularly clean the washing machine, especially the drum and detergent dispenser, to prevent the buildup of black flakes.
Detergent, powder, oil, fabric, and other materials accumulate inside the washer. If they are not cleaned in a timely manner, a thin layer forms that attracts mould and other bacteria. Internal components may become damaged, leaving black spots on your clothes. So keep your washing machine clean as directed.
Frequently asked questions related to black flakes in the washing machine
How often should I clean my washing machine to avoid black flakes?
To avoid black flakes in your washing machine, it's a good idea to clean it regularly. Aim to clean your device at least once every 1-3 months, depending on how frequently you use it.
Why are my clothes getting black spots from my washing machine?
If your washing machine leaves black streaks on your clothes, it may be because of the drum. It may be soiled, the gasket may have moulds, and other internal components may be rusted.
Is it harmful to my clothes or washing machine if there are black flakes?
The flakes can be a nuisance and may transfer onto your laundry, causing stains or discolouration. It's best to clean your washing machine regularly to prevent the buildup of these flakes and ensure optimal performance.
What cleaning methods can I use to remove black flakes from my washing machine?
You can try a few cleaning methods to remove black flakes from your washing machine. One option is to run an empty cycle with hot water and vinegar. Another method is using a washing machine cleaner specifically designed to remove buildup. Remember to clean the drum, detergent dispenser, and other removable parts. Regular cleaning will help keep those black flakes at bay!
Are any specific detergents or products that can help prevent black flakes?
Some detergents are specifically formulated to tackle residue and prevent the formation of flakes. Look for detergents that mention "residue-free" or "anti-residue" properties. These can help keep your washing machine clean and free from those pesky black flakes.
How Do I Clean My Washing Machine to get dirt and debris out of the machine?
The simplest way to remove dirt from your washing machine is to clean and maintain it regularly. At least once a week, users should run an empty wash cycle. You should also manually clean internal components.