Why Historic Homes Offer a Smart Investment Opportunity
Imagine going down in history for rehabilitating and preserving a historic home for future generations. Exciting, right? This is one of the reasons why some people are buying historic homes, and it cannot be quantified. However, beyond an exciting experience, investing in historic homes can be profitable.
Making profits is the bottom line for any investment. Below are a few reasons why historic homes offer a smart investment opportunity.
What Is a Historic House?
Before getting into why historic homes are a good investment, let's determine what a historic house is. Not every old house with antiqued architecture is a historic house.
There are two main ways for a house to be considered historic. It is either recorded in the country's National Register or built within a federal, state, or local government-designated historic district.
For a house to make it to the National Register of Historic Places, it must be at least 50 years old and meet at least one of the four conditions below. The house must be connected to:
Notable historic event(s)

Life of a significant individual(s)

The provision of important historical information

The representation of a distinct historical architectural style.
Tax Incentives Associated With Buying Historic Property
Buying historic homes contributes to preserving land and structures with historical significance. Therefore, governments are willing to support such noble causes. This support is presented in the form of tax incentives, tax exemptions, and even financial aid for renovations.
In the USA, the Federal Historic Preservation Tax Incentives program offers investors who buy, rehabilitate, or preserve historic homes a 20% tax credit.
The United Kingdom also offers tax relief to new owners of qualified historic houses that form national heritage assets.
Higher Appreciation Rate
The value of historic properties tends to be higher than that of newer homes. They will fetch you approximately a 26% higher price than the other homes in the same market. Additionally, downturns in the real estate market have little effect on their value.
Furthermore, when you improve the interiors of a historic house, but maintain the exterior, its value increases.
For example, the Schwarzenbach Austrian Castle, built in 1706, has been massively upgraded. The castle now offers modern amenities such as elevators to access all four floors, a wellness center inclusive of a hammam pool, an indoor swimming pool, and a sauna room, as well as a billiard room with pane glass windows. 
With this upgrade of the interior but maintenance of the 18th-century exterior, this villa is a great investment opportunity. With 13 rooms in total 5 of which are bedrooms, you can transform the investment property into a private home, open it up as a luxury boutique hotel or have it available for hire for events.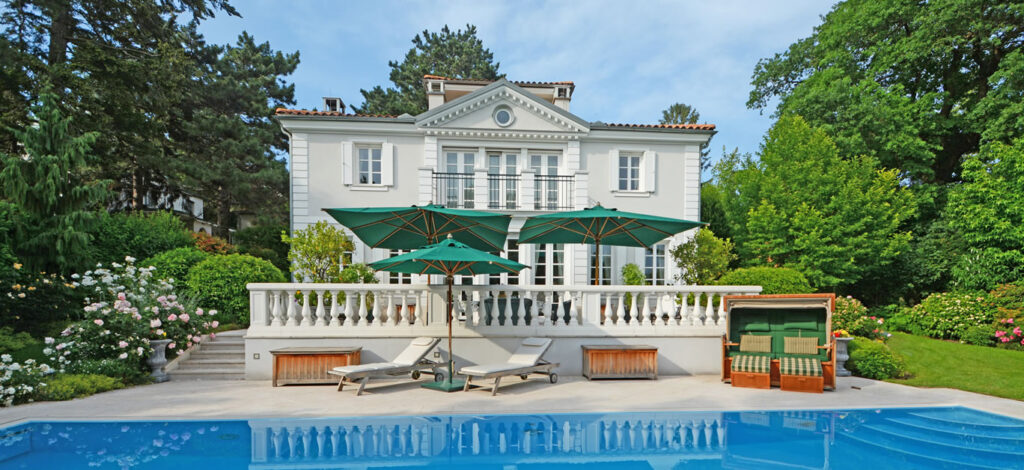 Renting Opportunities
Historic homes converted into Airbnb and hotels are popular among tourists. They tend to get higher views compared to newer homes in the same area. This, therefore, means more renting opportunities and higher returns on your investment in buying historic homes.
Hotels in renovated historic buildings also bring in more profits than newly built ones. Take, for example, the Brunelleschi Hotel Florence in Italy, frequented by celebrities. The property was once the tower of the Byzantine empire in the 6th century and later a Medieval-style cathedral in the 15th century. Today a room costs at least $501 a night while other hotels in the area average $473 a night.
Another example is Amsterdam's five-star Pulitzer hotel. The hotel comprises 25 restored historical canal homes and is also a UNESCO heritage site. The average cost of a room a night at the Pulitzer hotel is $429. Five-star hotels in the same area cost $410 a night.
Pitfalls of Buying a Historic Home
While the rewards of buying historic homes are quite significant, there are a few headaches you might have to deal with to enjoy the fruits of your investment. A few pitfalls that come with buying historic homes to note include:
Renovation Issues
Renovating a historic house can be quite costly financially, not to mention time-consuming. Preserving a historic home needs extensive research on the best renovation practices. Furthermore, great care is needed even in doing mundane upgrades, such as adding a new sink. 
Thus using only the best and most experienced contractors is recommended, and they don't come cheap. Additionally, local authorities must be involved in approving renovations for historic properties, so expect some rules and laws to abide by and processes to follow for approvals.
Strict Regulations
Historic homes carry the vested interests of many parties — from authorities to the community and even activists keen on ensuring history preservation. Thus, before buying a historic house, it is important to understand and follow the laws regulating the property. 
You also need to know the restrictions related to rehabilitating the property. These restrictions may include preserving distinctive features, using substances that could damage historical materials on the property, or upgrades that could create a false historical narrative.
Insurance Difficulties
Due to the age of historic houses, the high cost of renovations, and the possibility of frequent exposure to the public after restoration, finding an insurance company willing to offer you a policy can be challenging. That said, there are insurance companies specializing in covering historic homes, but as you may have already guessed, these policies tend to have a higher premium.
Final Thoughts 
Investing in a historic home is not a quick profit investment. Rather it requires the input of time, money, and effort. However, you can be assured your investment will be profitable and worth the experience.