Many people undertake home renovation projects to increase the value of their homes. A popular change to make to your home's current footprint is to add a sunroom, conservatory, or solarium. It's not uncommon to hear these terms used interchangeably, but there are slight differences between the three that could sway you to one style or the other.
What Is a Conservatory?
A conservatory is a room added to your home made primarily of glass. The purpose of a conservatory is horticulture. If you enjoy tropical plants in a temperate zone or wish to grow fruits, vegetables, and herbs in the off-season, you may enjoy a conservatory. The conservatory's history goes back to 16th-century England, where they were added to homes to shelter delicate plants from the cold of winter. Conservatories can come in many sizes and styles to fit the needs of the plants you hope to grow.
What Is a Solarium?
A solarium is very similar to a conservatory in that it, too, is made entirely of glass. However, the function is different. The purpose of a solarium is recreation. Solariums are particularly popular in places where large amounts of glass allow a view of a stunning landscape, often of mountains. The glass on all sides lets people see a stunning vista and allows maximum warmth and sunlight into the room. Since glass can be susceptible to extreme temperatures, it's essential to have a professional design and install a solarium.
What Is a Sunroom?
A sunroom is primarily a North American term used to describe a room with large windows. A sunroom often replaces a porch or patio. While there are many large windows, the room is not made of glass like a conservatory or a solarium. It's a recreational space for people who wish to enjoy the sun's warmth and the indoors' convenience. Some remodeling companies offer customized hybrids. Conservatory sunrooms are popular because they often feature skylights that allow in additional sunshine.
Benefits of a Conservatory
A conservatory has probably piqued your interest if you have a green thumb. Conservatories generally become the focal point of a home, so your beautiful plants will always be on display. Made entirely of glass, a conservatory gives homes a fresh-air feeling because you can gaze at the sky and your surroundings. It's also economical and environmentally friendly. Since you're allowing so much natural light in, you can rely less on electricity in your home. A conservatory can also be a retreat for you as the grower. You may primarily keep plants in this room but you could also put your favorite chair in there to relax among the greenery and warmth.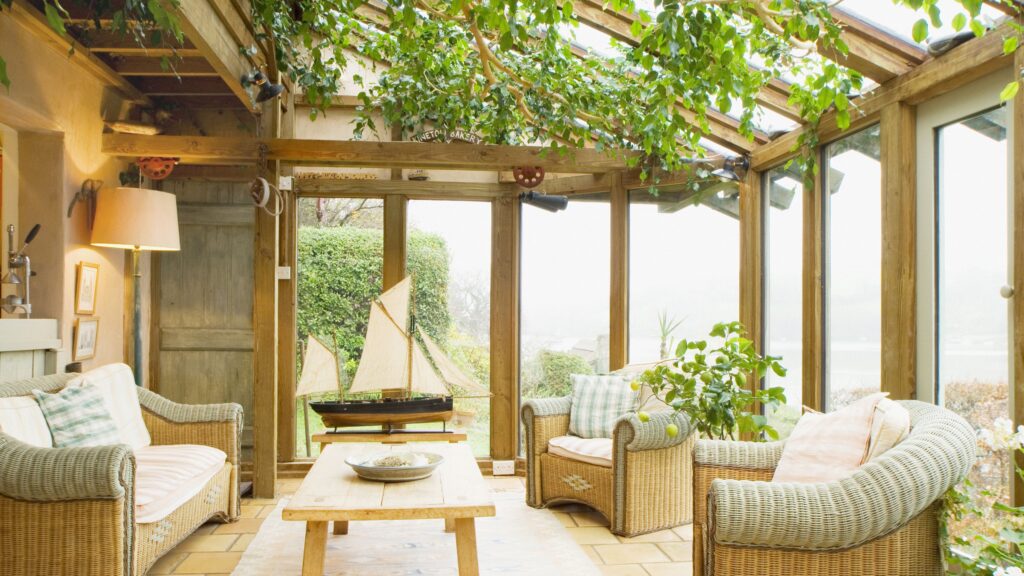 Benefits of a Solarium
No green thumb? No matter, you can still enjoy all of the features of a conservatory without the plants. Your glass room shows off all the beautiful views around your home, allows in natural light, and expands the footprint of your home. Make it a gathering space for family and friends by choosing comfortable furniture, end tables, and lamps. Wicker furniture is popular because it feels outdoorsy, but there's no concern about it weathering well. There's something about a solarium that makes people want to kick up their feet and relax in good company. There are also health benefits to a solarium. With so much access to natural light, you and your family can meet your daily Vitamin D needs without the concern of UV rays damaging your skin.
Benefits of a Sunroom
A sunroom has many benefits as a recreational space. If you have a young family, a sunroom may be more your speed because you're less concerned about a thrown toy doing significant damage to the walls. Sunrooms are often more budget-friendly because there's less glass, and they often use an existing structure. You might also use your sunroom as your home office space. Exposure to natural light increases positivity and productivity. It would also be the ideal location to set up your exercise equipment. You're more likely to workout if you know you can do it in a comfortable environment that allows access to natural light.
Bottom Line
Whether you choose a conservatory, solarium, or sunroom, you'll add value, living space, and natural beauty to your home.