As we age, certain everyday tasks that were once simple can become more challenging. Among these tasks, maintaining personal hygiene and navigating the bathroom can pose significant difficulties for seniors. The bathroom, typically a space associated with relaxation and rejuvenation, can turn into a potential hazard zone without the necessary modifications to accommodate the changing needs of older individuals.
Aging comes with various physical changes, such as reduced mobility, balance issues, and diminished vision. So, it is crucial to adapt living spaces, particularly the bathroom, to meet the evolving needs of older adults. By making the following modifications that prioritize safety and accessibility, you can create an environment that allows seniors to maintain their independence and overall well-being. 
Slip-Resistant Flooring and Mats
The bathroom floor can become slippery, posing a significant risk for falls. Installing slip-resistant flooring or using non-slip mats is an excellent way to enhance safety. Choose flooring materials with a textured surface or apply anti-slip coatings. Additionally, place non-slip mats near the shower, bathtub, and toilet to provide stability and reduce the chances of accidents.
Grab Bars for Stability
One of the most crucial additions to a senior-friendly bathroom is grab bars. These sturdy bars provide stability and support when moving around the bathroom. Install grab bars near the toilet, bathtub, and shower, ensuring they are securely mounted to the wall. Grab bars should be positioned at various heights to accommodate individuals of different heights and mobility levels.
Walk-In Showers 
Traditional bathtubs or showers can be challenging for seniors due to high sides and the risk of slipping. So, it's important to keep the shower in mind when designing or renovating the bathroom for accessibility. One of the most helpful accessible shower ideas is to replace the tub with a walk-in shower. This eliminates the need to step over high edges and reduces the risk of accidents. Discuss your needs with a reputable brand that offers accessible products to find a walk-in or roll-in shower that fits your requirements. You can also add a shower seat for additional comfort and convenience.
Adjustable Shower Heads and Handheld Sprayers
Install adjustable shower heads and handheld sprayers to make bathing easier for seniors. These features allow individuals to adjust the water flow and direction, making it more convenient for those with limited mobility. Seniors can sit on a shower chair or stool and use the handheld sprayer to wash specific areas without excessive movement or strain.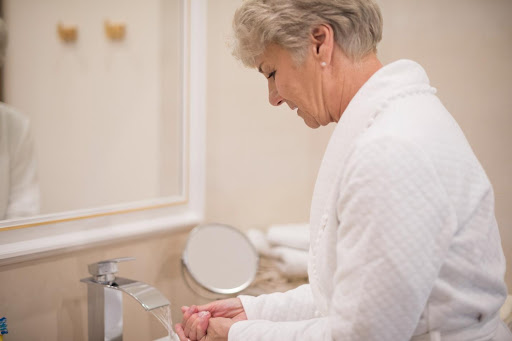 Raised Toilet Seats
A raised toilet seat can significantly enhance accessibility for seniors with mobility issues. It reduces the distance one needs to lower themselves onto the toilet, making it easier to sit and stand up. Look for raised toilet seats with armrests for added support. Ensure the seat is securely attached to the toilet to prevent any accidents.
Adequate Lighting
Proper lighting is essential for a safe bathroom environment. As eyesight tends to diminish with age, it is crucial to provide adequate lighting to prevent slips and falls. Install bright, well-placed lights throughout the bathroom, including near the shower, vanity, and toilet area. Consider adding nightlights to assist seniors during nighttime visits to the bathroom.
Temperature Controls and Anti-Scald Devices
Tap water scalds are among the most common causes of burn injuries in all age groups. According to CPSC Safety Alert, if exposed to 150-degree water for two seconds, most adults may suffer third-degree burns. Setting the water heater temperature to a maximum of 120 degrees Fahrenheit can reduce the risk of burns, but prolonged exposure to this temperature can also result in burns. CPSC also recommends lowering the water temperature for electric water heaters, gas water heaters, and furnace heaters. 
You can also install temperature controls and anti-scald devices in the bathroom. These devices regulate water temperature and prevent extreme fluctuations, ensuring a safe bathing experience for seniors.
Accessible Sink and Vanity
Consider installing a sink and vanity accessible to individuals with limited mobility. A wall-mounted sink provides more legroom and makes it easier for seniors to approach the sink in a wheelchair or with a walker. Opt for lever or touchless faucets that are easier to operate for those with dexterity issues.
Clear Pathways and Organization
Maintaining clear pathways and organized spaces in the bathroom is essential for seniors' safety. Remove any unnecessary clutter or obstacles from the floor to prevent tripping hazards. Ensure towels, toiletries, and other bathroom essentials are within easy reach, reducing the need for excessive bending or stretching.
Creating a safe and accessible bathroom for seniors is crucial in maintaining their independence and reducing the risk of accidents. Small modifications can make a difference, allowing seniors to navigate their bathrooms with ease, confidence, and peace of mind.