Loft conversions are always a good idea if you want to create more space in your home without having to extend your home's footprint. Even better, did you know that you can have a loft conversion that is completely bespoke to your home? Custom loft conversions are the way that homeowners not only enhance their home with a conversion, but get the perfect new beautiful and functional space for their needs. 
Is It Time You Got A Custom Loft Conversions To Suit Your Home? 
In reality, when it comes to the building of the loft itself, the overall design will always be bespoke to your home. Loft conversions can never be a 'one size fits all' home improvement project. Every house is different in the way it is styled, the work that has already been done to it, existing insulation, structural issues it may have etc. Any conservation factors and similar barriers also need to be considered, particularly if there is a need for the external design to match local structures and design. 
The reasons above are just some examples of why loft conversion experts always create a bespoke loft conversion plan with an architect and structural engineer. Whilst there are different types of loft conversion structures that are applied –  such as dormer, mansard, skylight and L-shaped options – they are still designed around the structural requirements of your home and are bespoke to your house. This approach ensures that the structural aspects of a building are respected, considered and matched with a loft conversion design that is safe, functional and overall, the perfect fit for your home. 
When it comes to a complete custom loft conversion, that term usually relates to the layout and design of the loft as an overall picture, encompassing every aspect of your wants and needs, combined with the structural possibilities. Many homeowners are surprised by the vast amount of options available to them for that one space. Of course, you can have a room, but there are so many different possibilities to consider to make the loft conversion truly your own. Let's take a closer look: 
Skylights
Skylights are a popular addition to any loft room because they let the natural light flood in and breathe life into the space. Skylight Loft conversions also give you a view of nature and the outdoor space, which can be of real benefit if you have nice views surrounding your home. 
Additionally, skylights help provide extra ventilation for the loft, which can become a little stuffy in warmer weather. Opening them up helps with temperature control, and to improve air quality, which is important when we all spend around 90% of our time indoors on average.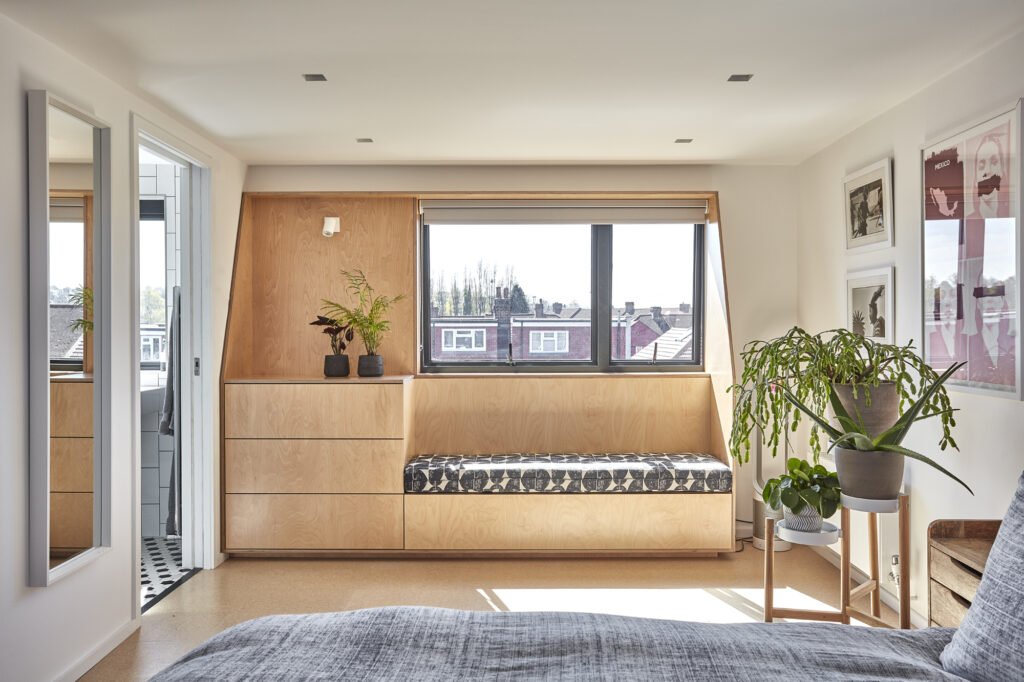 Outdoor Balconies
Balconies are popular options for loft conversions because they further extend the outdoors in regards to the design. Juliet balconies are commonly chosen because they don't actually protrude from the property, and simply involve an iron feature outside the window. 
For true outdoor space, there are true balconies, which are not always suitable for a loft conversion, but can work for certain types. They provide a luxurious outdoor space to enjoy for barbecues, relaxation and even a bit of urban growing. 
For even more space, some properties can utilise the flat roof space of a loft conversion as outdoor space. This is dependent on a huge range of factors, but can sometimes be possible, as can outdoor space which sits between different areas of large conversion designs (often an L-shaped conversion).  
Indoor Balconies
In very large loft conversion projects there can sometimes be enough space to create a mezzanine balcony, which is essentially, an extra floor of the conversion. They are a unique feature that is often used as a bedroom space so that the lower area can become a living space. However, this is in very large projects and has very specific structural needs, so isn't common. 
Floor To Ceiling Windows
Floor to ceiling windows allow even more light to flow in than skylights, and work well with loft conversions that have at least one completely vertical wall. If you face out onto a garden, a wooded area or other natural highlights, it's a really great way to make the most of your views. 
Ensuites
Ensuite bathrooms can be included in even the most compact of loft conversions, and make the area much more usable and handy if you plan to spend a lot of time there by using it as an office or creative space. It's also helpful for guest rooms, and especially if you're using the space for the Rent A Room scheme, or as an Airbnb venture. 
Lots of ensuites can also be made into a wet room, which is modern and luxurious. To elevate that impact even more, some homeowners have a feature bath in the bedroom, usually under a skylight. This isn't for everyone, but if you do want to add the WOW factor to your loft conversion it could be worth considering. 
Partition Walls/ Screening
Some homeowners choose to have partition walls and semi-permanent screening to create loft space zoning without permanent walls having to be erected. Although open plan homes are generally very popular, some people prefer to zone areas of a large loft conversion to utilise the space in a practical way. Partition walls and screening can create privacy, multiple rooms for children, and help to block off areas like a kitchenette which creates smells and other fumes that benefit from containment. 
Underfloor Heating
Underfloor heating is costly to have installed, and might be tricky depending on the plumbing situation associated with your loft. However, if it is possible for you, it is a really great idea. It's highly effective, protects the precious square footage within the loft because there's no need for large radiators or free-standing heaters, and it's very useful when the loft inevitably gets a bit chilly in winter. 
Multiple Rooms
Some people choose to have multiple permanent rooms created in their loft conversion in order to create a more complete, self sufficient space. For some homes it might be multiple bedrooms and a shared bathroom, but some homes will have a living space, bedroom, ensuite and kitchen so that the conversion is essentially like a flat or apartment. This kind of structure is more permanent than the partition walls and screening we mentioned above, but can work well if you have an L-shaped conversion where open plan could be more tricky, or you're set on having multiple rooms and you know permanence is something you're looking for with the build. 
Kitchens/ Kitchenettes
Some loft conversions can fit a kitchenette, or even a full kitchen. This is a great feature if you plan on making the space self contained for rental purposes, or for use as a self-contained guest space, or space for an older child to utilise. 
Let The Professionals Customise Your Home Improvement
Would you like a bespoke loft conversion that is exactly right for your family? Speak to loft conversion experts today and have a beautiful, bespoke design created so that your loft conversion isn't just perfect, but perfectly designed for your home.