For all homeowners who are thinking about changing their kitchen countertop, one material that they should try first is quartz. This engineered stone has been gaining popularity in the market for the last few years because of the amazing benefits it offers. There are several things people should know before purchasing this surface, including the different grades of quartz countertops.
Some people might be reluctant to purchase quartz because it is artificial. But even when this is a manufactured product, it resembles natural marble, and it comes in a variety of designs. Chances are there are many providers in the area that sell this material because it is in high demand at the moment.
Quartz countertops, as mentioned above, are fabricated, but 93 percent of their composition comes from a natural mineral that is extracted from the ground. The rest is a combination of resins and polymers. During its production, this surface can also be personalized with any color that homeowners choose, whether it is a solid one or a veining design.
To know if quartz is the ideal option for the kitchen, it is crucial to learn everything there is to know about it. That's why in this article we will talk about its cost, advantages, disadvantages, and maintenance. However, we will explain a topic that confuses many homeowners, the grades of quartz countertops.
Getting started: Quick Facts About Quartz
If we want to focus on the different grades of quartz countertops, it is crucial to become familiar with the material and learn some basics.
Fabrication Process
We have already talked about the composition of quartz, but we know some homeowners might be curious about the fabrication process. To answer all their questions in this regard, here is a quick overview. First, the ground quartz is combined with the resins and polymers. Further, depending on the style, the customer wants certain pigments added.
Once the mix is complete, it goes into a large mold that is compressed. Then, the slabs are dried and exposed to high heat. In the end, the surface is polished to make it look shiny. Because of its fabrication process, the countertop is low-maintenance and doesn't need to be sealed.
Pros
Antibacterial
Since quartz is a product made on a fabric, it does not have the porous quality of natural stones. This means it doesn't allow liquid to penetrate beyond the surface. That's why quartz is an antibacterial surface that doesn't accumulate viruses or bacteria.
Sustainable
Even when a percentage of the composition of quartz needs to be extracted from the ground, it is still a sustainable product. A quartz countertop can last up to 15 years when it is well maintained. That means homeowners won't have to replace it with a new surface or throw it away anytime soon. Plus, when it is removed, some parts could also be used for small projects around the house.
Durable
Quartz is one of the hardest surfaces in the market, with a score of seven out of ten on the Mohs scale. This surface is built to withstand all the daily activities of a regular household without compromising its quality.
Cons
Price
Due to all the incredible characteristics that quartz offers, the slabs can be more expensive compared with other materials. The cost can be around $60 to $90 per square foot. Keep in mind that the installation cannot be DIY. If homeowners can't afford quartz, it is a good idea to look into granite. To learn more about this alternative, click on the following link: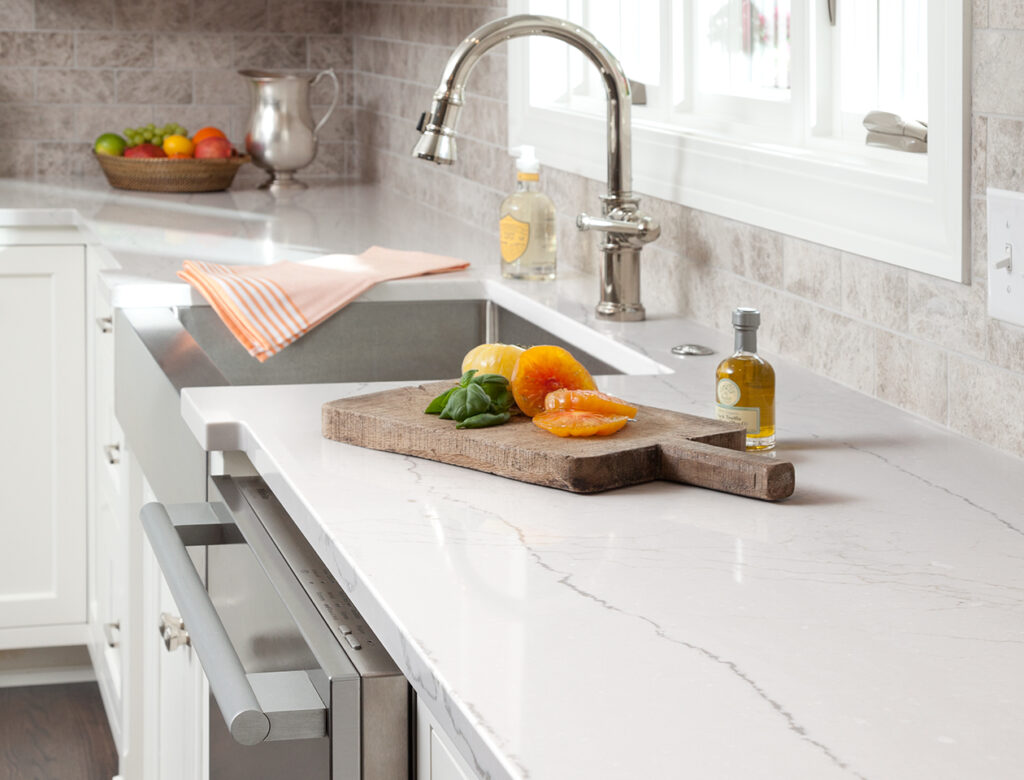 Not ideal for outdoors
All quartz countertops are perfect for interior kitchens, but that is not the case with the outdoors. Direct exposure to sunlight, plus, daily use, will fade the color.
What are the different grades of quartz countertops?
Now that we have done a quick overview of the basics of this surface, we can look into the different grades of quartz countertops. When homeowners go to the store, they might get confused once they find out that products are classified as commercial-grade, first and second choice. These are the level of quartz, and it is determined by the composition of the slab.
First Choice
What is known as a first-choice quartz countertop are all premium surfaces. The advantage of the first choice is that it has vibrant colors, delicate veins, and the finish is very smooth. Most people would say that this is the type of quartz that resembles marble the most. Remember that for its quality, this would be the most expensive countertop. But on the bright side, it will also last longer.
Commercial Grade
Commercial grade quartz is the product that offers the best of both worlds. It still has the durability of a first choice grade, but it comes at a more affordable price. The downfall is that it has a limited range of colors compared to the premium. This quartz countertop is the go-to option for many restaurants and hotels.
Second Choice
In case homeowners are looking for a surface that is durable for their cottage or investment home, second choice quartz is perfect. It won't look as luxurious compared to the other options, but it is still easy to maintain.
After this explanation, when going to the store, homeowners will know what the different grades of quartz countertops are. This will eliminate any confusion when browsing through products and asking for quotes from suppliers.
Conclusion
Knowing what the different grades of quartz countertops are is crucial since it will help homeowners determine which one is better for their home. Plus, they will know which surface fits into their budget. After choosing the level of quartz, picking the design will be easier. The key is thinking about the ambiance that they want to create in the room. Further, always consider the textures and tonalities to ensure everything matches.
A quartz countertop is going to last for a long time, and it will become the centrepiece of any kitchen. That's why all the surrounding elements should highlight this luxurious surface.