If you're on the hunt for a new roof, you might be wondering which type is ideal for you and your home or building. While having so many options, weighing all of the benefits and drawbacks of each type of roofing material may be daunting. This feeling is especially true for new owners.
When it comes to roof replacement, you have several alternatives. Conventional shingles, which are available in various colors and patterns, are always a viable option. Then there's metal roofing, which comes in multiple paints, coatings, and fastening configurations. Although it is a personal decision, the question is how long it will last.
What Is Metal Roofing?
Metal roofing is the more complicated alternative when compared to shingle roofing, needing special procedures, professional installers, and more bits and parts to succeed. Metal roofing is more frequent in areas with harsh weather. Metal roofing can outlast asphalt shingles by decades and provides adaptability and a range of alternatives that most other roofing materials lack.
Factors for Choosing Metal Roofing
Metal roofing is a lightweight material, which is one of its main advantages. First, during the Rollforming and installation process, it is easier for the installers to handle and carry up on the roof. Second, it does not weigh down or place undue stress on a structure, reducing frame damage and preserving the structure's integrity.
One of the most significant distinctions between metal roofing and shingles is lifespan. Metal roofing can withstand at least 50 years before showing indications of deterioration. Metals like copper and zinc, for example, have been known to persist for 100 years or more in some cases.
Metal roofing is more expensive upfront, but it is usually less expensive over time since one metal roof (which may last 60 years or more) can easily outlast three asphalt shingle roofs (one lasts 15-20 years). It has a standard Class A fire rating and is noncombustible, making it the least flammable.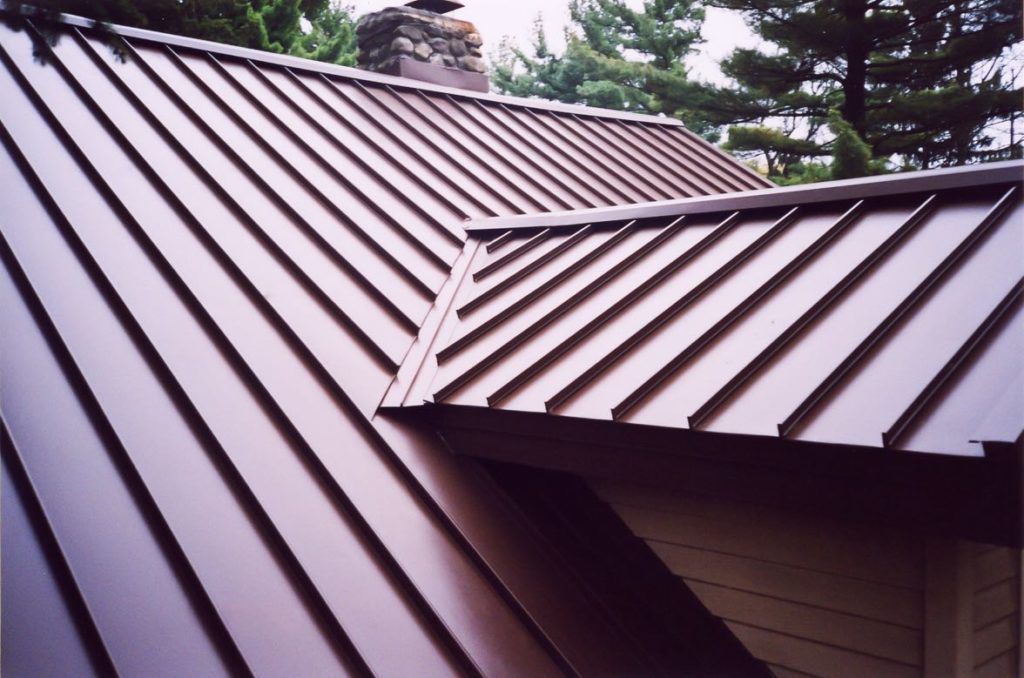 This fire rating is especially essential in wildfire-prone areas since metal roofing is far less likely to catch fire than shingle roofing if hot ashes or embers fall on it. Metal roofing, when correctly built, is the most robust and most durable in both every day and harsh weather situations.
The roofing material is also recyclable, which makes it eco-friendly. Metal roofing provides environmental advantages as well as energy efficiency advantages. Many metal coil and sheet manufacturers now provide cool roofing, highly emissive metal panels that release absorbed heat in hot weather and retain heat in cold weather.  
What Is a Shingle Roofing?
Shingle roofs are ubiquitous, and there's no denying that they're more frequent than metal roofing. Because shingles have been the standard option for many houses and businesses for over a century, most people naturally think of them when they think of roofing in general. There are several advantages to having a shingle roof constructed. Most of them are on low initial cost, ease of installation, and availability of supplies.
Factors for Choosing Shingle Roofing
Shingles are less expensive than metal roofing in the long run (often less than half the cost of a metal roof), which appeals to many homeowners. The great majority of shingle installations are due to this aspect alone. While shingle roofs have a classic appearance, they are increasingly in production to resemble slate, wood shakes, and tile. 
Shingles take less time and effort to install and replace than other roofing materials. Shingles are pre-packaged and ready to be nailed to the deck right away (unless cuts are required). Metal roofing requires you to handle completed panels that can be difficult to handle, attach the metal panels to the decking using screws rather than nails, connect the panels, and lastly, install the flashing (usually consists of multiple metal pieces).
Along with its simplicity of installation and replacement, shingles are also easier and less expensive to repair if they fail. The majority of shingles are removable one at a time at the root of the problem, requiring fewer rebuilding supplies. Metal roofing is more difficult to repair one at a time since the full-length panels are all joined together.
Just a reminder, if there are any difficulties when doing repairs due to the problem of accessing the roof area, consider installing specialty roof hatches as a way to safely and conveniently access the site. This convenient access will serve to increase efficiency, especially if the repairs involve some equipment.
Shingles are generally plain and easy to install, which is why there are more shingle-installing contractors than there are metal-roofing professionals. While finding a competent and experienced installer is still crucial, buyers will have an easier time finding professionals installing a shingle roof.
Shingles have a lower life expectancy due to their own set of flaws. Algae and fungus can grow in the presence of standing water, ice dams can cause fractures, and temperature swings between day and night can shorten the life of your shingle roof. Shingle roofs have warranties ranging from 15 to 30 years, depending on the area, environment, and temperature.
Conclusion
These are just some information that you may need to know. Like all things subjected to entropy, the roofing of your establishment will eventually need replacing, but to make it last, it takes dedication to regular maintenance. The best course of action every time is to consult a professional for advice.