What is a floating bed?
It's like a regular bed but gives the illusion of a floating bed as there are no visible wooden or metal legs like in usual beds. The supportive legs are placed strategically towards the center, so they stay hidden, giving off the illusion of a bed floating in the air from the outside.
Also, there is another variant of a floating bed where the bed is actually floating. There is no platform under the bed; instead, it gets support from the wall as it gets attached to the walls with some additional equipment support.
Pros and Cons of having a floating bed
Every product has its advantages and disadvantages based on your requirements.
Pros
The foremost advantage is that the floating bed instantly elevates a room's aesthetics.
It makes it easier to clean the space underneath the bed.
Some frames have a light setup under them, which takes the game to another level.
Increased possibilities of accessorizing the room.
It has in-built slats, which means you don't need additional box springs for the mattress.
Cons
These are only available in low profile, which can be an issue for people with joint problems.
The durability of the bed depends on the platform's quality, which is not so good in cheaper floating beds.
It's hard to customize your size because most are available in standard sizes.
Now the last point is not about the bed. It's about the bed. For the first few days, you might feel uncomfortable sitting or sleeping on the bed as there is no visible support under the bed.
Also read The Top Health Benefits of Using an Adjustable Bed Base
Things you need to consider before buying a floating bed
There are a few things you should give a thought to before buying a floating bed-
Mattress specifications
Well, not all mattresses are suitable for every type of bed. As floating beds are nothing like a regular bed, so are mattresses. If you already have mattresses, try getting the bed according to that, or find a buyer to sell out your mattresses and buy a new one as per the bed.
Mattress requirements
Check the type of mattress suitable for the floating bed, as a too-thick mattress is not the type to go with a floating bed as it would be too uncomfortable to sit on. Inquire about it in the nearest mattress store available.
Mattress warranty
If you have to buy a new mattress due to the floating bed, then make sure to know if the usage of the mattress on the floating bed voids the warranty because, with the floating bed, you can't use a spring box mattress. Try to enquire about such things while purchasing.
Vendor shipping policy
Try to buy it from the vendors who provide set up service, as you won't be able to set it up on your own, or you'll have to spend again on buying set up service from a third party, which is going to be an unnecessary expense.
Warranty and return policy
Most of the floating beds have 7 to 10 years of warranty. If you are unsatisfied with the warranty you are getting at the price you have paid, you better look for other brands. Inner satisfaction is mandatory.
Low profile feature
The usual height of a floating bed is 14″ to 17″, which can be uncomfortable for people with knee problems. So, look for a floating bed at a comfortable height.
Storage space
There is enough space under the bed to keep some stuff which is not too tall and big. You can keep a bit of stuff under the bed if you like.
Weight concerns
There is no weight concern in usual beds as they are sturdy and can withstand an adequate amount of weight. On the other hand, a floating bed is also good enough to withstand the weight, but it won't be able to withstand the weight of a kid's jumping and playing on it. So, if you want to get it for your kids, you need to revise your decision.
Moving frequency
If you move or shift a lot, then a floating bed is not a good option for you because its frame is tough to set up and move frequently.
Alternatives to floating bed
General bed
These are the regular bed frames made up of wood and metal, but the advantage of opting for a general bed frame is that it is adjustable.
Storage bed
Some storage beds provide storage space within the frame. This is a good feature for small bedrooms as you don't need an extra cupboard to store unnecessary items.
Platform bed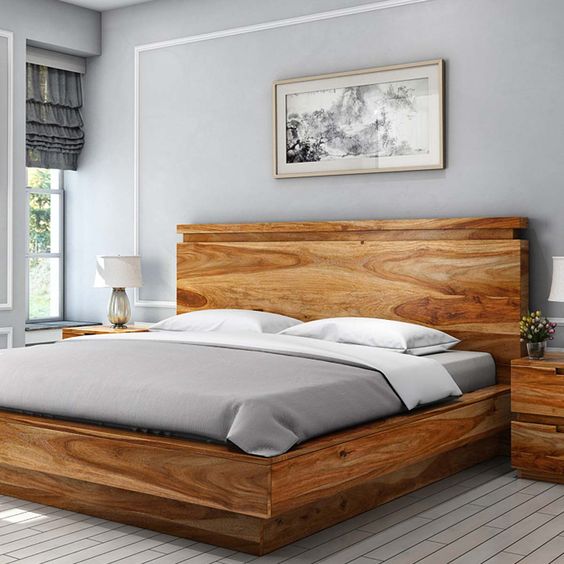 The platform bed is nothing like a floating bed, but it still does an excellent job of elevating the aesthetics and comfort of your room. It also doesn't need a spring box and has an attached headboard.
Box spring bed frame
A box spring bed frame is not a bed, though; instead, it is used as a support frame for a mattress with a bed frame. However, you are still allowed to use it without a proper bed frame. A box spring frames a wooden structure encased with the spring in the fabric. It helps the mattress last long by distributing the weight. Also it is a budget-friendly option.
Frequently Asked Question
Is a floating bed frame suitable for you?
If you are looking for a bed for a space-efficient room, then you should consider it. Also, it is a versatile, inventive, and modern concept.
Are floating beds stable as standard beds?
Yes, they are more stable than regular beds, floating bed only gives the illusion of being in the air, but it has a supporting platform towards the center, making them stable and look like they are floating in the air.
What is the weight capacity of a floating bed frame?
The weight-bearing capacity depends on the quality, so make sure to buy a quality bed. A queen-sized bed can bear up to 500 pounds of weight. In some cases, it can be 800 pounds.
Are floating beds comfortable and supportive?
Yes, they are as stable as a standard bed. They only look like they are floating. They are on the ground like a regular bed. For comfort, it depends on the quality you have. Better quality means better comfort. It has nothing to do with the type of bed.