For your bathroom to keep up with the present-day trend, it is necessary that you revamp it the right way. Placing a perfect washbasin will instantly glam up your bathroom and will cater to all functional utilities like – washing hands, hair dressing, small objects placements, brushing, and more. With the quality and colour, one has to pick the apt washbasin design for their space. If you are considering renovating your old bathroom, replacing the old washbasin with a stylish, ergonomic one is the easiest way to transform your bathroom space. Try a few modish looks for your bathroom to find out what works perfectly.
Blending technology and aesthetics
Having a luxury washbasin which is a soother to eyes is always bliss. To you or your guests, a luxurious washroom is always a thing to remember. This space of the house sets your hygiene as per your needs and convenience. Livable washbasin designs have got the elegance that keeps the luxury high.
Especially with washbasin, hygiene and elegance take the focus. Due to this reason, modern bathrooms are preferring washbasins that can self-clean after every wash. Flushing motion of water, in automation and manual form, makes cleaning convenient and easy, which in turn maintains the hygiene of your bathroom and makes your home healthier. A splendour design with quality is a rare combo to see but at Kohler, you will experience this rich friendship in each product.
Washbasins are one of the key features of any bathroom. In any patterned bathroom, the mirror and the washbasin catch our glimpse and it is the most useable asset by the guests.  Hence, to create a long-lasting first impression, there is no alternative to a designer washbasin that matches the colour and aesthetics of your bathroom.
A perfect bathroom basinalways balances the overall décor and creates a sense of extravagance. Washbasins are available in various materials for the kitchen, living room and bathroom. The most common materials are – ceramic, porcelain, granite, marble, stainless steel, and stained glass. You can also choose to create a custom-made concrete basin. At Kohler, you will experience premium quality with unmatchable looks that will reflect your living standards.
Washbasin technology and design trending in 2021
Floating vanities– You have probably seen such washbasins in a hotel and got impressed. Unlike the conventional washbasins, the wash-plane doesn't contain a bowl of any shape. Rather, it contains just a flat slab with a tap above. Referred as the sleekest of all existing forms of washbasins, the use of this is limited to hand washing only. It is one of the most sought-after technologies at present. For homes, these come with numerous tailoring options and a storage base that fulfills your needs with a Midas touch.
Mirrors and cabinets– These are the small but very helpful renovations for a luxurious bathroom that has good looks and convenience.  You can consider putting one above a top mount washbasin. This washbasin is designed specifically to be placed on top of the counter space in the bathroom. If you are selecting this kind of washbasin, pick the one that has embellishments or with the contrasting colours and patterns across the rim. You can also choose from ultra-slim rim patterns to create a statement. Medicine cabinets are becoming more and more popular because of their utility factor. It also has a quite nice storage for handy things.
Quartz countertops – Lighter finished quartz countertops have become a major trend in present times. The non-porous surface of quartz makes cleaning easy and does not lead to bacterial growth. Interior designers are blending technology with quartz by curving under-mount washbasins from it. As the name suggests, this kind of washbasin is installed underneath the benchtop. The rim in this kind of washbasin aligns with the countertop. They appear as a continuation of the smooth finish of the countertop. These washbasins are easy to clean and maintain and hence your luxury will always have the prime seat.
Wood-looking tiles– To add versatility to the bathroom, there is no alternative to wood-looking tiles. These technologically superior tiles are moisture and bacteria-resistant, and also easy to clean. These tiles are the symbol of premium products, and they attract almost every eye.
Along with a wall-mounted washbasin, the wood tiles create a look to love. This kind of washbasin is installed on a supportive wall and does not need any base for holding the weight, like a benchtop. Since plumbing is concealed within the wall it makes your bathroom appear more spacious and attractive.
Colourful vintage washbasin – You can consider adding some colours to make your bathroom more vibrant. Colours like sunflower yellow, neon orange and zesty green are the ones that glams the space. If you have a pedestal washbasin installed, there will be nothing better than blending the classical vibe with fun colours. This simple wall-mounted washbasin offers the convenience of channeling the plumbing work through the floor.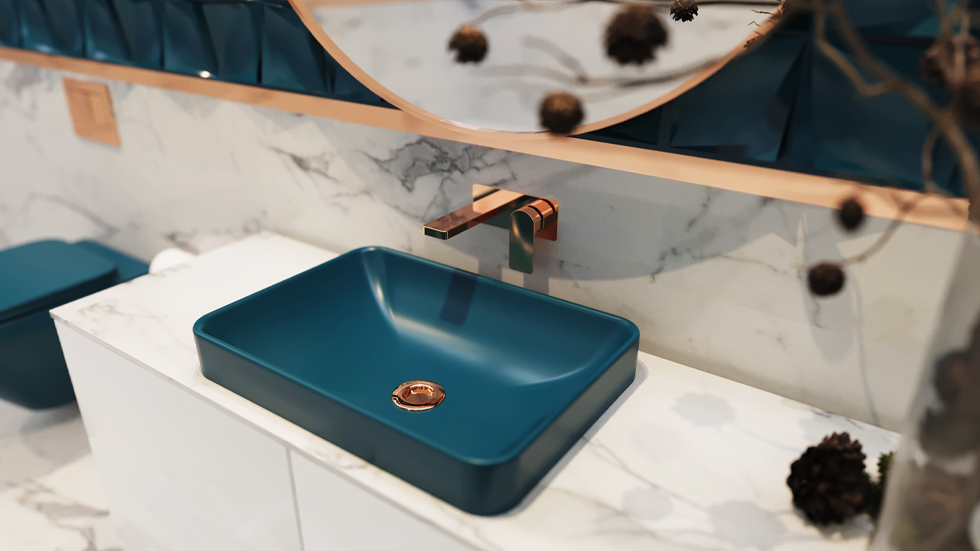 Finishes – Any pattern in the world needs the perfect cutting and finishing to décor the space. Modern bathrooms are going experimental with cuts and patters in washbasins, as well as the type of installations. For instance, a semi recessed washbasin is definitely going to get massive attention from admirers. This kind of washbasin strikes a balance between wall-hanging and submerging. If your bathroom counter has limited width, you can opt for this kind of washbasin and go premium in nature.
Select the best washbasin design based on these 5 factors
Material of countertop– Choose a washbasin that complements the countertop. You can choose matching colour schemes or contrasting vibes in washbasins. There are a wide variety of materials you can choose from.
Bathroom's existing plumbing frame– Keep in mind your bathroom's existing plumbing and try to fit it into the existing network. This will save time and effort.
Functions that you are looking forward to– If you have kids or seniors at home, then you might want to invest in a washbasin that caters to the needs of those people. Find basins that can be used conveniently and hygienically by every member of the family.
Maximum space for washbasin in your bathroom- This is one important factor to consider before purchasing a washbasin. Ideally, your bathroom should have breathing space between fixtures and adequate space to move around between them. A bigger washbasin bowl means easy cleaning and maintenance, but it is advised to plan ahead before purchase and installation so that you can fall for the glamourous luxury again.
The Brand you want to go for – You can opt for Kohler, one of the best bathroom washbasin manufacturers and distributors in India. Kohler's range of washbasins brings the magic of minimalism into your bathroom. The contemporary aesthetics of the washbasins never fail to add elegance bathroom that always demand an applaud. Moreover, washbasins from Kohler meet the global quality standards and are not only 50% more stronger but also possess higher chip resistance as compared to other ceramic basins.
When it comes to size, style and shape of washbasins, you can choose from soothing rimless to rim-free and bigger bowls. Washbasin price depends on the material, style and size of the bowl. To sooth your eyes and to woo your soul, Kohler offers world-class products at affordable prices. That means you can invest in a Kohler washbasin easily without burning a hole in your pocket. So, explore the wide and impressive range of Kohler washbasins and take your pick. Visit Kohler stores or browse the products online and unleash the luxury in your life.