Traveling with kids can be tough, especially if there isn't something to keep them occupied.
If you're in the area and looking at Calgary homes for sale, rest easy knowing there's a lot you can do to keep your little ones busy.
You might also consider settling down in Calgary, which is a safe and clean city that has quality education and healthcare available.
Here are some family-friendly things to do in town.
Head to the top of Calgary Tower
It's hard to ignore the city's iconic landmark. Calgary Tower soars to 627 feet above ground and affords visitors a 360-degree view of the landscape below.
Brave kiddos will love walking across the glass Observation Deck. You can get a table at SKY 360, a restaurant that makes a complete revolution every 45 minutes.
Spend a day at the zoo
The Calgary Zoo is home to over 100 animal species. It holds special events throughout the year and has educational programs for kids.
Head to the conservatory to check out the gardens and butterflies. Destination Africa, Canadian Wilds, and Exploration Asia showcases animals from their respective countries.
You can even experience animals from the past through Prehistoric Park.
Stop to eat at one of several restaurants, hang out at one of several playground areas, or peruse a gift shop to find something unique to take home.
Get Creative
Kids of all ages will enjoy the Creative Kids Museum at Telus Spark, which focuses on hands-on and interactive exploration of the arts.
There is a water play area, a climbing adventure space, places to eat, and even areas dedicated to adult activities to keep parents entertained.
The Infinity Dome Theatre has a 360-degree view for things like planetarium shows and the Digital Immersion Gallery lets you experience floor to ceiling images that jump off the screen and come to life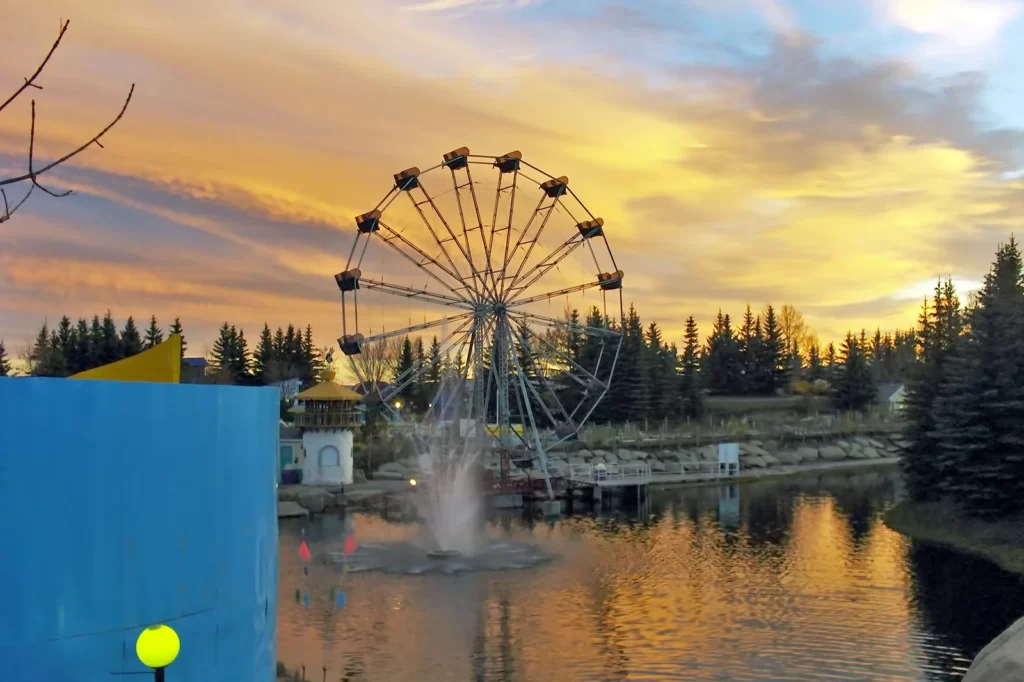 Head to Granary Road
Granary Road is much more than a farmer's market. This go-to family destination has 36 acres that cover 11 interactive exhibits like a giant spider web for climbing or beehive for exploring.
Bounce on the Frog Pond Fun Pad or pet some of your favorite farm friends.
If you hit it at the right time of year you may stumble upon a festival, like the October Harvest Days.
Blast to the past
Heritage Park is a living history museum in Calgary, the second-largest in the country.
On 127 acres of park land sit attractions and exhibits that transport you to a time span of Western Canadian history from the 1860s to the 1950s.
You'll encounter an 1860s fur trading fort and First Nations encampment, 1880s pre-railway settlement, and 1950s Gasoline Alley museum and heritage town square.
Try out the Olympics
Sports-loving kids will be ecstatic to check out Canada Olympic Park, a year-round recreation and training park born of the Winter Olympics once held in the country.
Here you can ski, snowboard, tube, or hit the luge.
You'll also find the Sports Hall of Fame that highlights some of the top athletes from the country.