As of 2022, there are 18 states that have legalized recreational cannabis, with even more slated to pass legalization laws in the future. Additionally, several other states have laws that allow for the cultivation and use of medical marijuana. The United States has been making major strides in shedding much of the old stigma around growing and using marijuana, so gardening enthusiasts have been diving feet-first into the world of growing their own cannabis plants.
Hobby gardeners typically grow their own plants to save money on the cost of food, so hobby marijuana growers often look for places to find discounted marijuana seeds. Since legalization is so prevalent, these gardeners can plant seeds in do-it-yourself raised bed gardens right in their own backyard. Similar to every other garden plant, marijuana plants have specific needs that need to be met for them to be healthy. Check out the information below to find out more about growing cannabis seeds in a raised bed garden.
Building Your Raised Bed
Unless gardeners already have an established raised bed, then building one themselves is the best way to cut down the cost of building raised beds while planning the perfect spaces for marijuana cultivation. Using the square-foot gardening method, gardeners can create suitable spots for growing cannabis seeds while maximizing utility in the spaces they have. Mature cannabis plants can be quite large even with pruning, so gardeners will need to make sure they have a few feet of space available for each plant. 
Choosing the Best Raised Bed Soil for Marijuana Plants
Marijuana plants have some heavy nutrient requirements, so gardeners must consider this when choosing the soil they will use in their raised beds. The average garden box soil won't necessarily have the best nutrient content for cannabis plants, so investing in a soil with a rich nutrient content will go a long way in ensuring the plants are healthy throughout their lives. 
In general, cannabis plants need 4-6 gallons of soil per plant. That does not necessarily mean that the raised bed needs to be deep. Instead, gardeners can build their bed to have a larger surface area while still only having a depth of around 8-inches. The larger surface area will provide the soil volume, so just plant to have more space between each plant. 
Growing Cannabis Plants from Seed
There are few plants that experts recommend be cultivated from cuttings rather than seeds, and that goes for marijuana plants as well. Cannabis seeds provide more robust genetics with increased disease and pest resistance, so they are the best option for growing outdoors in a raised bed garden. Fortunately, gardeners do not have to spend a fortune on getting marijuana seeds, as discount seeds are readily available online.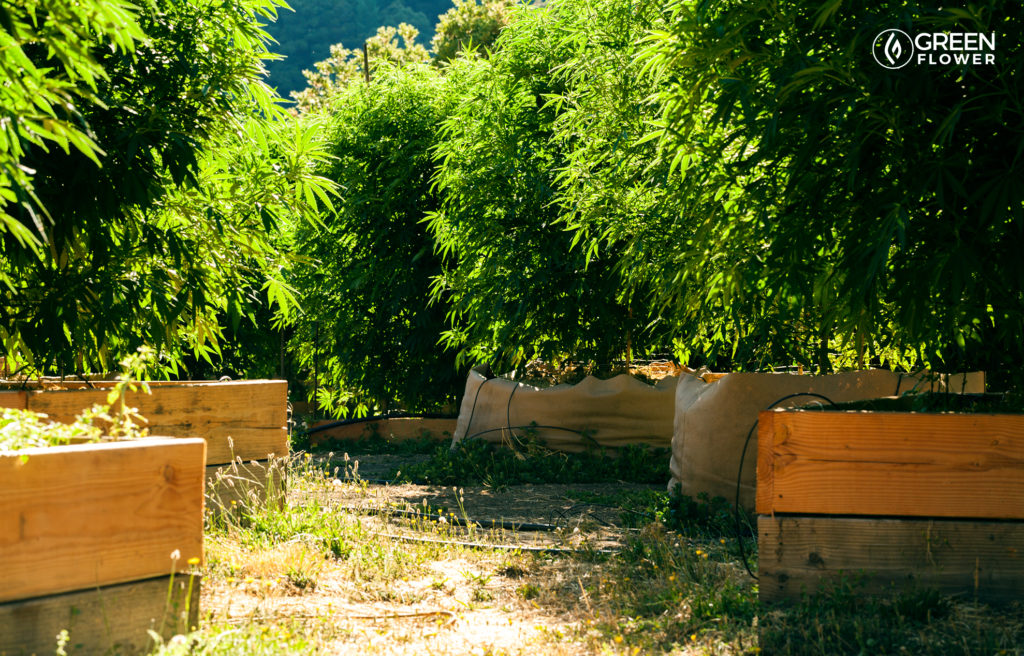 Choosing the Ideal Marijuana Strain for Raised Bed Gardening
Gardeners must consider the strain they intend to grow when planning their raised bed gardens. Some strains, such as Sativa strains and Sativa-heavy hybrids, are more likely to grow tall and wide. Some Sativa strains, such as Blue Dream, can reach over 15 feet tall if they are not pruned down throughout the vegetative stage.
Indica strains, on the other hand, tend to be much more stout and bushy. Still, cannabis is a fairly adaptable plant, and most strains can be pruned or trained to fit within the given space using low-stress training techniques. Cannabis cultivation is as much about adjusting strategies as the plant grows as it is about planning ahead. 
Final Thoughts on Growing Marijuana in Raised Bed Gardens
Gardening enthusiasts and novice, would-be growers can get started growing their own cannabis without spending a ton of money. Building a suitable raised bed garden and investing in cheap cannabis seeds is a great way to try out homegrown cannabis without the fuss and equipment that comes with growing indoors.