The seemingly endless list of things to consider when building a new house or taking on a renovation project makes those design decisions a little bit tougher. You might get carried away with all sorts of other details in the process and forget to put in the time to choose the best flooring option for your home. Timber floorboards can produce an amazing level of refinement and warmth in your home, particularly when matched with other stylish interior design choices. 
Choosing the right timber flooring can help to make or break the entire style of the room. We're here to make the process a little easier with this guide to choosing the best timber flooring for your home.
Benefits of timber flooring
While you might be still considering other flooring options, here are some of the key benefits of using timber flooring in your home. 
Hardwood timber flooring is a particularly durable and versatile option, meaning that it's easily able to last for many years. Wooden floors can even stand up in areas of heavy foot traffic thanks to its strong structural properties. 

Timber flooring is also easy to clean, particularly when compared with other flooring options such as carpet. With regular mopping and general maintenance, you can stay on top of the cleaning of your floors. Generally speaking, timber flooring doesn't collect a great deal of dirt and debris, which helps with the cleaning process. 

If you're looking for a flooring option that ages well, timber flooring can actually look even better with age. Carpet is an example of a flooring option that will deteriorate over time, and you may need to rip it up and replace it before you would've liked to. 

Timber flooring is also a more environmentally-friendly option, as many timber specialists in Australia spend time on carefully sourcing sustainable timber.
Choosing the perfect floorboard shade 
Depending on the type of look or feel you are trying to create, the shade of the timber flooring can make a huge impact on the space. Are you looking to create a more rustic look, or do you want something a little more sophisticated? 
Lighter shades of timber, such as light oak or beige tones, are great in smaller houses as they help to create a greater sense of space and open up the area a bit more. However, if you're looking for more of an intimate and homely feel, darker shades like walnut or chocolate are more preferable.
Always make sure to consider how much natural light the room receives at different times of the day. If you're wanting timber flooring in your bedroom, it may look drastically different in the morning light than at night. No matter if you're looking for jarrah flooring or spotted gum flooring, always test the samples with different lighting to ensure that you're choosing the perfect floorboard shade for your home. 
Solid or engineered timber flooring? 
Another aspect to consider when choosing the best timber flooring for your home is whether or not you want to install solid or engineered timber flooring. 
Hamill Creek Timber Homes floorboards can produce an amazing level of refinement and warmth in your home, particularly when matched with other stylish interior design choices.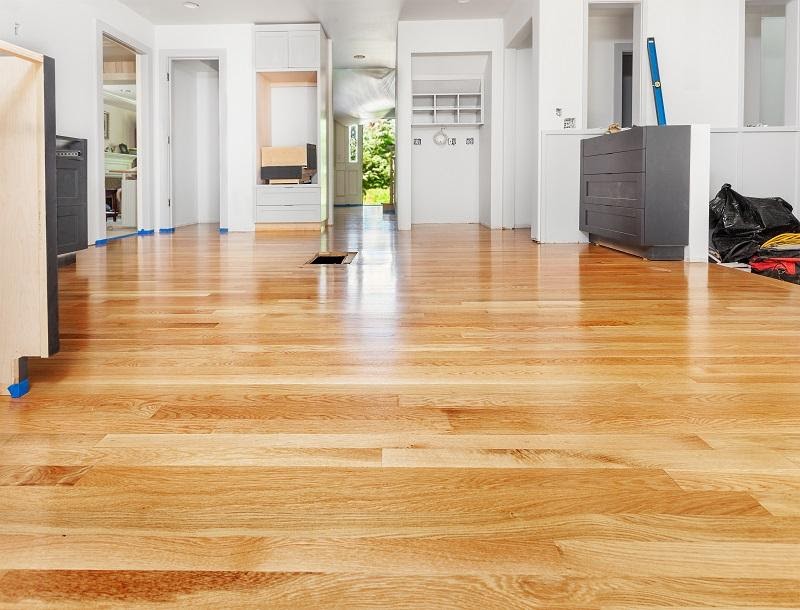 Solid timber 
Solid timber is the original form of timber flooring and is installed to create more of a classic look. These old fashioned timber planks tend to be quite durable as they are generally thicker, meaning that they can be sanded and polished on multiple occasions. You'll often see solid timber floors in many older homes across Australia. 
Although it ages very well, the solid timber usually comes as a raw and unfinished product. What that means for installing timber flooring in your new home or as part of a renovation is that the installer will need to sand and polish the timber after they have laid the planks down. 
 Engineered timber
Engineered timber is the other main type of timber flooring used in homes around Australia. As opposed to solid timber where it consists of one thick piece of timber, the engineered timber flooring is made of two or more different layers of wood. 
These different layers are compressed together with the top layer usually coming pre-finished. This means that you won't have to worry about doing any sanding or polishing once you've laid the timber down. However, if you'd like an untreated timber, there are options to have it in a raw state. 
The layers beneath this top layer are typically made of plywood, which helps to bring the costs of the timber down while still producing a durable and strong flooring option. One of the great benefits of engineered timber is that thanks to the way it's constructed, it's less vulnerable to expanding and warping as a result of exposure to moisture. Engineered timber can also be installed over different subfloor surfaces such as concrete slabs or tiled surfaces. 
Choosing between solid and engineered timber will largely come down to what budget you're working within, and the type of flooring that will match your design and lifestyle preferences. 
 Which flooring finish is best?
Lastly, if you've decided to go with an unfinished timber for your flooring (whether it's solid or engineered), you'll need an appropriate finish to make sure your floor lasts for many years to come. 
Oil & Wax
An oil or wax finish is great for giving your flooring a more natural look. It also makes them very easy to be refinished when they start to look like they're crying out for another coat of oil. If you're wanting to enhance the colour of your timber, an oil finish is a great option. Unfortunately, these types of finishes need a little more regular maintenance, so for many home owners who are looking to avoid this, you may want to consider a polyurethane finish. 
 Polyurethane 
Polyurethane finishes are the best option if you're wanting to spend as little time on floor maintenance as possible, as these products can last you up to 10 years. Water-based polyurethane dries quite quickly and is clear, so you don't have to worry about it timber.
Final Thoughts 
At the end of the day, the final choice is in your hands and the exact shade you decide on will depend on the aesthetic that you're hoping to achieve in your home. Budget constraints will also be key in making the choice between solid and engineered flooring. 
Being confident in your choice in finding the best timber flooring will help to set the foundation for the rest of the interior design choices you're hoping to produce as part of your new home build or renovation project.