Is it time to replace your old ceiling fan? Are you considering upgrading an existing light fixture? Replacing a ceiling fan is a fairly straightforward job, but choosing the new fan can be more complicated. 
There's a lot that goes into selecting a fan. You have to consider the size of the space the fan is meant to cool, your home decor, how powerful the fan needs to be, and what functionality and features you'll need. If you're installing the fan in an outdoor space, like on a covered porch or patio, you'll need a fan designed to withstand the weather. Here's what you need to know to buy the perfect fan for your home.
Size Your New Fan Properly
The most important element of choosing a new ceiling fan is making sure you get the right size fixture. Ceiling fan sizes range from 29 inches in diameter at the smaller end of the scale, all the way up to 80 inches or more at the largest. A fan that's too large for your space will move too much air, creating gusts of wind rather than a gentle, cooling breeze. Small ceiling fans need to be installed in small spaces, as they won't make enough of a difference in a large room to be worth the trouble of installation. Measure the square footage of the room, corridor, patio, or other space where the fan will be installed, and choose a fan in one of these size ranges:
For rooms of 75 square feet or less, choose a fan 28 to 36 inches wide.

For rooms 76 to 144 square feet, choose a fan 36 inches to 42 inches wide.

For rooms of 145 to 224 square feet, choose a fan 42 to 54 inches wide.

For rooms larger than 225 square feet, choose a fan larger than 54 inches.
The largest rooms require the largest fans. If in doubt, you can ask the salesman to make sure your new fan will be large enough for your large room. If you have high ceilings, you'll need a downrod to make sure your new fan is hanging at the right height — you can get them in lengths that vary from just a few inches long to multiple feet long, depending on how high or how steeply vaulted your ceilings are. And if you have low ceilings, you'll need the opposite — a flush-mount ceiling fan that preserves head space in the room. And if you're hanging the fan outdoors, choose an indoor-outdoor fan rated to withstand the elements.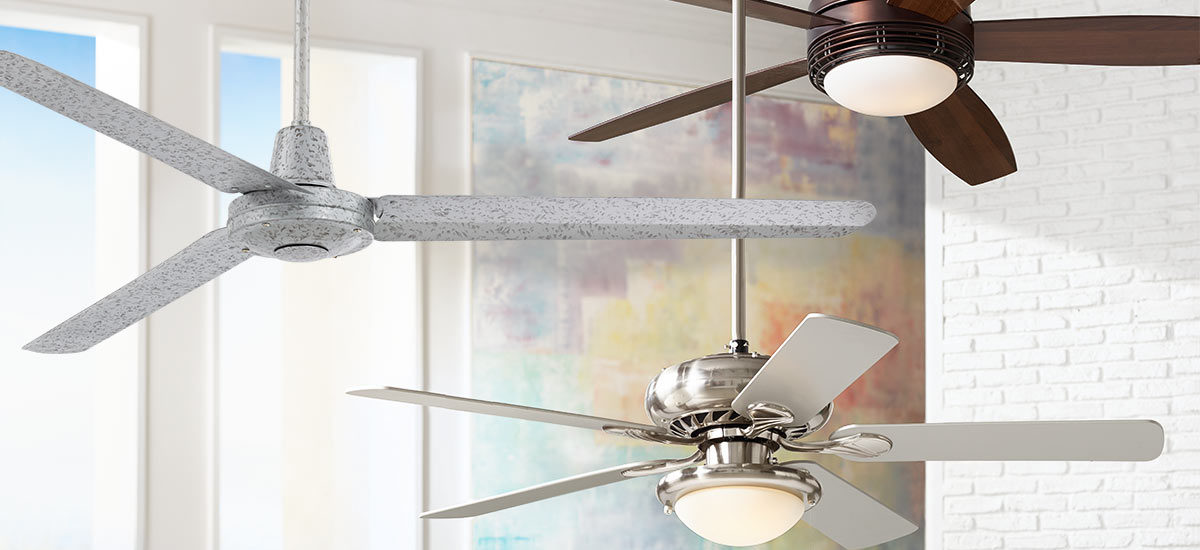 Choose a Stylish New Design
Grandma's old-fashioned ceiling fans are so last century. These days, you can choose from a dazzling array of sleek, contemporary designs, rustic or tropical looks, or even metallic industrial styles and finishes. When choosing a new fan to blend into your decor, consider the architectural design elements at play in your home, as well as the design choices you've made yourself. A funky, colorful fan or a quirky design might fit well with an otherwise eclectic style, but you can choose fan styles to accommodate your aesthetic tastes, no matter what they are. Shop around a bit to get a feel for the different design options available today.
Select for Airflow, Features, and More
Once you've found some fans that are sized right for your space and look nice, you should consider functionality. You'll definitely need a reversible motor, so you can use the fan during the winter to blow warm air down from the ceiling, as well as during the summer to create a cooling breeze in your room and lower cooling costs. 
Most fans still have pull cords that you can use to operate the fan blades and, if there's a light fixture on the fan, to turn the lights on and off. However, you might not be able to rely on those pull cords in all situations — like, for example, if you have a high ceiling and won't be able to reach the fan easily from the floor. You can find fans that come with remote controls, or a wall control panel that looks like a normal electrical switch but works like a remote control, to minimize the need for new wiring. You can also get smart fans that connect to your thermostat and turn on or off automatically, or allow you to control the fan's operation via smartphone, even when you're not at home.
Airflow for fans is measured in cubic feet per minute (CFM), and you'll want a fan that moves at least 4,000 to 5,000 CFM at high speed. The better the fan, the more CFM of air it can move. The best fans move 6,000 CFM or more at high speed.
When it comes to choosing a ceiling fan, there are plenty of things to consider. Size, features, airflow, design — all of those features come together to make your perfect new ceiling fan. Choose carefully, so you can avoid ceiling fan buyer's remorse.