Creating a seamless indoor-outdoor living space is a great way to bring the beauty of the outdoors into your home. With the right design choices, you can blur the lines between your indoor and outdoor spaces, creating a fluid and harmonious living environment that complements your lifestyle and personality. Whether you have a large backyard, a balcony, or a small patio, there are a few easy steps you can take to achieve the perfect indoor-outdoor theme in your home.
Indoor-outdoor living is a popular architectural and interior design approach that creates a harmonious flow between a home's indoor and outdoor spaces. It involves integrating both areas so that one can easily transition from indoors to outdoors, and vice versa. This design strategy often includes large sliding doors or bi-fold doors that open up to a patio, deck, or garden, allowing for a seamless blend of indoor comfort and the beauty of nature. With indoor-outdoor living, natural light and fresh air permeate the home, creating a calming, open, and expansive environment that enhances the overall living experience.
Bringing an outdoor feeling indoors is an interpretation some individuals are drawn to when adopting the indoor-outdoor theme. This concept can be realized through the use of natural elements and materials within the home's interior. Furnishings made of wood, stone, or bamboo, for instance, can evoke the sensation of being outdoors. Additionally, incorporating plenty of greenery, such as houseplants, vertical gardens, or even a small indoor water feature, can mirror the tranquility of nature within your living space. Even the choice of colors can contribute to this theme, with shades of green, brown, or blue mirroring the hues found in nature. The goal is to create an atmosphere inside your home that resonates with the serenity, beauty, and tranquility of the natural world, creating a sense of continuity.
Indeed, indoor-outdoor living is not just a fleeting fancy but a growing trend that's capturing the imagination of homeowners and designers alike. This design philosophy's popularity stems from its ability to offer the best of both worlds – the comfort and sophistication of indoor living and the freshness and vitality of the outdoors. It also aligns with the increasing global emphasis on well-being and mindfulness, as it encourages a closer connection with nature.
Here's how to achieve it in your home.
Choose the Right Flooring
One of the most important design elements to consider when creating an indoor-outdoor living space is flooring. Durable, slip-resistant, and easy-to-clean flooring materials like natural stone, concrete, or porcelain tiles, are great options for outdoor spaces. Incorporating the same or similar materials in your indoor spaces can help create a continuous flow, and make your home feel more spacious. If you prefer wood floors, be sure to choose an engineered hardwood that can withstand humidity and temperature changes to avoid warping or buckling. You can also use outdoor rugs in your indoor spaces to create a cozy and inviting feel, or indoor-outdoor rugs in outdoor spaces to tie in the design.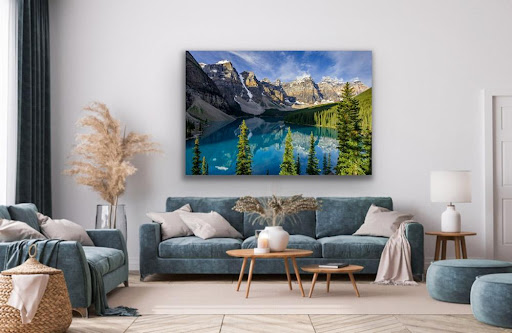 Greenery and Accessories
Adding natural elements like indoor plants, vases, pottery, or even natural artwork to your indoor and outdoor spaces can help you achieve the perfect indoor-outdoor theme. To stay consistent, choose accessories that reflect the type of greenery you have in your outdoor space. Peppering your interior with fine art landscape photography is a great way to give a sense of the great outdoors while you're inside. Terracotta pots and green plants harmonize with a tropical theme, while glass jars filled with grass or stones complement an eco-chic feel.
Choose the Right Colors
When choosing colors for your indoor-outdoor space, consider a natural color palette that reflects the beauty of your environment. Earthy tones like greens, browns, and grays, or soft blues and whites, can evoke a feeling of calm and tranquility, while bright pops of color can create an energetic and playful vibe. Incorporating indoor plants as a natural element can also help bring the outdoors inside, while effectively purifying the air.
Minimalist or Maximalist
Whether your style is minimalist or maximalist, there are ways to incorporate it into an indoor-outdoor theme. Minimalism focuses on simplicity and functionality, while maximalism embraces bold colors, patterns, and textures. For a minimalistic approach, choose clean lines and neutral tones with natural materials like wood and stone. Maximalism can be achieved by incorporating vibrant colors and patterns, mixing and matching different textures, and adding playful accessories like outdoor lanterns or bold indoor plants.
Choose the Right Furniture
Selecting furniture that can withstand the elements is crucial for your outdoor space. Consider maintenance-free materials like aluminum or resin wicker which come in a variety of beautiful styles. Keep in mind that the furniture you choose for your outdoor space should also complement your indoor furniture. Repurposing furniture from indoor spaces can be an eco-friendly alternative and it also ensures a sense of continuity in your home design. Choose multi-functional furniture that fits both your indoor and outdoor space to increase its practicality and keep your home organized.
Lighting Is Key
The lighting you choose can make or break your indoor-outdoor theme, and it is especially important in outdoor spaces where natural light can be limited. Soft ambient lighting can create a relaxing and comfortable vibe, while brighter task lighting is essential for cooking, dining, or entertaining. Using outdoor string lights or solar lanterns can add a cozy and romantic feel to your outdoor space, while indoor lighting can be used to highlight specific features like indoor plants or artwork.
A successful indoor-outdoor design requires a balance between comfort, practicality, and aesthetics. By choosing the right materials, color palette, and lighting, adding greenery, and selecting functional furniture, you can beautifully blend your indoor and outdoor spaces into an inviting and cohesive living area. Keep in mind that you should find ways to personalize your space, making it a reflection of your unique taste and lifestyle. So, go ahead, create that perfect indoor-outdoor living space, and enjoy the great outdoors, right inside your home!