New build developments are popping all over the UK these days. In fact, NHBC registered a whopping 123, 151 new homes in 2020 alone.  You can buy a brand-new modern property and jump straight onto the property ladder. New builds are fantastic for first-time homeowners who don't necessarily want the fuss of a period home. Older properties tend to need renovations and touch-ups to make them modern again. They also tend to be less energy efficient and can sometimes be susceptible to draughts. With a new build, you can move in and instantly start the next chapter of your life, in a brand-new home, acting as a blank canvas for you to add your own style and touch to. 
However, many people feel new builds lack character and cosiness. The plain white walls and stark surfaces can be a little cold. Often, these homes have neutral flooring and ceilings too, which can add to the clinical look of the home. Thankfully, there are plenty of ways you can make the property look like a home in no time at all. 
Lighting 
Bright, white lights with white walls and pristine floors can make your property feel a bit like a hospital ward. Switch out the cool toned bulbs for warm yellow lights and add a few floor and table lamps. You could have an oversized industrial floor lamp with a filament bulb or a soft table lamp with a dimmer setting. Aim to create pools of light throughout the home, rather than one large source of bright light. 
Always choose warm toned bulbs and save the cool toned bulbs for places like the bathroom or utility room- where you need the light for careful tasks or activities. Remove some of the harshness from the property and make it feel warm again. 
Colours
You can create a completely new interior style – whether it's minimalist, eclectic or super modern. Many new builds are designed to be a blank canvas, and that's a good thing. However, a blank canvas can also be overwhelming, and it's difficult to know where to start. Pick your colour palette and go from there. Think about what type of tone you want your house to give off, if you want a serene and peaceful vibe, then consider blues and greens. If you want something cosier and eclectic, perhaps choosing warm red and amber tones. 
You need a few neutral colours and then two or three accent tones to liven up the place. For example, emerald, green paint with mustard accents is quite popular right now. A neutral base can help the bolder colours pop. You could colour drench your living room in a emerald, green paint, and finish with a mustard sofa and neutral accessories. Play with different colour combinations and have fun with patterns in your home.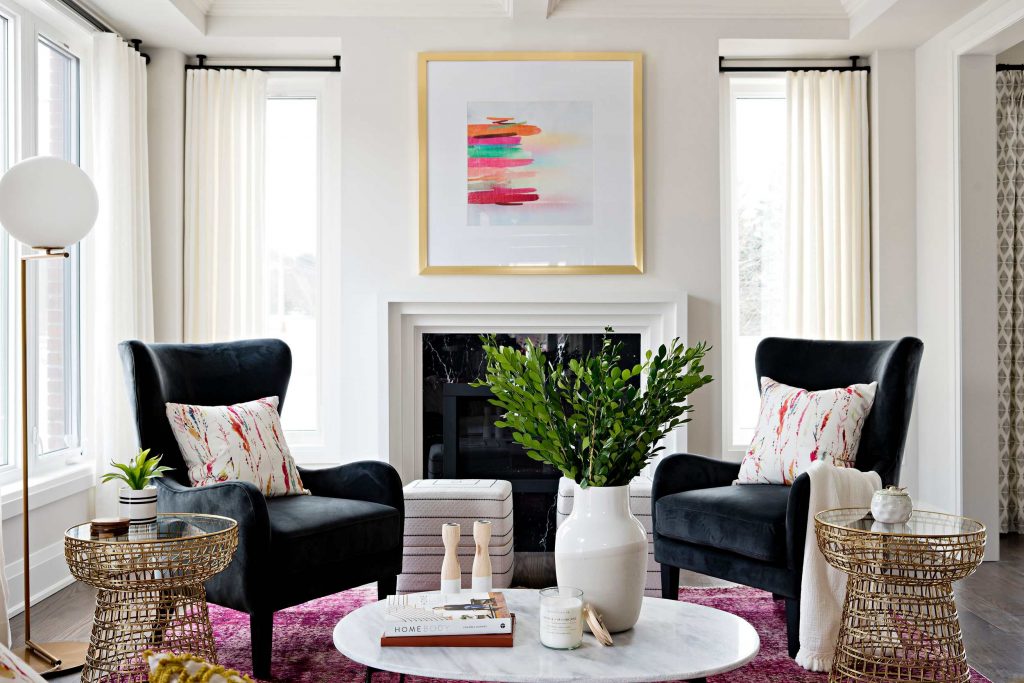 Accessories
Your new build will look like a show home if you don't add any accessories. You need blankets, trinkets, personal memoirs, and that ugly cushion your mum made when you were a kid. Personal items add character and make your home feel a little more comforting. You could also add house plants, candles, and pictures of loved ones. You don't need to overwhelm the space with accessories – but a few pieces here and there will work wonders.
Consider a statement wall
Empty new builds need some statement features to tie everything together. Create a gallery wall with your favourite prints, photographs, and quotes in different coloured frames. Or you could stick to patterned wallpaper with all kinds of colours and textures. 
Wooden wall panels are trendy right now, if you want to add some organic texture and a focal point to your room, then this is a great option. Plus, wooden panels can often add an elevated look to the room and are often not too expensive.
Make your new property feel like a home, and don't be afraid to showcase your personal style. If you are feeling overwhelmed of where to start, then focus on the basics. 
Things like personal trinkets and accessories, plus textured items like throws, cushions, or wallpaper. These are good places to start and will give you a solid foundation to build off, whilst still injecting your house with some character.