For one reason or another, home design can hit a bit of a snag when it comes to bedroom spaces. Perhaps it is because they are personal. Why spruce up your bedroom if you are the only one who is going to be utilising it? 
Well, for this very reason. If you are the one who is going to be living in it, then your bedroom is free-game to do something a bit different and go all out. You can be bold, adventurous, and different – and no one can judge you but yourself. This room is designed to be unconscious in, so you don't even have to worry about that! 
There are many ways in which you can achieve a bedroom that feels different, and they don't have to be massive changes either. In fact, a different, exciting bedroom can be created with just five key updates:
Firstly, Add Artwork
When it comes to the rest of the home, we often include artwork that is predictable.  Not tepid, but safe enough that it won't offend the eye. With the bedroom, however, you can include whatever artwork you want. Try to find something original and eye-catching – not just the usual paint and canvas. There are Jewish Paintings, for instance, which are created entirely on Jerusalem stone which originates all the way over in Israel. Other paintings could be 3D, abstract takes on classics or paintings created using only bamboo sticks! Go for something different and find something which strikes you.
Symmetrical Space Leads To Balance
Bedrooms can end up looking a little cluttered, especially when it comes to furniture. If you're trying to create a beautiful bedroom, however, you should try as hard as you can to create a symmetrical space. This will add to a calming, relaxing feel and help to keep things balanced. For instance, if you have a window on one side of the room, try to include a same-size mirror on the other side. This will visually balance your space and help to infuse a feeling of serenity.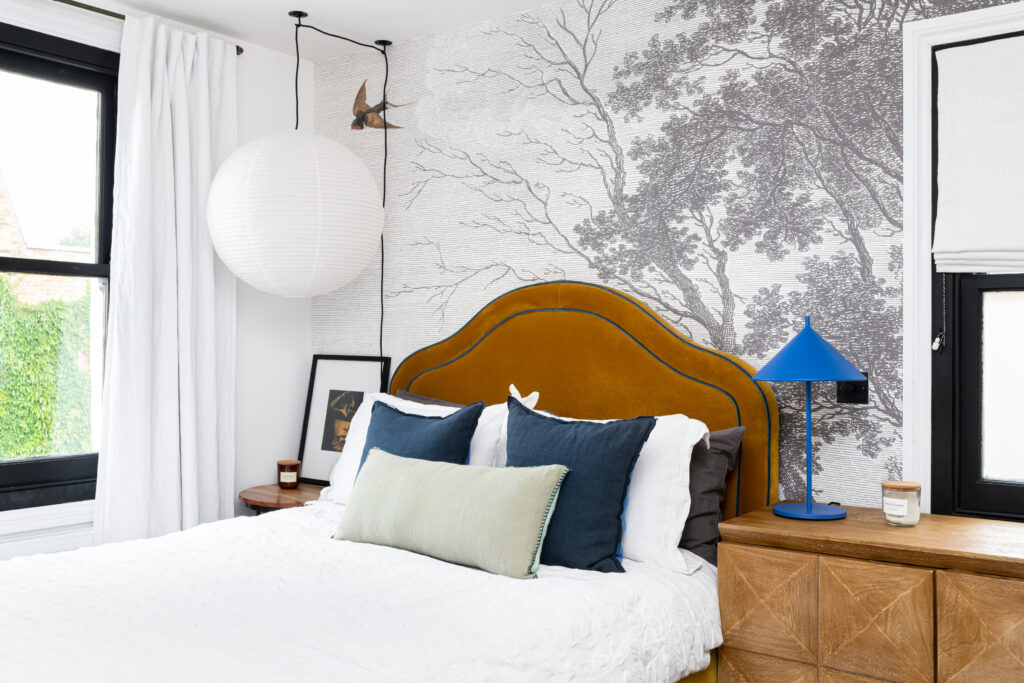 Standing Lamps Instead Of Sitting
Nearly every bedroom around the world has a sitting lamp on each bedside cabinet. This is a practical but boring way of doing things, especially from a design perspective. Try to find a standing lamp instead. These are more design features than practical lighting, but if you switch it on in the evening – and keep it as close as possible to the bed – you will still get adequate lighting. Not to mention it will be warmer and more all-encompassing than bedside lamps.
Strip The Colour 
This may seem counter-intuitive, but stripping the colour is a great idea for a good, different-feeling bedroom. Most of the time, people design their bedrooms with outlandish colours, but when it comes to bedrooms, less is always more. Strip the colour of the walls down to a basic beige or white, and then add splashes of colour elsewhere – for instance, your chosen artwork. This will create more of a direct impact and also help with sleep and that relaxing feel you are going for.
Colourless Plants Can Also Help
Indoor plant life is a great idea for any room, and that includes the bedroom. However, in keeping with that different stripped-back theme, try to find plants that are not so vivid. Grey or beige pampas grass, for instance, is finding its way into many modern spaces, and it is a beautiful addition that oozes luxury and simplicity. Once again, this is all about creating a relaxing, simple, symmetrical space with pops of colour in subtle places. The pampas grass can help to create this and be the perfect finishing touch for the bedroom of your dreams.