Hanging a wreath is a great way to add a touch of festive spirit to your home. Whether you're celebrating a holiday or just want to add some greenery to your entryway, a wreath is a classic and simple way to do it. Here are some steps to help you hang a wreath perfectly.
Choose the right location: The first step in hanging a wreath is choosing the right location. Most people hang wreaths on their front door, but they can also be hung on windows, walls, or even on a mantel. Consider the size of the wreath and the location you want to hang it in before purchasing.
Choose the right size of wreath: The size of the wreath you choose will depend on the location where you want to hang it. For a front door, a wreath that is 18 to 24 inches in diameter is a good size. If you want to hang the wreath on a smaller window or wall, a 12 to 16 inch wreath will do.
Gather the materials: To hang a wreath, you will need a wreath hanger or a hook, a measuring tape, a level, and some scissors. A wreath hanger is a metal or plastic ring that fits over the top of your door, and a hook can be used to hang the wreath from a nail or screw.
Measure and level the placement: Use a measuring tape to measure the distance from the top of the door to the spot where you want to hang the wreath. Make sure to use a level to ensure that the wreath will hang straight.
Hang the wreath: If you are using a hook, insert the hook into the wall or door where you want to hang the wreath, and then hang the wreath from the hook.
Adjust the wreath: After hanging the wreath, take a step back and adjust it until it is straight and level.
If you are hanging your wreath on a glass door or don't want to damage your surface you will want to look at some other options besides using a hook.
Hanging a Wreath With Command Strips
The easiest and most damage-free way to hang a wreath, in my opinion, is using self-adhesive strips like the 3M Double-Sided Command Strips.
First things first, let's get that door clean and ready. Give it a good wipe down with a basic cleaning solution or Windex and a paper towel. Once it's all clean and dry, it's time to prepare the wreath.
Take two pieces of cardboard and make two holes in each. Then, thread a thin wire through the holes on both sides of the wreath and wrap it around to secure the cardboard in place.
Next, grab two Command Strips and connect the Velcro ends together for a secure hold. Remove the liner from one side of one strip and place it on one piece of cardboard. Repeat these steps on the other side of the wreath.
Finally, it's time to hang that wreath. Remove the liners from both strips to reveal the sticky side and place the wreath on the door where you want it to hang. Hold it in place for 30 seconds to make sure it's securely attached.
And there you have it, a beautiful and perfectly hung wreath on your front door, all without any damage. This simple and easy method is perfect for busy moms like us who want to bring some holiday cheer to their homes.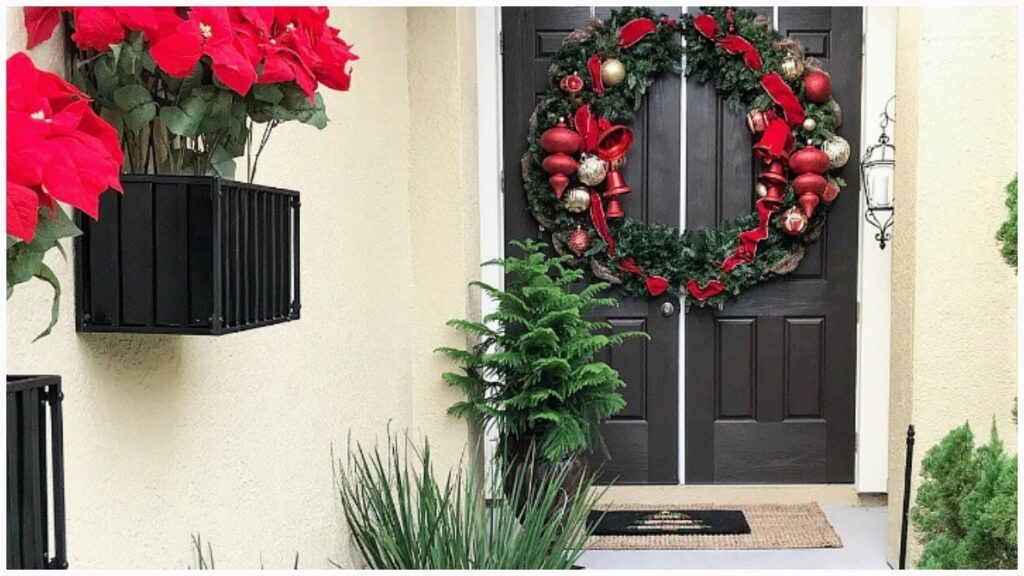 Hanging a Wreath with an Over-The-Door  Wreath Hanger
When it comes to hanging a wreath on the door, it's important to consider the method you use to avoid causing any permanent damage. One option that can work well for this purpose is using an over-the-door wreath hanger. This type of hanger is adjustable, so you can ensure it fits your door perfectly.
To hang the wreath, simply slide the hanger over the top of the door where you'd like the wreath to hang. Then, place the top of the wreath on the exposed hook. With this method, you can have a beautiful and functional wreath on your door without worrying about any permanent damage. It also is the fastest way to hang up a wreath.
How To Hang a Wreath on a Window or Glass Door
When it comes to hanging a wreath on a window or glass door, it can be a bit tricky to find a method that is both secure and discreet. That's why I always recommend clear suction cup wreath hooks when hanging a wreath on a window or glass door.
One of the main advantages of using these hooks is their simplicity. All you need to do is clean the glass surface, attach the suction cup to the glass, and then hang the wreath. It's as easy as that! And because the suction cups are clear, they won't detract from the beauty of your wreath or the design of your window or door.
Another great benefit of suction cup hooks is that they are safe for glass surfaces. You won't have to worry about drilling holes or damaging the glass in any way, and there's no hardware to detract from the look of your wreath or your home.
So, if you're looking for an easy, safe, and discreet way to hang a wreath on a window or glass door, I highly recommend trying clear suction cup wreath hooks. Your wreath will look beautiful, and you'll have the satisfaction of knowing you did it yourself!
What Are Wreaths Made From
Wreaths can be made from a variety of materials, each with its own unique look and feel. Some popular choices include fresh or artificial evergreens, such as pine, fir, and holly, which add a festive touch during the holiday season. Wreaths can also be made from dried or preserved flowers and herbs, adding a touch of natural beauty to your home. For a more modern look, wreaths can be crafted from materials like metal, wire, and mesh, which can be shaped and molded into various designs. Wreaths can also be made from recycled materials, like paper or fabric, for a more eco-friendly option. No matter what material you choose, wreaths offer a simple and stylish way to add a touch of beauty and character to any space.
Where to Buy a Wreath
During the holidays it seems you can buy a wreath at any local store. During the spring or summer it is much harder to find a place to buy a wreath. Buying a wreath online can be a great option for the spring and summer. There are many places you can buy a wreath online, HeftyBerry is an excellent option due to their wide variety of options. We especially like their Spring wreaths and their patriotic wreaths for the summer.