Building or having wine storage in your home makes sense if you fancy drinking and collecting wine. It's more convenient to keep a wide choice of wines for your visitors and family who comes over. If you're thinking of ways to renovate or spruce up your home so you can incorporate wine storage, there are many ways to do so.  
Despite having limited space and a lack of resources, you can figure out the best wine storage design that will perfectly match your interiors. It's time to max out your creativity and take advantage of the available space in your home. From shelves, drawers, and racks to old furniture, stairs, and cabinets, there are many amazing ways to keep your wine aged perfectly.  
Consider the following ways to integrate wine storage into your home design. 
Wine Cabinets  
For those who want to preserve their wine collection by storing it for a long period, you should choose a wine cabinet. They're designed to store the wine for many years at the proper storage temperature, which is different from the best wine storage temperature (which is what a wine fridge does).  
                 Wine Cabinet from Expertwinestorage.co.uk
There are many design ideas for wine cabinets. The first step is to find a location to set up your wine cabinet. It can be your kitchen, bar, or dining room. Next is to decide on the wood material for the cabinet. There are different options for this. Ready-made wine cabinets come with different wood options, such as oak, mahogany, pine, redwood, and so on. You can tell if it's a good wine cabinet if it comes with a humidity-management feature that helps preserve corks. It should have dark interiors and soft LED lights. 
Basement Wine Cellar  
A cellar in the basement is ideal for storing wine since the temperature is typically cooler there. This is another great idea to incorporate wine storage in your home design. If your basement is sitting idle and cold with nothing but your old and worn furniture, it's time to uplift this hidden space. 
Build built-in cabinets and a custom cooling system for the ultimate wine storage room. This project doesn't have to be expensive. You can set a budget and choose good-quality wood and other materials to use for your basement wine storage.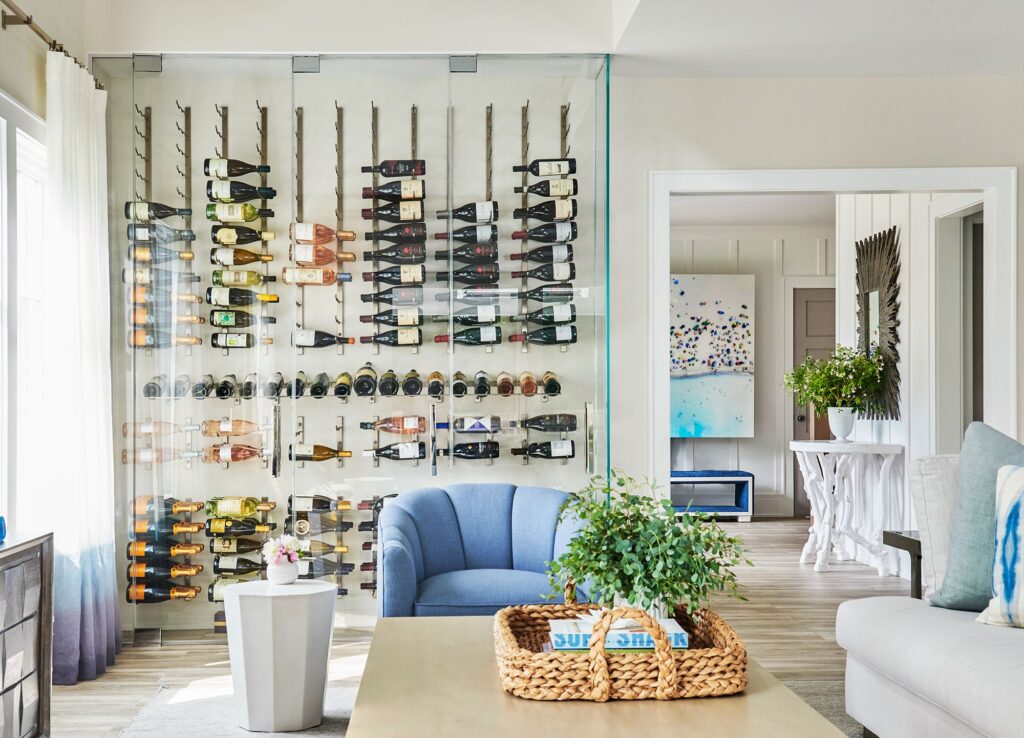 Spiral Underground Wine Cellar  
A spiral underground wine cellar is one unique wine storage to incorporate into your existing home design. You can store your wine to the next level with a custom underground wine cellar. This is definitely a unique wine storage idea that any homeowner can do. Not to mention, it's a great tip to transform your home. 
This is perfect if you have any secret stairways or hidden downstairs access. It can be made accessible through a hidden mechanical door which is equipped with a spiral staircase. Every time you open your wine storage, you can't help but feel mesmerized by how unique this space is. Add more accents and decors to elevate your hidden wine storage nook.  
Wine Built-In Shelves  
For those who lack space in the home, the best option is to go for custom-made inserts and built-in wine shelves. It's the most effective storage unit which is also space-saving. They can be installed in any space you can think of. Whether you have little space under your stairs, on a blank wall, or on your kitchen island, built-in shelves make a great location for your wine collection
The key to this wine storage idea is to ensure that the size and shape fit your regular wine collection. You'll be surprised to see the result of this wine storage project. In walls and floors, you can build storage units that hold a few numbers of wines and use them as a decorative items at the same time.  
Kitchen Wine Cellar  
In the kitchen, you can build a wine cellar for storing and displaying your collection. The kitchen is the ultimate go-to for most wine connoisseurs. This is the most accessible place to keep and store your wines. If you have pantry storage, why not integrate a wine cellar beside it? After all, you can save the travel time for food and wine separately. The best solution is to go to one location at once and get food from the pantry while getting the wine from the wine cellar beside it.  
Vintage Walk-In Wine Room  
Saving an entire room intended for your wine collection may be the answer if your wine collection has started taking over your entire house. It's time to construct a vintage walk-in wine room. There are some ways to make this project successful. For one, you should invest in a good cooling unit that ensures proper temperature control for all your wine collection.  
Upcycled Furniture Wine Cabinet  
If you find some broken furniture in your home, don't throw it out just yet. Brainstorm some ways to upcycle it, and maybe you can turn it into a wine cabinet. You can make a fantastic wine rack out of old and broken furniture. All it takes are some DIY skills and crafts and following some expert-approved rules in upcycling. Instead of spending a fortune on new wine racks, upcycling old items is definitely wiser and cost-friendlier.  
Also, considering that you're doing this project yourself, you'll feel more invested in your wine collection. In fact, you can boast about how your wine collection project turned out. Every guest will surely compliment you for doing a great job on your upcycled wine rack. 
High Shelving  
For those with limited space, taking their space upward is crucial. Check around your house and see if there's a vertical space that you might be ignoring its use. Some areas where you can install high shelves are the upper side of the fridge or kitchen cabinets. The key is to ensure sturdy shelf quality to ensure they won't break your wine.  
Pegboard Wine Rack  
Pegboards make great design elements for any house design. Despite their lack of innovation, pegboards are a great way to store bottles. You can retain a pegboard's distinct and original look by not changing the way they look completely. All you need to do is apply varnish to make them appear shinier and tidy. The spacing of the pegs on a pegboard can be adjusted by making one yourself or by having one made if you want to guarantee the right spacing. 
Conclusion  
With so many inspirational guides and home improvement resources online today, you can find the best references for your dream wine storage. You can incorporate the best place to secure your wine collection effectively at home. Hopefully, you found some of these ideas helpful. Good luck with creating your dream wine storage at home.