Have you ever thought about your garden's main features that enhance the overall visual appeal of your outdoor living areas? Water features like waterfalls, ponds, and fountains can turn a simple garden into an interesting one, making a prime focus on your landscape design concept. People add water features to their landscape design to avoid noise pollution from street traffic, vehicle horns, and noisy neighbours. Another reason for adding such beautiful elements is to have peace and serenity through the visual beauty and sounds of an aqua space. Kitchler low voltage outdoor lighting installation to these garden features will amplify the serene setting. Moreover, you can enjoy the beauty of your water features even at night.
Several lights and lighting techniques are there that you can use to optimize the overall look and feel of your water features. These lighting techniques will create visual interest and add more dimension to your home front or backyard. Lighting different garden features are also vital for you and your family to spend time outdoors in the evening. Highlighting every essential architectural feature of your property will create an excellent ambiance for parties and romantic dinners. And it becomes even more important in fall and winter when days are short and landscape lighting installation becomes more of a necessity.
Best Lighting Types for Highlighting Water Features
Water feature lighting greatly depends on the features present in your landscape that you wish to focus on or highlight. These included aquatic plants, statuary, aquatic life, and hardscaping. There are a few types of landscape lighting fixtures you can use to light water features. These include submersible lights to light up the aquatic area, downlights to create moonlighting effect, and underwater lights to create uplighting.
       Downlights: These are ideal lights that remain hidden but cast light on a pond or bigger fountain. They create a wonderful diffused glow on the surface of the water. You can show your creativity and form an eye-catching scene that could be visible from a distance if you can angle the light and use cooler (lower Kelvin) lights.
        Spotlights: These lights offer an advantage as you can place them high and away from the water feature itself. Direct them towards the water as this will help them keep the fixture hidden, giving direct attention to the water feature. In the meantime, spotlights can create an exciting reflection effect off the surface of the water.
        Uplighting: If you have a waterfall in your garden, you can add some great uplighting to create a stunning effect. This type of lighting is ideal for waterfalls as it makes the water feature more visible with proper light diffusion, creating a lovely and unique effect. For additional visual interest, you can also consider adding colored lighting.
        Submersible Lights: Submersible lights are ideal if you have a fountain or pond on your property. By adding these lights, you can make your pond or fountain more visible, especially at night. While choosing them, make sure these lights are bright enough to have excellent effectiveness. This is essential to consider as water naturally diffuses the lighting. For this reason, we suggest that you should select lighting that is 1/3 or even 1/2 brighter than what you think you would need to buy. Also, submersible lights are prone to corrosion around the seal. That's why you must invest in high-quality lighting that could stand up to the test of time. Solid brass fixtures can be an outstanding and long-lasting selection. If you choose submersible lights for your pond, make sure you take care of fish and their habitats. You have to make sure that there are sufficient dark and shadowy spots inside the pond. These spots are necessary for fish to escape from the light and sleep. Be careful and do overheat the water as well.
Undoubtedly, Kitchler low voltage outdoor lighting installation can create a warm and fanciful lighting effect that accentuates different water features such as aquatic life and underwater statues.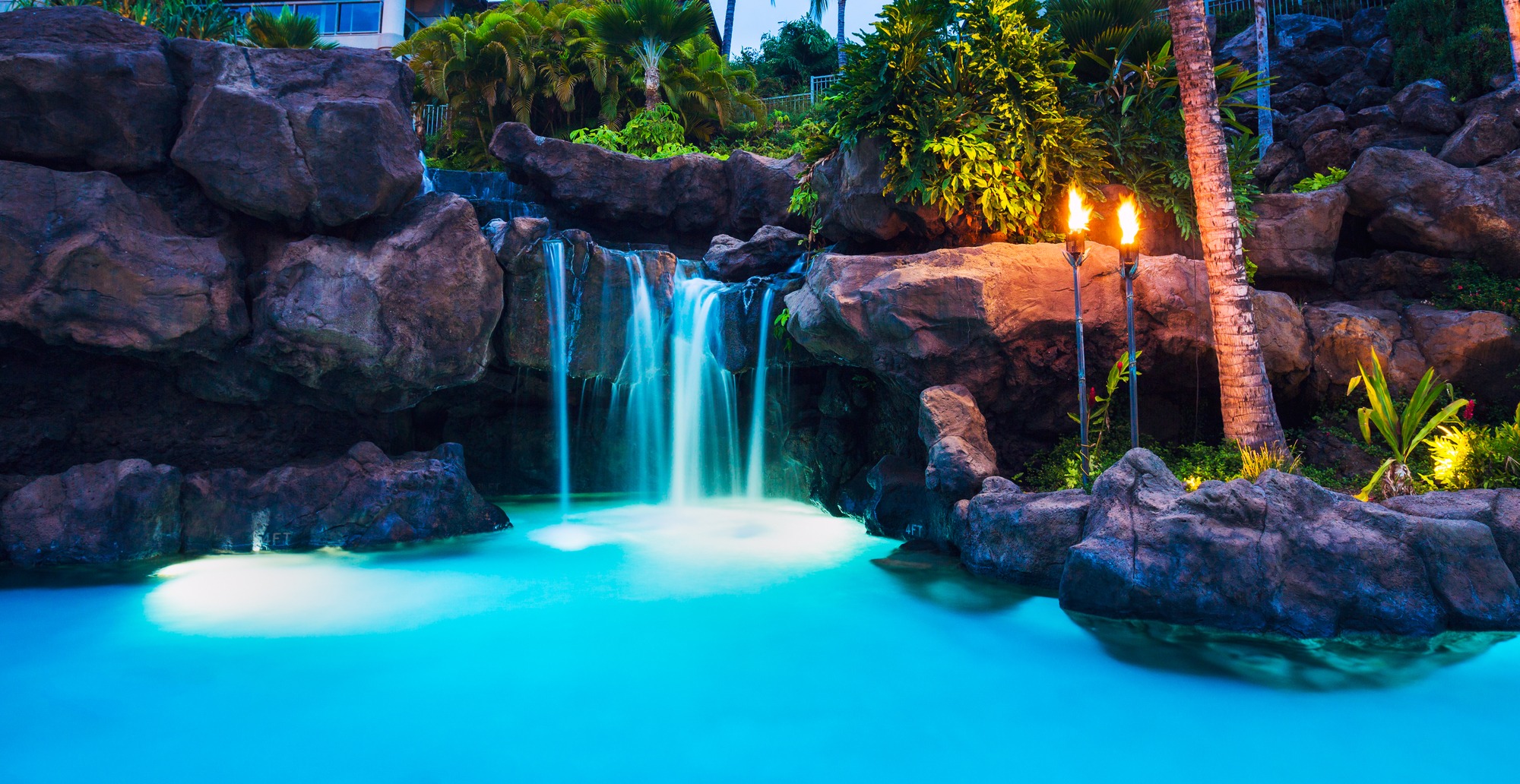 Less Is Always More
Yes, that's true, especially in terms of outdoor lighting. Too much light can cause glare. It may also overpower the beauty and elegance of your water feature. Too many lights can cause blinding to your guests. When your lights are placed correctly, you can reduce the need to have too many lights. Also, you can make your fixture look at its absolute best.
Take Professional Help!
If you feel overwhelmed about selecting the right water feature lighting, then take outdoor lighting help from professionals. An experienced landscape lighting team can help you design your outdoor lighting plan and install them, keeping every important factor in mind.