The summer is almost here and that means one thing in the UK; outdoor drinking in the sunshine. This is something that everyone looks forward to and this is particularly true for 2021. People are looking forward to reuniting with their friends and family after a long lockdown.
If you run a pub or other food business, you are going to be looking for a way to capitalise on all of the new-found freedom. One way you can do this is by opening up a beer garden. This is definitely going to be a hit as the weather improves and more people want to be outdoors having fun. So, here are some tips on how you can successfully open an outdoor beer garden at your establishment.
Keep Drinks Chilled
There is nothing worse than looking forward to a drink on a warm day and it is not chilled. So, to ensure that your outdoor beer garden is a success, you have to ensure you have the facilities to keep beverages cold and ready to drink. The best thing you can do is hire a fridge trailer. This is going to offer you additional storage space for running a beer garden. The beverages can be on-hand so that customers do not have to wait around too. What's more, they are going to be a refreshing temperature for the summer.
Create a Seating Plan
Of course, your guests have to have enough space to relax and enjoy their beverages. Prepare a seating plan in advance to ensure that all tables and chairs have sufficient room. You want everyone to socialise and hang around with their friends and family. They are only going to do this if there is enough space. Often, picnic benches can be a space-saving furniture option for outdoor beer gardens since it combines tables and chairs.
Still Provide Toilets
In a spot where everybody is drinking, you need to provide clean toilet facilities. This is a must and something that you want to provide in order to keep your customers happy and buying more drinks. Without one, they are simply going to move on. So, put some thought into setting up toilet facilities at your beer garden. These might be provided indoors if you have permanent facilities. Alternatively, you can hire port-a-cabins for the event if the beer garden is temporary. You also want to ensure you create a queuing system so that they are easy to use and there is no confusion.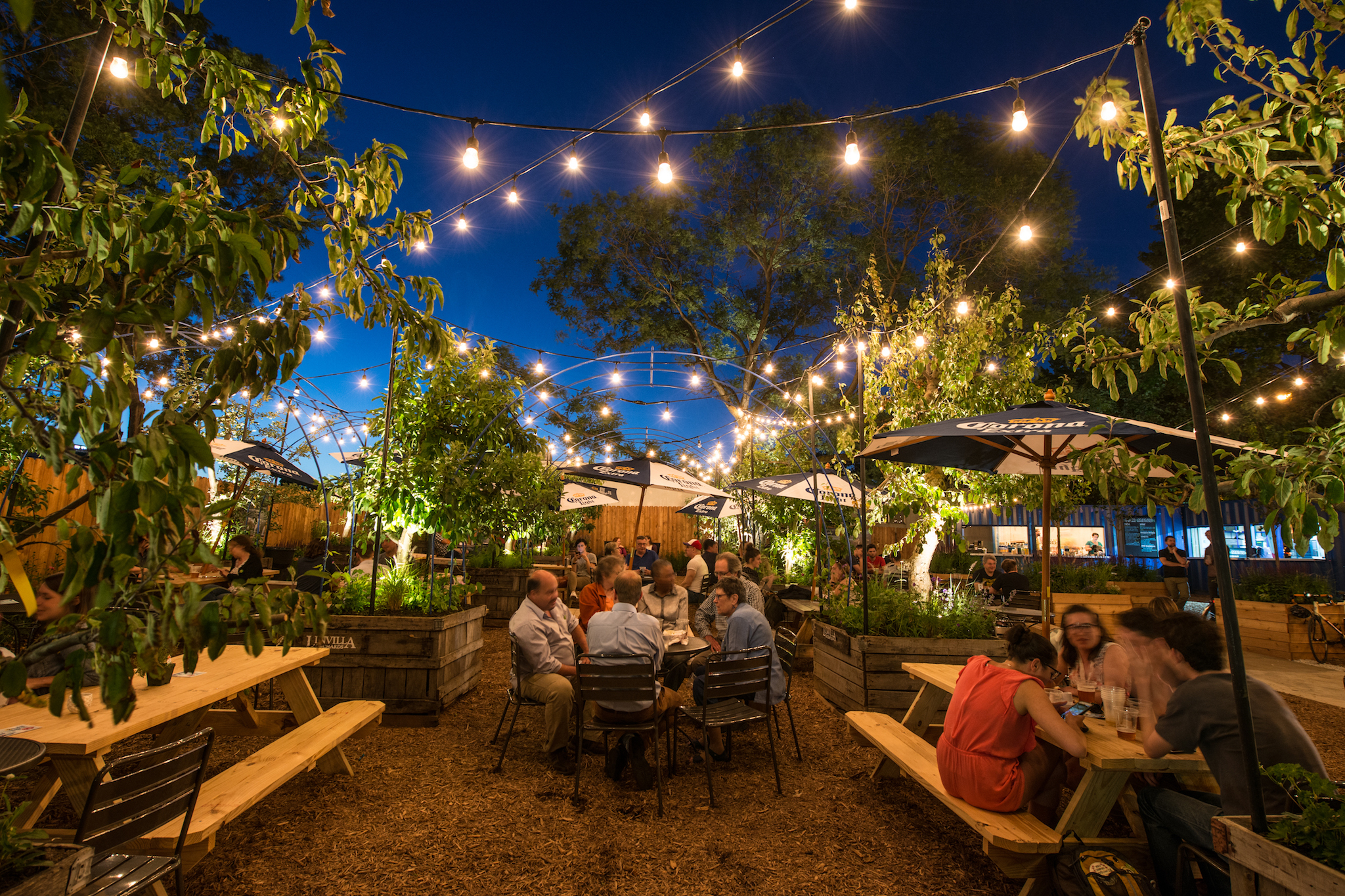 Offer Rain Protection
If there is one thing we know about British summers it is that they are unpredictable. All of a sudden, it can start raining. This does not mean that your beer garden is not going to be a success. In fact, a lot of British people will happily hang around in the rain as long as you have the right facilities. So, it is important to offer rain protection so that they can do this without completely getting soaked. But, you do not have to make it complicated. There are a range of temporary options you can choose from. This can be something as simple as offering umbrellas for picnic tables or setting up canopies.
Choose Live Music
While most people are coming to a beer garden to socialise and have a drink with friends and family, some entertainment is going to be appreciated. In particular, live music is a good option to draw in the crowds and ensure that they stay longer. Of course, the longer they stay the more likely the customers are to purchase drinks. There are often local acts that will perform to keep your costs low.
Select Easy-to-Clean Furniture
No matter what furniture you decide to go with for your outdoor beer garden, ensure that it is easy to clean. Since it is outdoors, the furniture will be exposed to the elements. This is combined with the possibility that people might spill drinks at some point. Thus, if you have materials that are easy to clean, this is going to make your job a lot easier. Plus, you can ensure your beer garden is clean and appealing to guests.
Consider an App System
Nobody wants to wait around for the drinks they have ordered. Customers are looking for quick service so that they can enjoy themselves. For efficiency, it may be worth looking into getting an app for your outdoor beer garden. This is going to allow guests to order on the app and it can speed up the process. It means that servers only have to bring the drinks to the table and they have already been paid for.
After creating all the amenities for an outdoor beer garden, it is worth considering how to promote the beer garden and how to expand its reach to attract more customers. Generally, most entrepreneurs will consider distributing advertising, which is a great promotional tool. But how can you make your outdoor beer garden more visible? Consider distributing specialty goodies with your beer garden's address and logo on them, such as custom beer lanyards, custom enamels, pin-on custom stickers, etc. By distributing these specialty products, you can better advertise your beer garden. Especially with specialty beer lanyards, a beer lanyard will definitely be perfect for promoting your beer garden by allowing the customer to enjoy the beer garden without having to use his hands and let his drink hang out while eating, dancing, or chatting. Want a specialty product like this? Order Now at GS-JJ.