Hidden frame glass doors boost the curb appeal once installed in a home. Most homeowners prefer them since they create a seamless transition between the indoor and outdoor spaces. Despite the door's impressive qualities, one needs to ensure they take care of their home's security issues. Frameless glass doors can be tempting to burglars, but there are several ways to improve security.
Tips to Secure Hidden Frame Glass Doors
Vulnerabilities in a home are concerning since they can expose the household to unwanted guests. Every homeowner should improve the security of the glass doors to keep burglars at bay. Below are some helpful tips to secure hidden frame glass doors.
Invest In an Extra Lock System
Glass doors often come with a latch to lock the door in place when need be. The latch offers primary safety for the luxury doors, but it might not be enough in some cases. Experts recommend investing in an alternative lock system to deal with security risks at home.
A two-lock bolting system is a perfect solution to improve security at home. The new lock goes over the tracks at the top or bottom of the door to boost security alongside the original latch. For a functional lock system, one should ensure their frame and tracks are in tip-top condition. Working with a professional door service can help one eliminate security risks when installing an extra lock system.
Install an Alarm System
Most homes today have alarm systems as homeowners seek to improve the home's security level. It is the perfect addition for glass door homeowners since it can raise the alarm in case of forceful entry. One gets an immediate warning if someone tries opening the door, prompting a swift reaction.
Alarm systems focus on the door opening along the tracks and feature a glass break sensor. The sensor takes one's home security a notch higher to prevent thieves who choose to enter by breaking the glass.
Use High-Quality Glass
Not all glass types are the same; each grade has different textures and strengths. One can improve their home's security by investing in high-quality glass. The gap in quality ensures the household remains safe by improving the door's strength level.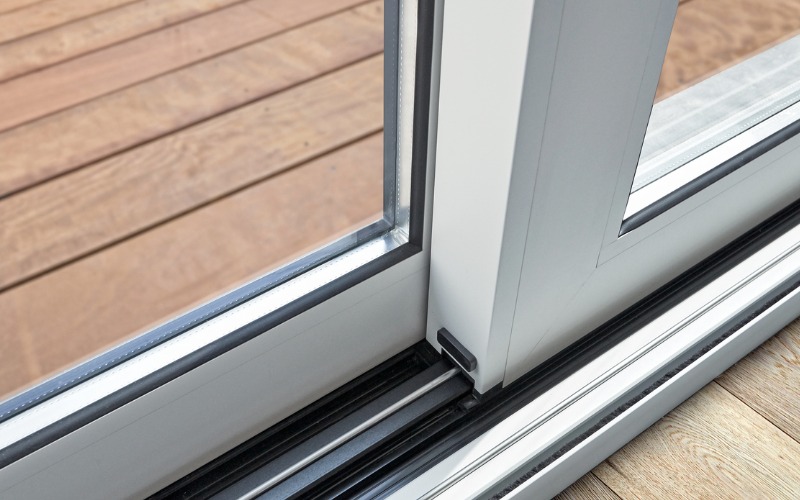 High-quality glass doors secure the home, making them a valuable investment. A great choice is laminated glass which most homeowners prefer due to its tensile strength. It has multiple layers that ensure it remains intact even after it suffers damage. The inability to shatter and fall out of the frame helps prevent break-ins into the home.
A Security Bar Comes in Handy
Hidden frame doors utilize a sliding track, so installing a barricade can prove worth it. Installing a security bar on the track prevents the door from sliding, improving home security. One can choose to have it at the top or bottom of the door to prevent unauthorized access into the home.
Setting Up a Monitoring Camera in a Well-Lit Area
Using surveillance cameras for the home can also improve overall home security. As a result, it is among the security measures one should try out to eliminate the security risks resulting from glass door installation.
Burglars often shy away from areas they seem exposed, so lighting one's patio can do the trick. Motion-sensitive floodlights can help the homeowner maintain security while keeping energy costs low. They also work well alongside the cameras to improve visibility at night.
Wrap Up
The home's security is paramount, so one has to consider ways to improve it. The improvements should address security risks resulting from using hidden frame glass doors at home. Working with a glass door expert is the right move since they recommend the best security measures for one's home. They offer custom hidden frame glass door designs that fit in one's home project.