Introduction
HVAC systems play an important role in regulating our homes and offices' temperature, humidity, and air quality. A well-designed HVAC system can create a comfortable indoor environment and improve indoor air quality. However, to keep your HVAC system running smoothly, choosing the right air filter is necessary. HVAC air filters are usually based on their ability to capture airborne particles. Moreover, the higher the rating, the better the filter will perform. 
Understanding HVAC Filter Ratings
HVAC filter ratings are determined by a measurement called Minimum Efficiency Reporting Value (MERV). MERV ratings range from 1 to 20, with higher numbers indicating better filtration performance. Filters with MERV ratings of 1-4 are the least efficient and are typically used in residential systems that don't require high levels of filtration. Filters with MERV ratings of 5-8 can capture particles like pollen, mold spores, and pet dander. These filters are suitable for residential and light commercial applications. 
Filters with MERV ratings of 9-12 can capture smaller particles like lead dust, auto emissions, and fine airborne particulates. These filters are suitable for commercial and industrial applications. Filters with MERV ratings of 13-16 can capture even smaller particles, including bacteria, viruses, and smoke. These filters are commonly used in hospitals, clean rooms, and other environments where air quality is critical. Filters with MERV ratings of 17-20 are the most efficient and can capture particles as small as 0.3 microns in size. These filters are typically used in specialized applications, such as pharmaceutical manufacturing facilities and microchip manufacturing facilities.
How to Choose the Right HVAC Filter
When choosing an HVAC filter, there are several factors to consider. Here are some tips to help you choose the right filter for your HVAC system:
Consider the MERV Rating
MERV rating is an important factor in determining the effectiveness of an HVAC filter. Choose a filter with a MERV rating appropriate for your HVAC system and your indoor air quality needs.
Consider the Size
HVAC filters come in various sizes, for example 6.88×15.88×1 air filters and 11.25×19.25×1 air filters, so choosing a filter that fits your HVAC system is essential. Check your HVAC system's manual to determine the appropriate filter size.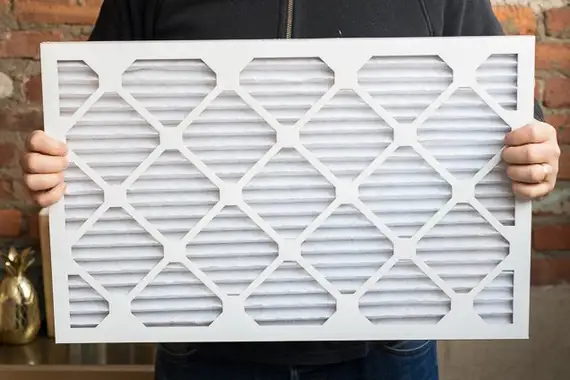 Consider the Type
Various types of HVAC filters include fiberglass, pleated, and electrostatic filters. Fiberglass filters are the most basic and affordable, while pleated filters offer better filtration and a longer lifespan. Electrostatic filters use an electric charge to attract and capture particles and are more effective than fiberglass or pleated filters.
Consider the Cost
The cost of an HVAC filter can vary depending on the type and MERV rating. While high-efficiency filters may be more expensive, they can also last longer and provide better air filtration, reducing the need for frequent filter replacements.
Importance of Choosing the Right HVAC Filter
Choosing the right HVAC filter is essential for maintaining a comfortable indoor environment and protecting your HVAC system from damage. By understanding MERV ratings and consulting with your HVAC technician, you can choose a filter that balances filtration performance and system efficiency. Regularly replacing your filter according to the manufacturer's recommendations can also improve system performance and prolong the life of your HVAC system. Whether you're a homeowner or a facility manager, investing in the right HVAC filter can help you breathe easier and save money in the long run.
Conclusion 
Choosing the right HVAC filter for your home is important for maintaining healthy indoor air quality. Understanding the MERV rating system and selecting the appropriate level of filtration for your needs can greatly improve your HVAC system's efficiency and reduce airborne allergens and pollutants. Simply Filters, a trusted air filter supplier, offers a wide range of high-quality HVAC air filters, including residential HVAC filters that meet various MERV ratings. Choosing quality HVAC filters ensures clean, breathable air in your home, promoting a healthier and more comfortable living environment.