The kitchen is the heart of the home. It's where we gather to cook, eat, and socialize. That's why it's important to keep our kitchens fresh, inviting, and stylish. If your kitchen is in need of a makeover, here are 8 ideas to update your kitchen design.
8 Ideas to Improve Your Kitchen Design
Replace Old Appliances 
If your appliances are starting to show their age, consider replacing them with newer models that will match your updated kitchen design. Stainless steel appliances are always a popular choice but if you're looking for something different, try black or white appliances instead. For example, a white kitchen sink will give you a fresh new feel every day which is very suitable for those who want a minimalist kitchen. And don't forget about smaller appliances like microwaves and coffee makers – these can also be updated relatively easily and will help tie everything together nicely. 
Install New Hardware 
One of the quickest and easiest ways to update your kitchen cabinets is to install new hardware. This can be as simple as replacing old knobs and pulls with new ones in a similar style. Or, if you're feeling more adventurous, try something completely different like installing cabinet handles or going for a mix of knobs and pulls. Either way, new hardware is a quick and easy way to give your kitchen an updated look.
Paint the Cabinets 
If your cabinets are looking a little worse for wear but they're still in good condition, painting them is a great way to give them an updated look. You can either paint them all one color or get creative and paint them two colors for a more modern look. Just make sure to prep the cabinets properly before painting so that the paint adheres well and lasts for years to come.
Update the Backsplash 
Another great way to update your kitchen design is to replace or refresh the backsplash. If you have a tile backsplash, you can try painting it or replacing some of the tiles with new ones. If you have a solid backsplash, consider adding tile accents or installing a new backsplash altogether.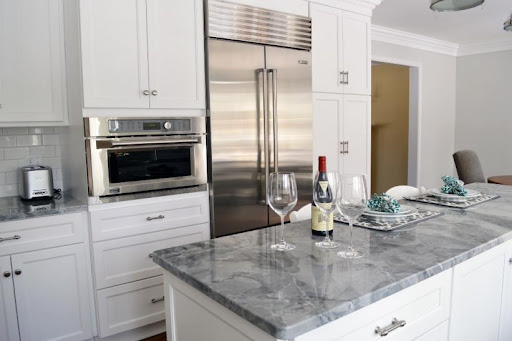 Install Open Shelving 
If you're looking for a more dramatic change, try removing some of the upper cabinets and replacing them with open shelves. This will give your kitchen an airy feel and allow you to showcase some of your favorite dishes and glassware. Just be sure to keep the shelves organized so that it doesn't look cluttered. And if you're worried about dust collecting on your dishes, try using clear glass shelves instead of open wire shelving.
Add New Lighting 
Updating your kitchen lighting is another great way to change the look of your space. Try adding pendant lights over the island or sink area. Or install recessed lighting underneath the upper cabinets to create a warm glow in the evening hours. You can also use light fixtures as an opportunity to add some personality to your space with fun vintage finds or modern statement pieces. Just make sure not to go overboard – less is definitely more when it comes to kitchen lighting!
Get rid of that old linoleum flooring 
Give your feet something to love by updating your tired old flooring. There are so many beautiful options available nowadays, from classic hardwood to sleek marble tile. Just make sure you pick something that can withstand spills and foot traffic!
Add some greener
Bring the outdoors in by adding some plants to your space. Not only will they add a pop of color, but they'll also help purify the air quality in your kitchen.
Conclusion
These are just a few ideas to help update your kitchen design. Remember that there are endless possibilities when it comes to updating your kitchen, and an updated kitchen design can surely provide you with both the function and the style you need. So have fun with it!