With the global pandemic changing our lives so much over the last year, increasing numbers of people are focused on making their homes their sanctuaries (as well as their workplaces). While much effort has been put into the interior of houses to make them as comfortable as possible during lockdowns, it's also helpful for us to have outdoor spaces to chill out in.
Seeing, hearing, and being around natural elements helps us stay grounded and healthy when everything else appears out of control. If you're ready to improve the outdoor areas of your property, here are some current landscaping trends to consider.
Natural, Sustainable Gardening
With climate change and helping the environment top of mind these days, as well as an increasing interest in natural health, it's no surprise that a continuing landscaping trend is for the use of sustainable gardening solutions. More and more people are looking for opportunities to landscape and keep yards in order without the need for harsh, chemical-laden weed sprays, fertilizers, and other products.
Also, consumers are paying more attention to their choices when it comes to what they plant. People are looking for ways to restore habitats and help attract and support wildlife such as birds, bees, butterflies, frogs, turtles, and more. Native plants, in particular, are popular right now. Plus, people are choosing to grow more food at home rather than buy it.
Many homeowners now choose to let their gardens become wild and free, too, rather than structured and manicured. This can allow for more animals to feel at home in the spaces. Furthermore, gardening products made using sustainable, eco-friendly methods and from more natural materials are on the rise.
Focus on Low-Maintenance
While many families have been spending more time in their gardens in recent months due to the global pandemic, there are still countless people who are too busy working and taking care of others to commit to hours of landscaping each week. Some don't have the knowledge or interest to look after time-consuming gardens, either.
As a result, there's quite a trend for low-maintenance gardens that are easier to look after. People are reducing the amount of lawn they have in their yards and utilizing local lawn service providers to handle things like mowing and fertilizing.
There's a trend for laying down fuss-free products such as paving, concrete, tiles, gravel, etc., in yards to minimize maintenance. People choose easy-care outdoor furniture and other fittings and fixtures, too. Also, there seems to be increasing interest in smaller block sizes where people have less backyard to look after.
Relaxing, Stress-Relieving Areas
With 2020 being such a stressful year for most people and 2021 already starting out much the same, it's understandable that there's a growing trend in turning at least a part of a yard into a relaxing, stress-relieving area. People want a space suitable for quiet time to escape all the busyness and "noise" of life.
Mindfulness continues to be a hot topic worldwide, and people are increasingly taking this outdoors. There's a focus on finding a zen-like place to sit, breathe deeply, get some fresh air and sunlight, and feel more grounded and focused on the present moment. Zen gardens are popular and often include water features such as reflecting pools, ponds, and fountains. They're also often adorned with a fire pit, bonsai trees, and inspirational sculptures.
Furthermore, since COVID lockdowns, there's been more of an uptake in people incorporating exercise spaces in their yards. They're using outdoor areas more than ever to practice yoga and Pilates or do some boxing, weights, or other exercises to feel better and stay healthy.
Making Front Yards More Social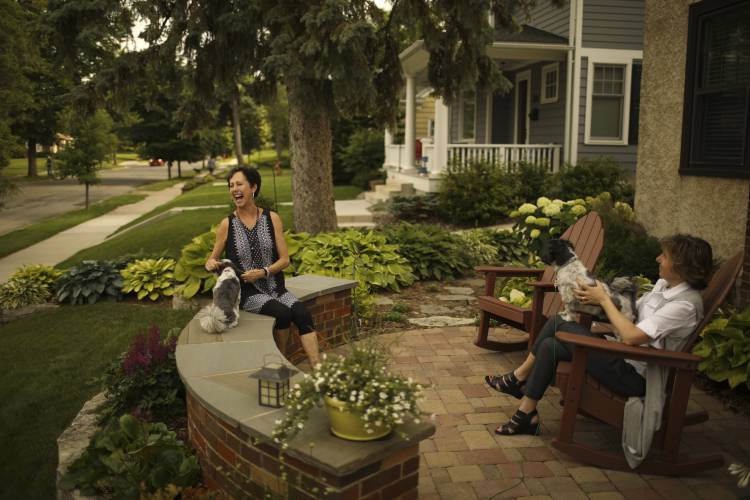 For a long time, most people have focused their landscaping attention on the backyard. This is generally the quieter and more private space, after all. However, since the global pandemic has left so many people often isolating at home, a shift has started. Today, there's a trend to make front yards more social so neighbors can chat and catch up on news, as well as check-in more regularly.
As you think about ways to transform your property's outdoor spaces over the coming months, think about whether you might like to incorporate some of the above trends. Speak with local landscapers and other experts, and they're sure to help you create the yard(s) of your dreams. You can always find plenty of helpful tips and solutions online and in books and magazines, too.