With pollution and climate change becoming more and more of a serious concern, many of us are starting to wonder how we can help find a solution. In truth, a lot of the work is up to government officials and corporations to change policies and practices that contribute to the problem. but that doesn't mean there aren't things you can do as an individual to help.
Making some simple changes around your home can make a big difference in the fight against climate change, and any way to reduce your carbon footprint can be huge. If you're concerned about spending too much time or money on these eco-friendly changes, worry not! There are ways to be environmentally responsible around your own home without sacrificing too much of your time or money.
Problem Areas
The first step to a more environmentally friendly home is determining what areas can be improved. There are many ways that our home could be lacking when it comes to energy efficiency and overall sustainability. But that also means there are many opportunities to implement positive and ecologically helpful changes.
A great way to know what areas of your home need improvement is by hiring a professional to perform an energy audit. These audits can be done at anyone's home and also in commercial buildings. The purpose of this service is to assess the overall energy usage of your home or business and determine how much energy is coming from where. This can be extremely helpful if you're hoping to make your home more energy-efficient as part of your change toward a more eco-friendly life. The professional who runs this process can even give you advice on how to improve your energy consumption.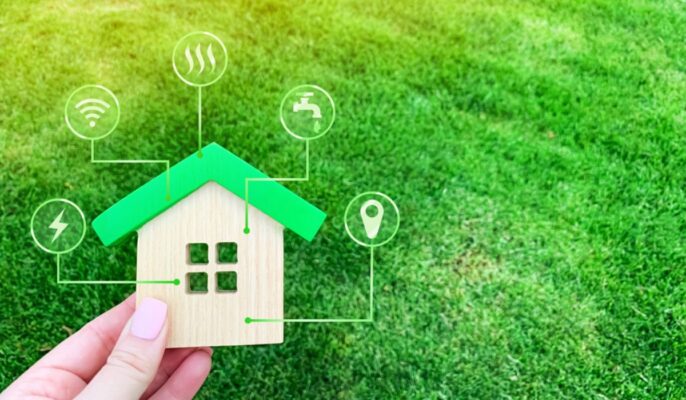 Although professional help is great, it's good to know how to spot issues yourself in case any arise in the future. Research and familiarize yourself with how to identify electronics and appliances that might be using up too much energy. Also, examine your own habits and lifestyle to see if there are any improvements to be done there. If you have a habit of leaving lights on when you leave a room or leaving electronic devices plugged in constantly, consider altering these behaviors to further improve your home's efficiency.
If you find many areas in your home that need improvement, don't be alarmed. You don't need to completely remodel your home to begin making it eco-friendly. Start small and simple and work from there. Begin by simply switching to energy-efficient light bulbs or opening the windows on hot days rather than blasting the air conditioning. Little changes like this can add up in the long run and be very beneficial.
The Waste Issue
The simple act of living our lives inevitably produces waste. The products we purchase and use must come in packaging that we often have no need for and certain foods like fruit have inedible parts that we must throw away. But waste is a big factor in climate change and the health of our world, so reducing the amount of waste you produce is another way of contributing to the cause.
If you don't already, you should of course consider recycling whatever materials you're able to. Recycling is a great and easy way to reduce your carbon footprint and help the environment. It just takes a little forethought and perhaps a call to your local garbage collection company to make sure you know how and when to set your recyclables out for pickup. You can also try to look for products with biodegradable packaging or simply try to limit your purchase of any plastic materials.
Another option to reduce waste is composting. It can be an easy project if you know how to set it up and can be beneficial not just to the environment but to you as well. Composting will leave you with natural, healthy soil that can be very nutritious for any plants you may be growing. And instead of throwing away any old or unwanted food that will just end up rotting in a landfill, you can use it to give back to the planet.
You can also consider reusing or repurposing any products or materials if they're in good enough condition. If you can imagine using an item for a different purpose once you're done with it, then don't throw it away. Just wash or treat it with disinfectant and continue to utilize it. You can also donate items you don't think you'll use instead of throwing them out. Not only will you be reducing waste, but you'll also be providing items to those in need.
Taking Action
Setting up your home to be more energy-efficient and modifying your habits to reduce waste are great ways to make your home more eco-friendly without much work, but there are also a few more ways to take a more active role in the fight against climate change and set up your home as an environmental safe haven.
Pollinators like bees and butterflies are vital to the health and longevity of our ecosystem and many of them are decreasing in number. So a great option to help the environment is to start a pollinator garden. Research what species of pollinators are native to your area and see what plants they're attracted to. You can plant different kinds of flowers to draw in bees or even set out a hummingbird feeder with sugar water to encourage them to go to your plants as well. You can also add fruit and veggies to your garden for some yummy and healthy food right at home.
In addition to a pollinator garden, you can also consider planting trees on your property. Trees, like most other plants, are extremely important as they release oxygen into the atmosphere that we need to breathe. Trees also provide food and shelter for many different animals and insects, helping to maintain the balance and vitality of nature. Planting trees near your home or anywhere else is a great way to help the planet.
There are many things you can do to be more eco-friendly without having to sacrifice a lot of time, money, or even effort. Climate change is a battle we all must fight, but if everyone contributes a little we can see massive improvements.