There are lots of kinds of minor touch-ups and home improvements you can make to your home that can increase the property's worth. So, before you make touch-ups that are simply to your own liking, if you want to create increased equity in your home, you should consider what improvements can add value to your property.
That also means being wary of how much money you spend on each of the touch-ups, as the cost has to be fair in relation to how much the improvements will increase your home's value. The good news is you do not have to break the bank to make some minor improvements that will up your home equity.
Here are some simple but effective ideas that you will want to consider to improve both the interior of your home and its curb appeal.
Upgrade the Lighting to Make Your Home Look Stylish and Homely 
Even when you choose the right colors, furniture, and décor for your rooms to create a homely atmosphere, if your lighting is not right, the atmosphere can be ruined; especially if you have, say, bright strip lighting.
Thankfully, you can upgrade lighting for little cost. You do not need to rewire to change light shades and install LED lighting, for instance.
But by making such changes, you can freshen your space, make it feel homelier and much more stylish, and, alongside other minor changes, increase the equity of your property. 
Change the Kitchen Cabinet Doors
Remodeling your kitchen will certainly help you to increase the equity of your home. But kitchen remodels can be expensive, so you need to ensure the cost is worth it if your goal is to improve the value of your property.
If it is not worth the expense, or if you are on a tight budget, you can still make improvements to your kitchen that will transform the space and help you to improve your home equity. One of the best ideas is to replace the kitchen cabinet doors.
Actually, you do not even have to fully replace them. Instead, you can add coverings to the existing doors or paint the existing doors. Change the handles as well, and your kitchen will soon look brand-new.
You can also make other small changes to your kitchen, like replacing the flooring and painting the walls.
Paint the Walls to Create a Fresh and Modern Feel 
By simply giving your home's interior a new lick of paint, you can transform the appearance and feel of your property and contribute to raising its value. So, consider painting all of your walls, not just the walls of your kitchen.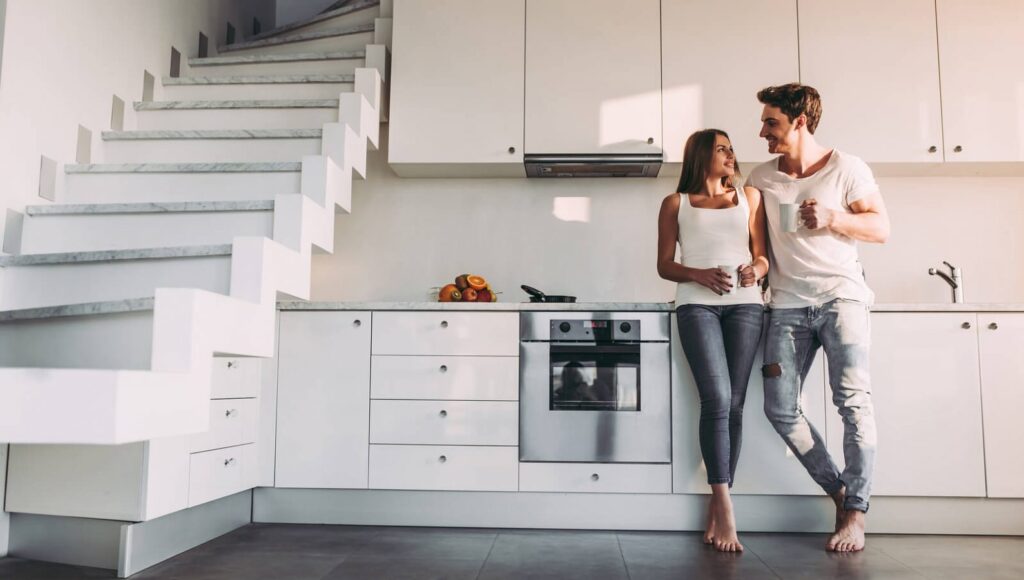 If you are looking to sell, and are perhaps applying for a mortgage loan or considering refinancing your mortgage, it makes sense to paint your home's walls in colors that are appealing to homebuyers more than simply choosing colors you like.
Neutral colors work well. Adding bright colors to feature walls can also transform a space. Furthermore, it is a good idea to look at what colors are currently on trend to ensure your home fits the present market and the wants of homebuyers.
Make Changes to Your Home's Exterior, Such as Replacing the Garage Door
Repainting the exterior of your home can also contribute to raising its value. You should add lots of colorful flowers and plants around the exterior, too. Simple things like that go a long way in creating the right impression. But you should also look at going beyond minor touch-ups if you really want to increase the equity in your home.
For instance, if you have an old wooden garage door, it will not be very weather resistant and can soon start to become damaged or look tired. So, consider replacing the garage door with a door made from an on-trend material like steel, aluminum, or wood composites.
It could also be a good idea to get a garage door with high-performance additions, such as insulation or glazing.
Do not underestimate how much of a difference replacing your garage door can make to your home equity. According to a report by Remodeling magazine, an upgraded model of a garage door can yield 98.3% recouped costs if you are intending to sell your home.
And if you are on a budget, whatever kind of home improvements you decide to make, you should check out these tips for completing your project cost-effectively.