Our roofs are an underrated and often forgotten part of our homes. But as soon as they begin to fail, then you soon appreciate the great job they were doing beforehand. Understanding the most common problems can help prevent them from occurring and get the right help for when they do. 
Leaking Roof
Roof leaks are one of the most common roofing issues faced by British homeowners. Due to the increasing severity of our winters and the constantly fluctuating temperatures, our roofs have to put up with a lot which is why it's so important to sort any leaks as soon as they are found. Everyone has heard the stories of ceilings collapsing and roofs caving in, leaving the homeowner with a giant bill and months of refurbishment. Most roof leaks are caused by one of five common factors: people, issues with seams, neglect, rooftop equipment, and weather. Prevention is of course better than repair. Once you get to know the main offenders, you can develop a strategy to avoid problems before they arise.
Most roof leaks have the tendency to occur near the chimney, around gutters, in valleys, close to vents and where the guttering meets the roof. Though most issues are unavoidable, there are crucial steps that one could take to lengthen the lifetime of a roof. Maintenance is key to the long life of your roof. You can do it yourself, or it might be best to enlist the help of one of the expert and professional roofing companies in your area, such as A.L King Roofing for roofers Bath.
Damaged Shingles
If you notice a sagging ceiling, broken gutters, leaks or missing patches of shingles, your sheathing may be damaged. When shingles reach the end of their useful life, you may notice they fall off or become cracked, brittle or curled, which means it may be time for a new roof.
If a shingle is simply cracked or torn, you don't have to replace it—just repair it. Start by applying a thick bead of roofing sealant under the crack. Press the shingle down and apply a second bead of sealant on top of the crack. Then spread the sealant with a putty knife.
Extreme weather can be a major contributor towards causing damage to the shingles too. High winds can easily pry the metal flashing and leave the roof exposed making it more prone to damage. Additionally, it is important to ensure there's sufficient ventilation around your roof. This will prevent moisture from getting inside a shingle.
Generally, because of the life span of your shingles, you should look to replace them every 15 to 25 years anyway. This may sound costly, but it doesn't have to be done all in one go. And it will add years to the longevity of your roof and home.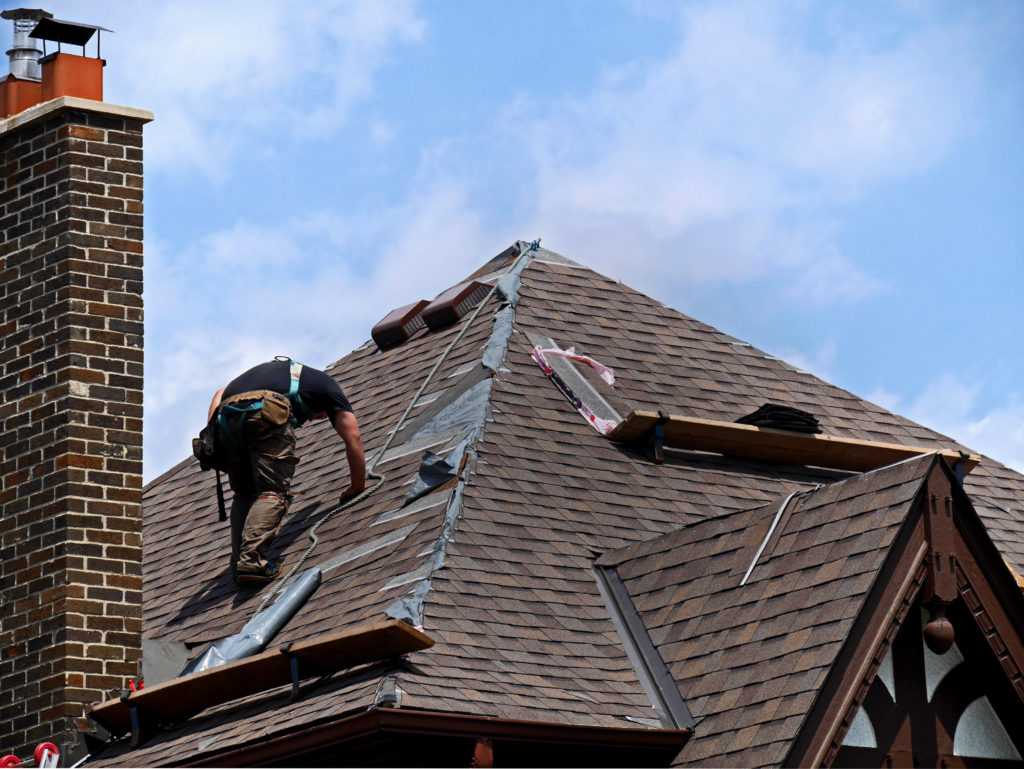 Damaged Flashings
Roof flashings are fitted primarily to maintain a watertight roof. Without a flashing fitted, rainwater would run down the chimney, or the higher area of roof tiles, and just disappear into the house interior where the chimney rises through the roof. Flashings play an important role in keeping water away from parts that could be potentially damaged by moisture. It acts as a seal around areas such as air conditioning systems, vent pipes and chimneys, so they would not seep into your home. This roofing repair issue can be easily prevented if they are installed carefully from the very beginning as they can otherwise easily come unattached.
Rotten Fascia Boards Or Soffit
The combination of fascia boards, soffits and guttering are set in place to ensure the water flows out of your property effectively. Depending on the weather conditions, they can cause a great deal of damage if they are not maintained well.
For instance, a build-up of water or ice can cause disruption to the fascia or soffit boards which can eventually detach from the main structure. This can cause them to rot and can easily spread across to the different of your roof. Eventually, you will have a hole that gives access to squirrels and birds who can cause further damage.
To ensure you have a smooth flow of water, we use high-quality roofing repair products that last long. Alternatively, you could consider applying a special coating that prevents rotting to a certain extent. If you are still not sure of the specifications, you could contact expert roofers for more information on fascias, soffits and guttering.
Punctures Or Penetrations
Though most applicable to flat roofs, punctures or penetrations can be a major disruption if the materials used on the roof are of poor quality. The most common cause of punctures is hail. Hail hits that are black in colour. Loss of granules, which may expose the roof felt. Asphalt and/or mat that appears shiny. Hail hits that are soft to the touch, like the bruise on an apple. These damages can have a long-lasting impact over time and are, therefore, best repaired immediately.
Poor Maintenance
Most importantly, most roofing repair issues can be solved if they are maintained and inspected regularly. When detected before it's too late, it becomes much easier and less expensive for it to be fixed. As such, it's extremely important that you create a roof maintenance schedule with your local roofing contractor and ensure they are constantly reviewed.