We have all heard of the story of glass shower doors spontaneously shattering from the local news and cause severe damage to the people or even from someone you know personally. It really makes you think twice about getting picking materials for your new bathroom's overhaul – so if not glass then what?
That brings us to the question "Why do glass shower doors have the reputation of being dangerous?"
Well, there are three main reasons why glass shower doors shatter in the first place:
Pre-existing microscopic imperfections in the glass – that grow into larger cracks over time
Damage to the glass around the edges due to impact
High impact or blunt force
These can potentially be dangerous if you are using only standard annealed glass (which breaks into sharp shards) or even supposed tempered safety glass (which are meant to break into tiny safer pieces).
However, these aren't the only available types of materials you can use for shower doors!
For instance, polycarbonate glass and laminated glass are much safer alternatives that you can consider! Not familiar with what these materials are all about? Let us share a little more about their pros and cons!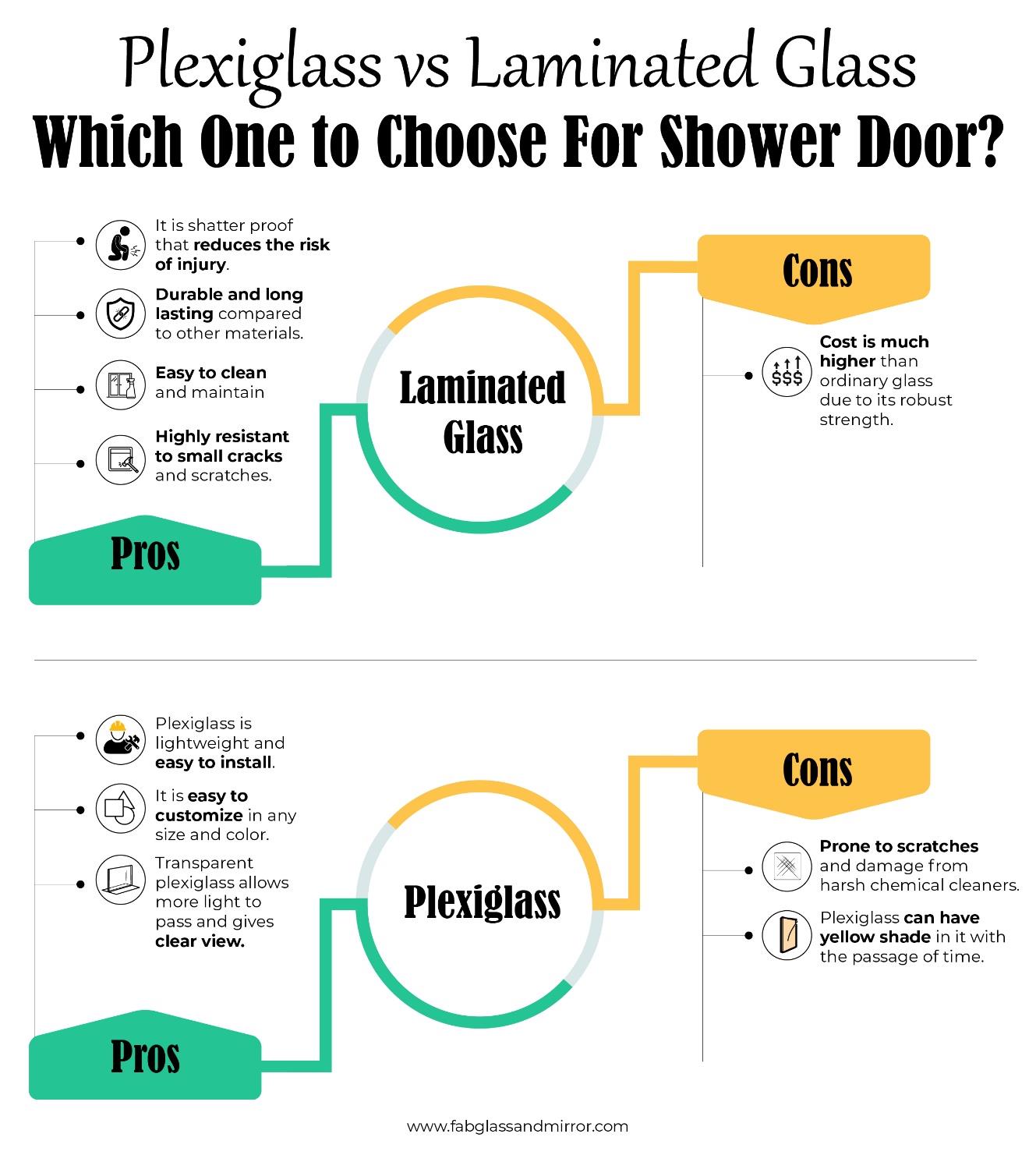 Using Laminated Glass for Shower Door: Pros & Cons
Laminated glass is a commonly used safety glass which is also shatter-proof thanks to how it is manufactured.
Unlike normal glass which has just a single layer, laminated glass is formed with three layers – two layers of glass panes with a piece of adhesive film between them.
As a result of this unique interlayer, laminated glass does not shatter into pieces upon impact. Instead, the cracked glass pieces remain safely in the film.
Pros of installing limited glass:
Shatter-proof – a great safety feature for the household since it reduces the risk for injury
Comes in various sizes, shapes, and colors to match the design of your bathroom
Durable and long-lasting compared to most materials
Easy to clean and maintain when installed properly
Resistant to scratches
Cons of installing laminated glass:
The price point is usually more expensive than normal glass types due to its additional safety feature.
Interested to see what options you can choose from? Check out our online catalogue of laminated glass options here!
Using Plexiglass / Acrylic for Shower Door: Pros & Cons
Plexiglass also commonly known as acrylic is a synthetically engineered plastic material remarkably similar to glass – but with added benefits!
In fact, its versatility as a material is exactly why plexiglass is used widely in many industries as an affordable replacement for glass products. From aquariums to greenhouses, sneeze guards, and more; you will easily find plexiglass all around you.
Pros of using plexiglass
Shatter-resistant as well – an incredibly strong material (comparably high impact-resistant than glass)
Lightweight (half the weight of glass)– easy to install
Comes in various sizes, shapes, designs, textures, and colors – more so than glass
Significantly clear and UV-resistant
Cons of using Plexiglas
Prone to scratches and damage from chemicals or wear and tear over time (Take note: only to use a microfiber cloth for cleaning to avoid scratches)
Want to order? Explore the variety of options you can choose from via our customized online ordering system here!
Choosing Between Laminated Glass &Polycarbonate glass – Which is the Better Choice?
It is hard to choose between the two since they each have their own strong set of advantages and are used for a wide variety of applications all around the home.
Do note that for both categories of materials, they come in various grades and can be supplemented with additional coatings to further strengthen them – e.g. scratch-resistant coatings for plexiglass. So do take all that into consideration when comparing them like for like.
However, as a general rule of thumb, if you are on a budget, Plexiglass would be a clear good alternative.
Whereas, if you are looking for a more durable and long-lasting material that is easier to maintain, and have the budget to spare, go for Laminated glass.
Order a Top- Quality Laminated Glass &Polycarbonate glass Today
Made your decision on which material to go with for your shower door?
Make sure you buy from a trusted manufacturer with a good track record to give yourself peace of mind. At Fab Glass and Mirror, we provide only top-quality laminated glass and plexiglass options. You will never worry about your shower doors shattering again!
When it comes to customer assurance, we don't just talk. We pride ourselves on our exceptional after-sale service and 10-year warranty to guarantee the satisfaction of every single customer. Yes, 10 years!
Want to learn more about how you can order online, and have it delivered to you without any delivery charges? Or want to ask us more about our products?
Simply drop us a message on our online chatbot or drop us an email to provide us with your requirements.