Whether it is a residential or a commercial area, security is the priority for every place. Cases of theft are prevalent in all areas, but it is more in certain places.
Depending on what kind of protection you need, you can install retractable security grilles for windows.
What are retractable grills?
Designed to ensure high security levels to your from and back doors, retractable grills can be easily fitted to any door aperture or window. This visual deterrent to burglars and vandals is an extremely effective option to strengthen the safety of your premises.
Here are certain factors that you should evaluate before installing retractable security grilles.
1. Types of grilles
There are three types of security grilles – window bars, folding security grilles, and mesh grilles.
Window bars: You can fix these vertical or horizontal welded bars on the windows. This is the most cost-effective security. For high security, you can fix it internally.
Folding grilles: These kinds of grilles provide a high level of security as they are fixed internally. You can lock, slide back, or fold back these grilles; hence it gives a neat appearance. Insurance companies test and certified folding security grilles, which means it needs more aggressive tools and longer attack duration to break the security.
Mesh grilles: These kinds of grilles help to protect against vandalism like bricks, balls, and stones. Weldmesh is the primary and cost-effective option. Apart from this, you can choose perforated mesh for more security applications.
Polycarbonate mesh is good for 100% vision and security. If you want to go to an expensive option, a transparent window guard is best.
2. Internal or external
Grilles can be fitted both internally and externally. Which one should you choose? The rule is simple. Police and insurance companies recommend installing grilles internally for high-security purposes as the fixings are not accessible to the thief. Burglars will have to break the class, which will turn on the alarm.
On the other hand, external security grills make fixings more accessible. Thus, they are more vulnerable to attacks. There is no alarm, so they can try as many times as they want. This way, their life also becomes low. Where aesthetics are important, go for internal grilles.
Commercial or retail premises do not require aesthetic beauty but security; hence external grilles do the job.
3. Health concern
If you are installing grilles for residential purposes, you must not ignore this factor. Security grills also prevent emergency access, like in the case of fire. Therefore make sure you keep the keys hidden and close to the grilles.
For a fire escape opening, you installed retractable security grilles so that you can open or fold to escape. See if it is not dangerous for your children. Children can trap their fingers or head in the grilles, scratch themselves from the sharp edges, or trip over the tracks.
4. Material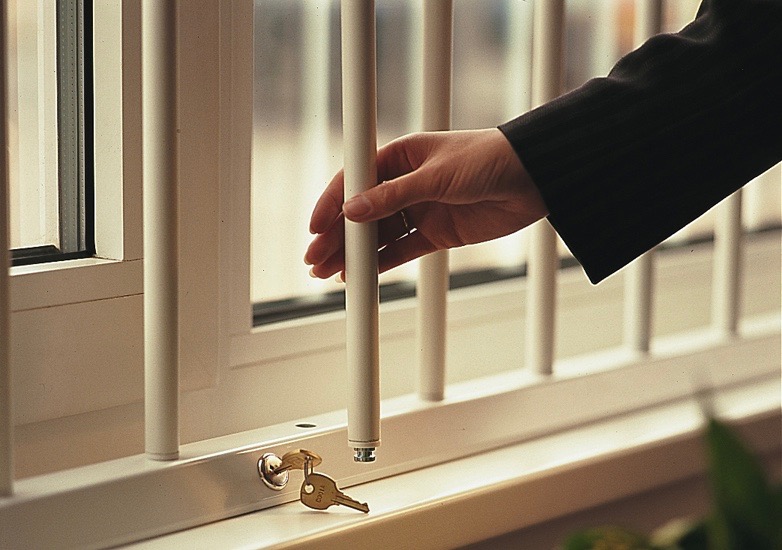 Almost all grilles are steel-made. Steel gives high strength and durability to the product but checks the thickness. Stick to a general rule that the thicker the grille is, the stronger the product is. Internal grills are powder coated to look good, while external grills must be galvanized and powder coated to prevent weathering.
You can install security grills tailored to your specific needs and requirements. You can also consult a security expert to better understand and see which grilles will suit your commercial or domestic settings.