If you are new to the game of rug shopping, it is easy to become overwhelmed by the variety of rugs available (and the hefty price tags!).
Choosing a rug is ultimately determined by three factors: budget, placement, and style. Other considerations include how easy the rug is to clean, how long you plan on using it, as well as if you have any particular types of materials that you prefer.
Before deciding on the design aesthetic of your area rug, it is critical to educate yourself about the various types of rug materials that are available.
May it be made of natural or synthetic fibers, each type of material has its advantages and disadvantages. The following are the eight most usual rug materials you should be familiar with.
Wool Rugs
Wool rugs, which are made of natural fibers, are usually woven, knotted, tufted, or woven by hand. Machine-loomed wool rugs are also available; however, they are made of synthetic fibers rather than genuine wool.
The natural wool rugs are pricier due to the time and effort required to design and create them, but the value is exceptional.
Wool rugs can even be passed down through generations, making them an heirloom piece. Due to its durability, this rug is perfect for high-traffic areas such as the entryway, bedroom, or living room.
Additionally, wool tends to shed, necessitating regular vacuuming during the first few months.
Silk Rugs
Silk rugs are incredible works of art for your home. They are unique in that they have both a brilliant sheen and vibrant colors. The sheen is caused by natural silk fibers originating from various sources.
Silk fibers can come from bamboo trees, banana trees, moth cocoons, or spiders.
Silk rugs made of natural fibers are ideal for those who have allergies because the silk fibers prevent the accumulation of dust and dirt, as well as dust mites.
Silk rugs require special rug cleaning techniques. And due to their short pile rugs, they must not be located in high foot traffic areas.
They may also fade in direct sunlight.  
Besides their sheen, silk rugs are fine, delicate, and smooth to the touch. Also, silk fibers can last long if properly maintained.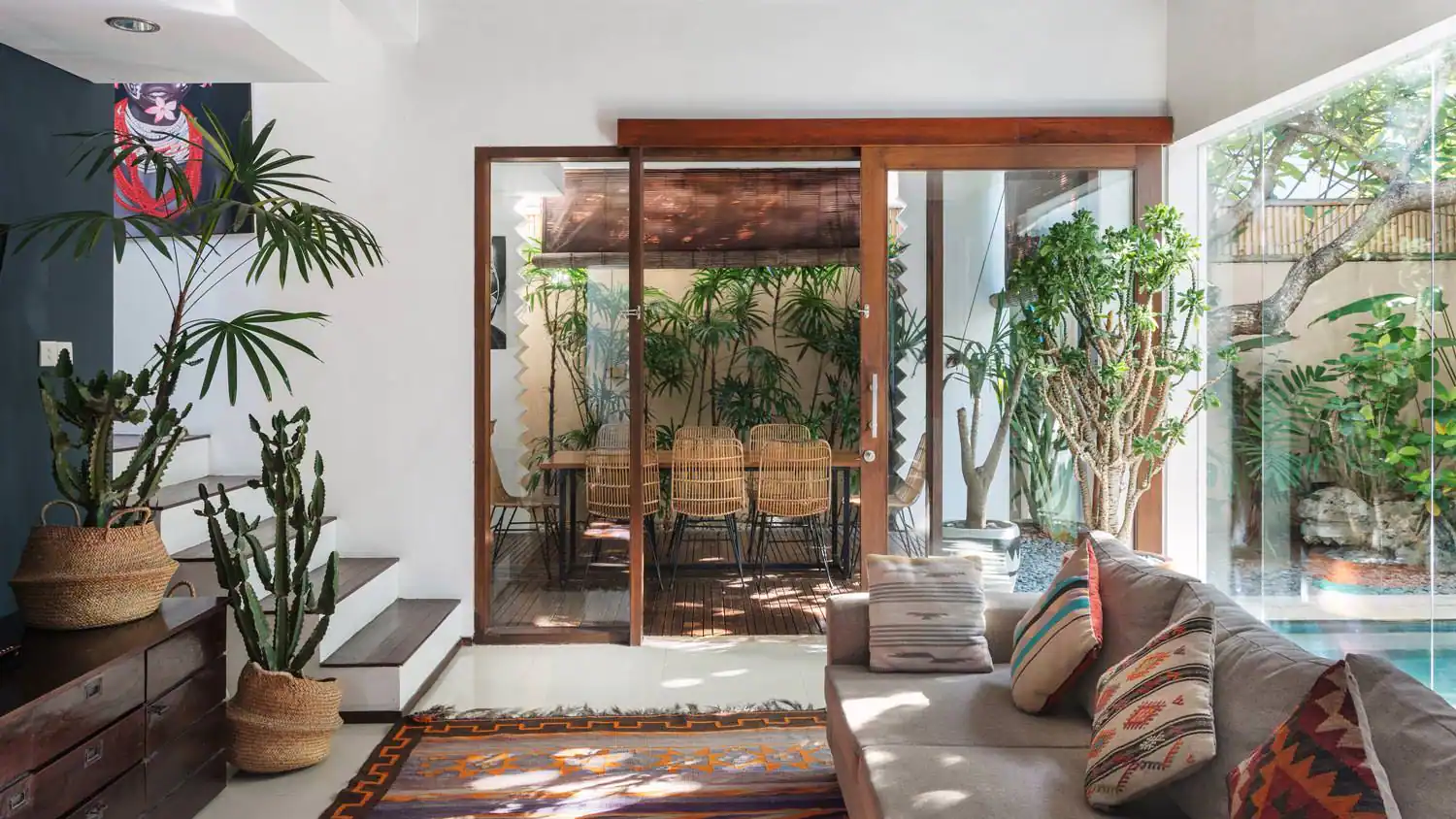 Cotton Rugs
Cotton is a low-cost and fun rug material that can be used in lieu of the more expensive wool or silk rugs.
Cotton fades quickly and does not repel stains, so experts advise against expecting the cotton rug to last decades.
Cotton rugs are best suited for casual spaces and are an excellent choice if you want to change your rug according to the season or your mood.
Bamboo and Jute Rugs
Bamboo and Jute are both natural rug components that can inject any indoor space with a coastal vibe.
These are an excellent choice for rooms that require texture, and their affordable price makes them a good buy. 
Natural rugs are also excellent for layering beneath more decorative rugs. For instance, if you have a lovely 6'x9′ rug that you would like to use but is too small, you can pile it over a naturally woven rug that is the appropriate size.
You must exercise caution when placing these rugs, as some of them may exhibit watermarks and are quite tricky to clean.
If you are purchasing a bamboo or jute rug for an outdoor area, ensure it is weather-resistant.
Sheepskin, Hide, Leather Rugs
Sheepskin and leather rugs are crafted from the hides of animals. These are excellent to be used for small spaces, oddly shaped rooms, and opulent layering.
Sheepskins are relatively easy to clean—you wash them like washing your hair. They are particularly well-suited for placing them next to your bed to provide a soft landing to step on.
The disadvantage of hides is they could curl and shed at the corners, but they can be remedied easily. Furthermore, they easily collect dirt, making light-colored hides appear dingy. So, it is critical to wash them regularly and shake them out.
Faux Hide/Faux Fur Rug
If you are not a fan of genuine animal hide or your budget is limited, a faux fur or faux hide rug is an excellent alternative.
Faux fur rugs are woven from an acrylic and synthetic fibers. These are ideal for those who want the elegance of fur without worrying about its source.
The disadvantage of these rugs is that they shed easily, especially when they are new, and they are not as simple to wash as the real thing.
Polypropylene Rug
Many rugs sold today are made of synthetic materials such as polypropylene, viscose, polyester, or nylon.
These rugs are typically thinner than wool rugs, but some say it is just as soft. 
The primary selling point of a synthetic rug is its affordability; they are extremely affordable, making it possible to change rugs frequently if desired.
Synthetic blend and polypropylene rugs are fade-resistant and typically easy to clean, making them perfect for high-traffic areas such as children's entryways, dining rooms, bedrooms, and outdoor areas.
The primary disadvantage of these rugs is that polypropylene does not easily biodegrade.
If you are really concerned about the environment, this may not be the best option.
Microfiber/Polyester Rugs
Microfiber rugs are yet another type of synthetic rug. These are either made entirely of polyester or a combination of polyester and other synthetic fibers. Microfiber rugs are made of tiny strands of thread that create a plush feel. They are usually machine-woven but have the appearance of the more expensive wool rugs.
Because synthesized rugs are typically low-priced, they are great if you want to add a splash of color without shelling out a lot of money.
However, synthetic fiber rugs can quickly appear dirty due to the smooth strands' inability to trap dirt, unlike genuine wool rugs or other natural fiber rugs.
Furthermore, because synthetic fibers are petroleum products, they are not always the best choice for those who have small kids crawling on the floor. They are also not the preferred type of rug material for environment-conscious people.