Everyone has a favorite spot in their homes to relax with their family and have meals together. To make that spot even more dreamy and magical. A countertop bar is something that could help!                            
Countertop bar is something that brings style to the kitchen. Also it makes socializing easier by providing a comfy seating space for family and friends. Located at the heart of the kitchen, the countertop bar complements the kitchen design, making its own style statement. 
To give kitchens such a dreamy and magical look, here are some of the gorgeous countertop bar designs:
Make a waterfall in kitchen
Many countertop bars are located in the kitchen island space, creating a welcoming area for friends and family to eat, socialize and enjoy!
A waterfall bar countertops are something that can create a seamless finish where the design flows all the way down to the ground. To make a perfect bar island in the kitchen, homeowners can go for a white waterfall countertop with an overall black scheme. It would create a beautiful contrast all over the space. 
After you're done with this post, feel free to get the inside scoop about the pros and cons of waterfall countertops in kitchens and bathrooms.                                            
All-time favorite: White
For those homeowners who want to give their kitchen a rustic look, white is an all-time favorite color! Go for white quartz bar countertops with white cabinetry. It can bring the kitchen a bright yet clean look that acts as an inviting element to the kitchen space. 
Also, one can mix and match white bar countertops with different hues in the form of backsplash, cabinets, and floors. 
Give kitchen a vintage look with wood
Wood will always remain a classic when it comes to designing countertop bars. It is perfect for giving kitchens a vintage look. Also, its versatility and durability are pretty amazing. There are many different types and finishes for homeowners to choose the one that suits their needs. 
Homeowners can opt for a countertop bar exposed by a wooden edge that would create an eye-catching design. Also, one can play with wood edges to give a unique character to the kitchen space. 
Go for something new: textured countertops
Nowadays, designers have created something new and unique: they have added textures to bar countertops designs. It gives homeowners plenty of options to be creative!
For those homeowners who want to give their kitchen a more industrial or rustic feel, they can go for a leather-like texture. Also, one of the best countertop bar designs is honed countertops: a matte surface but a little shinny.
Invest in easy-to-clean quartz countertops
Choosing a perfect countertop bar for the kitchen can be a little tricky. It is alluring to focus on the look, but it is also essential to consider the countertop bar's longevity, durability, and functionality. 
One of the popular choices of countertop bars is quartz. This is because they are non-porous, long-lasting, and low maintenance. In addition, the finishes of quartz replicate the look of concrete, marble, and granite, so it can be said that the drawbacks are minimal.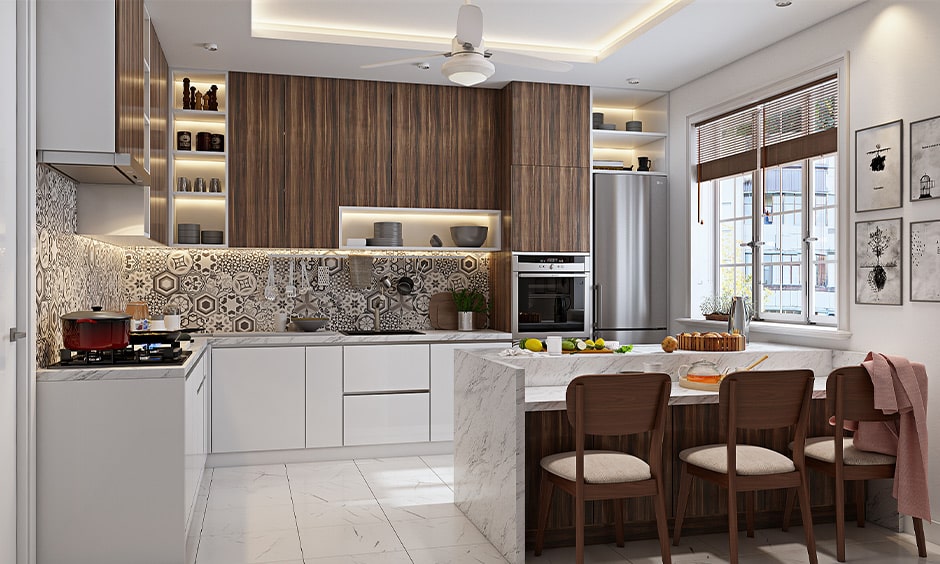 Try a minimalist vs. maximalist approach
Less is frequently more when it comes to interior design and home decorating, and minimalist design is all over social media. However, that doesn't mean one can't add glimmer and sparkle with a lovely metal backsplash idea.
The key function of covering the walls from splashes from the stove and sink has been elevated, and these days it also serves as more of a statement piece, wearing a new selection of opulent metallics. Interior designers are determined to make the backsplash ideas in home bars count because, along with bar countertops, it's frequently the first thing guests see when entering the space.
Let's look at the factors to be considered before choosing the countertop bar designs for the kitchen:
Factors to be considered
Budget
The costs of materials for bar countertops vary. Choosing resilient yet reasonably priced surfaces is always sage regardless of the budget. Investing in inexpensive, flimsy bar countertop materials can only cost more money in the long run. 
Quartz is a wonderful choice for those on a small budget. It is not just reasonably priced but also strong. It can also imitate the appearance of other countertop materials because it is an engineered stone.
Usage
Consider choosing a robust and sturdy countertop if the countertop will be used for additional purposes, such as placing heavy things.
Durability
This is a crucial consideration when selecting the countertop for the home bar. Always choose components that are durable against stains, dings, and wear. Additionally, choosing countertop materials that are simple to fix or replace after damage will be wiser. However, how a surface is used and how well it is maintained will determine how long it will last.
Eco-friendliness 
If one wants to be green, one can start with environmentally friendly materials for a home bar countertop. Rather than opting for raw materials, countertops made with recycled materials are preferred.
Aesthetics
A distinctive home bar should consider utility and beauty. Choose a countertop material that complements the style of the house and is offered in a range of colors and designs. Materials like wood and stone will work better in the space to give it a more natural vibe. 
Homeowners looking for a modern, stylish feel, can consider choosing countertop materials like laminate, concrete, or stainless steel. For inexpensive countertops that look like natural stone, quartz is a terrific option.
Maintenance requirements
It's crucial to pick materials for home bar countertops that are simple to clean. For those who want a countertop for a home bar that is simple to maintain, quartz is a great choice. In addition to being simple to clean, it is also non-porous, making it resistant to bacteria and stains. 
Bar countertop design ideas — Conclusion
Remodeling a kitchen to include a countertop bar is one of the trendy designs. An attractive countertop bar is now becoming the epicenter of modern home life. 
Try out the gorgeous bar countertop ideas and make the kitchen an attractive space in your home!