Would you believe there's a bed that costs £4 million? The Baldacchino Supreme is the epitome of high-end furniture with its gilded, ornate and hand-made frame. Is it worth the money? 
The most luxurious beds in the world deliver divine exclusivity with rare, precious materials and clever designs that transcend the norm.  
For those of us working a 9 to 5 and sweating it over energy bills, these beds are out of our reach, but we can at least dream.
In this article, we'll take a close look at the most luxurious beds in the world today to see how the other half live. Oh, the joys.
Let's jump in!
Savoir Rocco 01
The Savoir Rocco Marble has a marble headboard with brushed gold trim, including integrated lights, upholstered geometric panelling and a plush upholstered base. It costs an eye-watering £135,465 and is only available in Emperor size.
The Rocco 01 is meticulous, hand-made in London for exclusive clients. If you love marble, this is definitely the bed for you.
Hӓstens Vividus
Swedish manufacturer Hӓstens has made luxury beds since 1852. Their most expensive bed today, the Vividus, costs £100,000. Why? Because it takes 600 hours to make and is entirely made by hand from natural, plush materials.
The bed frame and mattress are a single product, with a three-tier mattress tower constructed from cotton, flax felt, Bonnell springs, and tightly curled horsetail hair. It offers a sublime sleep designed to invoke grounding.
Juliettes Interiors Designer Rose and Ribbon Button bed
If ever there was a bed fit for a princess, this is it. The Juliettes Interiors Designer Rose and Ribbon Button bed costs £14,488, with an ornate wooden headboard detailing hand-painted ivory. The headboard is finished with dusky blue linen.
The bed is offered with various other upholsteries, and customers can also supply their own, although the mattress is sold separately.
Roche Bobois BUBBLE bed
The Roche Bobois BUBBLE is an intriguing proposition. On the one hand, it costs a hefty £7,380, but on the other, we want to jump in. The armchair-inspired bubble shape oozes comfort with curved lines and soft upholstery.
Very few beds evoke this level of eye appeal. While most beds go for gold, this bed goes for curves, and it's a masterpiece in design. Best of all, the company also do sofas in the same style so that we can sit in sheer comfort in our dreams too.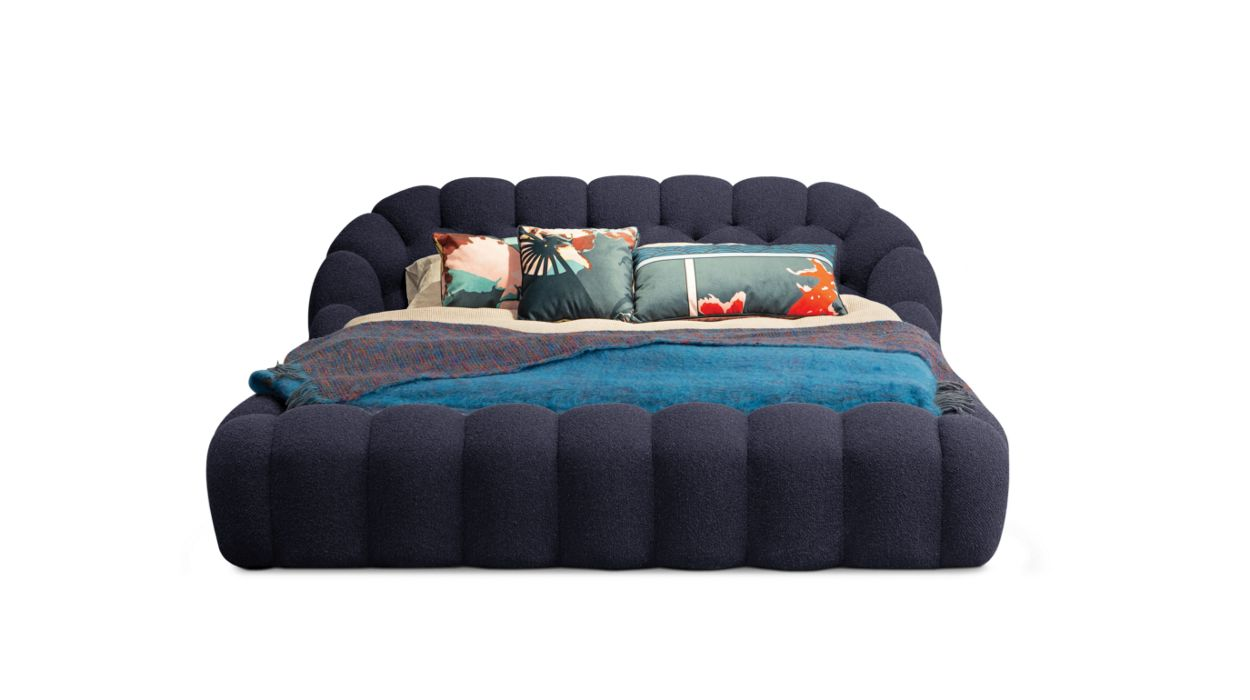 Naturalmat Sommeil
The Naturalmat Sommeil is a sleigh bed that costs £2,075 for a double. The frame is made from solid beech upholstered in your choice of luxury materials, and the frame is filled with organic lambswool for a padded feel.
With its slatted sprung base, solid frame, lambswool padding and upholstered finish, each Sommeil is made by hand to order in Devon. The fit and finish are exemplary (as they should be), and it comes with a five-year warranty.
Winston's Finest Pure Wool 11500 Pillow Top Mattress
Suitable for divans and standard bed frames, Winston's Finest Pure Wool 11500 Pillow Top Mattress costs £1,799.99 and claims to be the UK's most advanced pillowtop mattress with a bouncy yet cushioned feel for a supreme sleep.
Why is it so expensive? It has twelve layers of natural fibres, including British wool and bonded wool, cotton, patented micro coils, pocket springs, coir, and hypoallergenic white fibre. Oh, and it comes with a stonking 30-year guarantee!
Cotswold Kingham
The Cotswold Kingham is the cheapest luxury bed on our list at £1,025, but it's a masterpiece in elegance. The padded head and footboards are covered with tufted linen, while the frame is made from solid oak with a slatted base.
What we love about this luxury bed is its simplicity. It isn't ornate or fancy, but the material quality and shape convey real class.