Five Reasons Why Buying a Trampoline for Kids Is a Good Choice
Would you like your kids to experience the joy of jumping? 
Listen, we know that a trampoline is an investment. It becomes a bigger investment when we start talking about premium trampolines for kids. Does it have an enclosure? Which features do we need? How about the materials and certifications? What about the warranty? Many questions need to be answered before committing to purchasing a kids' trampoline.
Yet, we are highly convinced that trampoline is one of the best investments you can make to your family life. If kept correctly, it can bring joy to your family year after year regardless of your age. In this article, we give you five reasons why buying a trampoline for kids is the right thing to do. 
1. Active Lifestyle! 
Sedentary lifestyle is an issue everywhere in the world. We simply spend too much time in front of our screens, be it work, school or free time. This is true for everyone; both parents and their kids are ignoring the importance of spending time together even if that's not what they really want to do. A kids trampoline that is suitable for the whole family supports an active lifestyle by providing a fun and thrilling way to stay active. 
The whole family will notice an improvement in their physical health after bouncing for a while on the trampoline. Trampolining can help you shed a few pounds while also boosting cardiovascular health. It's also a joint-friendly exercise! While kids do not have to worry about those things that much, trampolining is important for kids as well. By exercising regularly, they learn the importance of staying active and fit. Teaching kids healthy habits is crucial early on so that they'll live a happy and healthy life. 
2. Encourages Screen-Free Time
As already mentioned, we spend way too much time in front of screens. Trampoline is the perfect anti-drug to the screen addiction! It releases a bunch of happy hormones which often are the same ones that we get from scrolling our phones. Yet, experiencing the bounce on a kids trampoline is a much healthier way to get that dopamine dosage.
It's also known that excessive screen time (especially at an early age) can affect learning and motor skills. We'll address the latter next.
Buying things for kids is a real mess, right? But now you can get all your kid's essentials, clothing, footwear, toys, gadgets, and everything else in one place. Walmart is giving weekly deals up to 65% OFF. You can also save up to $1,300 every year by joining a membership with just $98 annually and getting free delivery with no minimum order. So, what are you waiting for? Go and grab all your favorites before this exciting offer ends.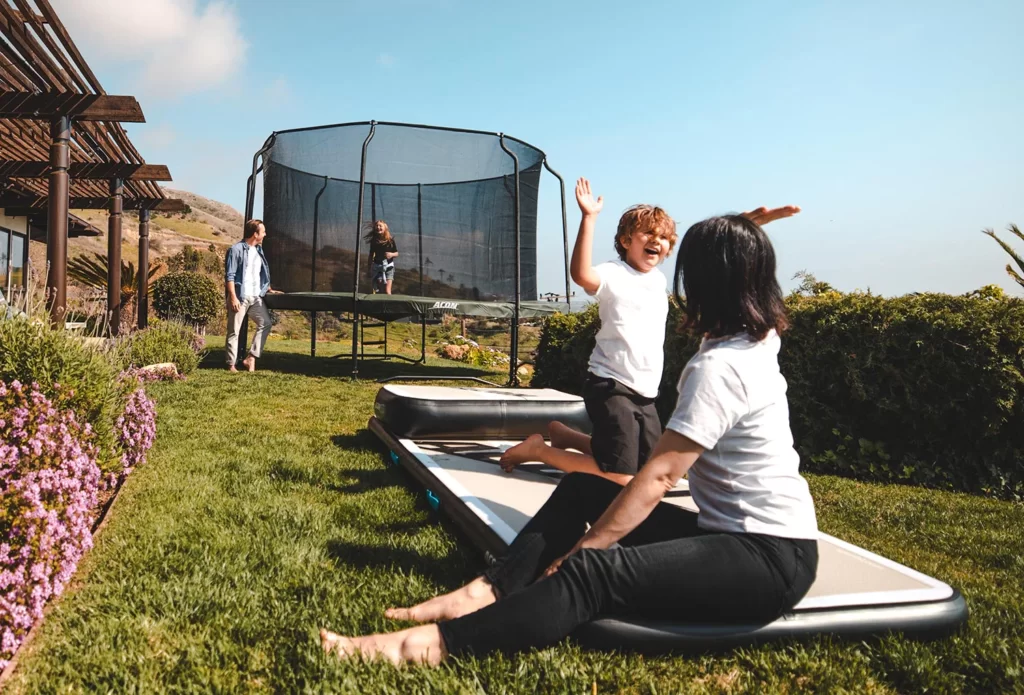 3. Enhances Motor Skills and Helps with Balance
Have you ever wondered how you can develop motor skills and balance in a safe way? Turns out, a trampoline with enclosure could be the perfect solution for both. The uneven surface feels unfamiliar and slightly unstable for small kids, meaning that even walking on it will at first be new and thrilling. Once they get more comfortable with the bounce, they'll attempt jumping and experience their first falls too. The constant challenge that the bounce brings is perfect for smaller children. And well, it doesn't hurt adults either to test their balancing skills every once in  a while! 
4. Sparks Creative Play
A trampoline for kids can also act as a platform for creative play. There are many non-jumping activities that children can do on the trampoline. From chalk drawings to theater stage and castles to a place for naps, this product can act as a safe space for children to go to whenever they want to explore their creativity. Your kids can come up with different types of games and challenges, and you can participate in the ideation as well, making it a family activity. 
5. Fosters Social Interaction
Finally, there's the social aspect that cannot be forgotten. Trampolines are known for bringing families together. It's an exciting thing that not every family has. Yet, you can allow neighborhood kids to play on it as well. Sharing and taking turns in who can jump will teach your kids patience and teamwork. Furthermore, various trampoline games are much more fun when you have more friends! 
Besides just having fun (although that's important), a kids trampoline can also teach our kids new things about themselves and also their parents. Remember to be a role model for your kids and show that you are eager to participate. Those kinds of memories will last a lifetime. 
Are you ready to buy a kids' trampoline?
So, we have listed five reasons why you really should pull the trampoline trigger. However, don't take our word for it (or well, we actually wouldn't mind if you did). The internet is full of happy customers of premium trampoline brands that provide only the best bounce to their customers. Your kids will be thrilled to see a trampoline in the backyard. Surprise them this Summer with a gift that will last years to come. 
A fresh and contemporary home never goes out of fashion. If you are also looking for such a change, then a very exciting offer is eagerly waiting for you. Where you can get all your bedding, furniture, and home decor items in a very affordable range under the same roof. Schoolhouse is giving a huge discount on these items. It is a limited time offer sale at schoolhouse. Get your items before the sale ends.